For as long as I can remember, I've had a mini-obsession with skin care.  You see, I haven't been blessed with perfect, glowing skin and so I've tried doing everything in my power to right where nature went wrong.
Although creams, lotions and other skin correcting serums are essential to maintaining healthy skin, don't underestimate the importance of your cleansing routine either.  Ridding your pores of oils, dirt, makeup and other environmental toxins is key to achieving that youthful, glowing skin we're all after.  That's what led me to the Clarisonic PRO Sonic Skin Cleansing System from Dr. Lin Direct.  Keep reading to learn more!
Receive FREE SHIPPING on $50+ orders and 20% OFF $75+ orders with coupon code "SAVENOW"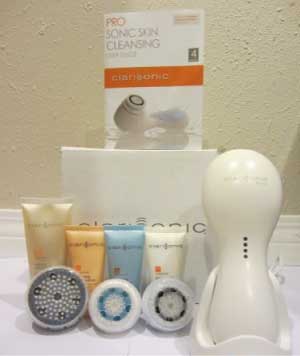 The Clarisonic PRO Sonic Skin Cleansing System is the premiere skin care tool used by dermatologists at their own clinics. It can be used on both the face and body as it comes with multiple brush heads for different skin areas and types.  The Clarisonic PRO gently removes embedded dirt and oil, resulting in healthier, more beautiful skin.  What I love is that it can actually remove 6X more makeup and 2X more dirt and oil than manual cleansing.
It's also remarkably gentle for cleansing all skin types, including sensitive skin conditions such as rosacea and acne.  It cleanses so well, that products absorb better, pores appear smaller, fine lines and wrinkles appear reduced and your skin tone and texture improves.  The Clarisonic Body Brush Head gently cleans the areas of the body needing extra attention, including the decollette, hands, arms, elbows and feet.
Leading dermatologists, cosmetic surgeons and aestheticians use the Clarisonic PRO Sonic Skin Cleansing System for pre–procedural cleansing.  They also recommend that thorough, gentle cleansing with a Sonic Skin Cleansing System is an essential first step at home, prior to application of serums, lotions or moisturizers.
Simple and convenient to use
Use with your favorite cleanser
Rechargeable and waterproof for use in the shower or the tub
One minute timer that ensures consistency
I couldn't wait to get started using the Clarisonic PRO Sonic Skin Cleansing System from Dr. Lin Direct!  Especially once I found out that this handy skin care tool actually uses a patented sonic frequency of more than 300 movements per second to clean, soften and smooth skin.  There was no way that this nifty device wouldn't take my skin cleansing regimen to the ultimate level with only more beautiful skin to look forward to.
Since becoming a stay-at-home mom, I don't wear makeup everyday like I used to when I was in the work force, but when I do wear it, I find that it's next to impossible to remove entirely.  The only thing I've found which works better than manual cleaning is using an astringent afterwards.  Unfortunately, the alcohol in my astringent dries my skin, which in turn causes me to produce more oil and the dried skin and additional oil always clogs my pores.  If I don't use the astringent though, I receive clogged pores and more frequent acne breakouts due to the makeup left behind.  It's a no-win situation...until now!
The Clarisonic PRO did a great job at removing my makeup, because for the first time ever, when I'd swipe my face with a cotton ball full of astringent, the cotton ball came back clean!  :party:  Now, I can finally ditch the skin-drying astringent, for the Clarisonic PRO has eliminated that situation.  I'm also confident that since the Clarisonic PRO is removing all that I can see, it must also be removing a great deal of dirt and oil from my face that I can't see!
I've been using the Clarisonic PRO consistently for over two weeks now and am thrilled with the results.  I've noticed softer skin which has a more healthy glow to it.  I'm also aware that the acne breakouts I used to suffer from haven't recurred since using the Clarisonic PRO.  This is truly cause to celebrate, since as a 35-year-old, I still have occasional acne flareups.
I love using the Clarisonic PRO for areas on my body too, like the knees and elbows, and I've found that it's helped my body lotion absorb better and my skin become much softer and smoother in these areas.  Since the Clarisonic PRO is waterproof and can be used in the shower, there's no reason not to oscillate yourself to better skin right away!
Disclosure:  I received the Clarisonic PRO Sonic Skin Cleansing System from Dr. Lin Direct in order to facilitate my review. No other compensation was received. This product review is based on my own personal experiences with this item and is completely honest and objective.
I'm a former 7th grade Science teacher turned stay-at-home mom that lives in Houston, Texas. I am married to my college sweetheart and have a beautiful daughter named Riley, who definitely keeps me on my toes! I am also involved in starting a small business which would both manufacture and sell an invention that I've patented, called Toothpaste 2 Go. I love interacting with my readers and hope to learn as much about you as you learn about me!
Melissa @ Mommy Living the Life of Riley!