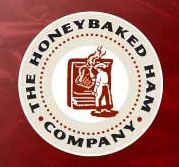 I'm so stoked that we're now in November, because that means that Thanksgiving is just a few weeks away.    I love the Thanksgiving holiday, for it is steeped in tradition, gratitude, great food, family and football!
Unfortunately, I don't get to make merry as much as I'd like to on this holiday, because I'm usually stuck in the kitchen preparing the large, delectable feast which takes my family all of about 30 minutes to eat.
Believe me, I want to enjoy a fabulous holiday dinner just like everyone else, but I don't want to slave away all day in the kitchen, cooking and cleaning, to do it.  I'd rather be watching the big game, making holiday crafts with my daughter and visiting with family and friends.  So is there a way to have your turkey and eat it too?  Yes, thanks to HoneyBaked's New Recipe Turkey Breast, the holidays can finally be enjoyed by all!
The New Recipe Turkey Breast from HoneyBaked Ham retails for $22.99.
Receive $3 OFF the New Recipe Turkey Breast from HoneyBaked Ham!
Support the Performance Dance Company in the Pace, Florida area and receive
FREE SHIPPING
!  Use promo code "992001" at checkout.
A HoneyBaked Ham Turkey Will Make Your Holidays Merrier
I couldn't get over how quick and easy Thanksgiving dinner can be if you just incorporate a little HoneyBaked into it.  HoneyBaked is proud to be a family tradition for more than 50 years and knows that memories are made every day, including on the holidays.  While HoneyBaked has been selling turkey for more than 20 years, this year, they reformulated their product and the new recipe is more tender and flavorful than ever.
Features:
98% fat free
100% turkey breast meat
Slow roasted for that home-cooked flavor
Moist and tender
Available roasted or smoked
Each turkey breast is sliced for convenient serving and is hand-finished with our signature sweet and crunchy HoneyBaked glaze.
My entire family was thrilled to have the chance to review not only the new recipe turkey breast from HoneyBaked Ham, but also two of their delicious side dishes and a dessert of our choice.  We simply placed the order and then scheduled a day to go pick up our goodies.  The folks at HoneyBaked had everything ready and waiting for our arrival.  Next, it was time to prepare the feast!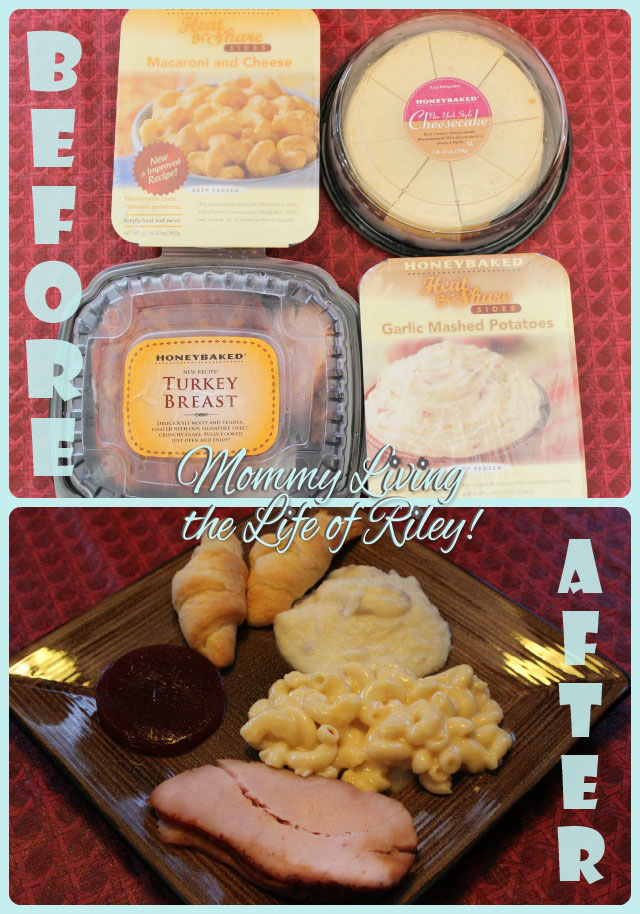 The ease of preparation of this remarkable food should be a crime, for I literally had a hot, steaming meal ready in mere minutes.  As expected from HoneyBaked, the dishes we received tasted fresh and wonderful, just as though I had spent all day cooking them myself.  From the first mouthful, I had already convinced my husband that THIS was the way to go for the holidays.  Now I could have just as much fun as everyone else and genuinely enjoy the festivities of the season.
The new recipe turkey breast tasted absolutely amazing!  I loved the crunchy, sweet glaze and the turkey was cooked to perfection. No dry bird here!  Even my daughter, who is quite the picky eater, wolfed down her turkey in a matter of minutes.  The macaroni and cheese side dish was also equally tasty and honestly tasted almost identical to the homemade recipe I make upon occasion.  That dish takes me over an hour to prepare, but I had the piping hot equivalent from HoneyBaked Ham on my table in no time at all!
The garlic mashed potatoes tasted great, but unfortunately, were quite runny and lumpy.  I thought that maybe I had done something wrong when I heated them up, but I don't honestly see how that could be possible.  Although I loved their overall flavor, I'm afraid that I wouldn't choose this side dish again in the future.
Last, but not least, we finished off our yummy meal with a heavenly piece of New York Style Cheesecake.  This pre-sliced cheesecake was easy to serve and definitely pleased every palette in our home!  The new recipe turkey from HoneyBaked Ham is so quick, easy and delicious that not only do we plan on incorporating this main course into our own Thanksgiving celebration, we also will be having it upon occasion for a weeknight meal.
Enjoy your Thanksgiving and revel in the joys of the season.  Let HoneyBaked Ham do the heavy lifting this holiday so that you can gobble up the good times!
Disclosure:  I received the Thanksgiving Dinner shown above from HoneyBaked Ham in order to facilitate my review. No other compensation was received. This product review is based on my own personal experiences with this item and is completely honest and objective.
I'm a former 7th grade Science teacher turned stay-at-home mom that lives in Houston, Texas. I am married to my college sweetheart and have a beautiful daughter named Riley, who definitely keeps me on my toes! I am also involved in starting a small business which would both manufacture and sell an invention that I've patented, called Toothpaste 2 Go. I love interacting with my readers and hope to learn as much about you as you learn about me!
Melissa @ Mommy Living the Life of Riley!