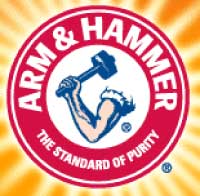 You know that song by Keith Whitley, "I'm No Stranger to the Rain?"  Well, as a mom to a 3-year old toddler and a solid black-haired dog, my life's theme song should be, "I'm No Stranger to the Stain!"  :rofl:  We have very light brown carpet in our living room that frequently gets stained by one kind of accident or another.
When life's little messes happen all over my carpet, it's important to have a strong team of cleaners to help make things look new again.  Typically, I would lug out our carpet shampooer, clean the area thoroughly and then protectively shoo everyone away for hours until the soggy carpet dried again.  ARM & HAMMER decided to make carpet stains a lot easier to deal with by designing their new Dry Carpet Cleaner in both Stubborn Stain and Pet Fresh formulas.
I reviewed an 18-ounce shaker of
ARM & HAMMER Stubborn Stain Dry Carpet Cleaner
, which retails for $7.88 as well as a 32-ounce pouch, which retails for $12.99.  
Both of these items are available in the vacuum accessory aisle at Walmart.
When it comes to treating tough carpet spots and stains, liquid stain removers can leave many consumers waiting hours for the carpet to dry. Fortunately, there's a quicker, easier and more effective way to get professional carpet cleaning results, without roping off areas of the home or risking soggy socks.  New ARM & HAMMER Dry Carpet Cleaners absorb allergens, eliminate odors and break down stains in just 30 minutes. The result is a fast, dry and easy clean that leaves homes spotless and ready for company in under an hour.
ARM & HAMMER Dry Carpet Cleaners are designed to remove a wide range of the most stubborn spills and stains, and have earned the Carpet and Rug Institute Seal of Approval:
ARM & HAMMER Stubborn Stain Dry Carpet Cleaner was designed with busy families in mind. It delivers professional cleaning results to lift and remove even the toughest ground-in dirt, food, grease, lipstick and oil stains, along with odors and allergens. It's also formulated to be safe for homes with kids and pets.
ARM & HAMMER Pet Fresh Dry Carpet Cleaner delivers the same great cleaning results as the Stubborn Stain offering, with extra freshness and pet accident penetration for animal-loving homes.
Unlike liquid stain removal products, ARM & HAMMER Dry Carpet Cleaners give you a dry, quick solution to treating spots and getting back on your carpet in under an hour. Each is made of thousands of tiny particles that work like sponges to absorb dirt, tough spots and odors embedded into carpet fibers. To use, massage the powder into a stain with a small brush, misting older stains with water, and let it sit for 30 minutes to dry.
ARM & HAMMER Dry Carpet Cleaners are safe on all types of fibers and fabrics, including wool rugs, and approved for use on all stain-resistant carpets. After 30 minutes, simply vacuum the treated area and instantly enjoy the like-new look and freshness.  Check out this video to see these cleaning products in action.
ARM & HAMMER Dry Carpet Cleaners are available in a variety of sizes to fit your home's cleaning needs. The 18-ounce shaker is ideal for stubborn spot cleaning, while the larger two-pound pouch allows consumers to tackle several rooms and is the perfect companion for new parents and puppy-training households. One pound of ARM & HAMMER Dry Carpet Cleaner can clean and freshen about 100 square feet of carpet.
I found that using the ARM & HAMMER Dry Carpet Cleaner was truly as quick and easy as possible.  If you'd like to treat any older stains on your carpet, just wet the area lightly so that the carpet cleaner will have something to bind to.  Next, sprinkle the stained area thoroughly, activate the powder by using a soft bristle brush to rub it into the stain.
Front to back and side to side motions work best.  Finally, allow the powder to dry completely and set for at least 30 minutes.  Once this is done, simply vacuum up the powder and the stain leaving only your clean, fresh carpet behind.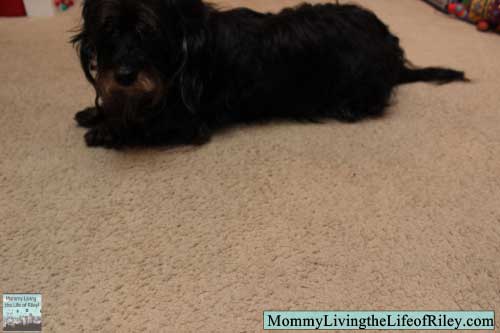 For once in my life, I didn't have any actual carpet stains to clean, though my carpet always seems to have its fair share of ground-in dirt.  I loved how easy it was to spot treat my carpet as well as the clean, fresh scent that was left in its place once the ARM & HAMMER Dry Carpet Cleaner was vacuumed away.
As you can see, my dog liked it so much that she was quick to come over and sit right down near the spot I just cleaned.  Knowing her, she was already plotting how to make that area dirty once again!  If you'd like to keep your carpets stain-free and looking like new without much effort or soggy socks, then I highly recommend the new Dry Carpet Cleaner line of products from ARM & HAMMER.
Disclosure: I received the Stubborn Stain Dry Carpet Cleaners and Eureka Vacuum from ARM & HAMMER in order to facilitate my review. No other compensation was received. This product review is based on my own personal experiences with this item and is completely honest and objective.
I'm a former 7th grade Science teacher turned stay-at-home mom that lives in Houston, Texas. I am married to my college sweetheart and have a beautiful daughter named Riley, who definitely keeps me on my toes! I am also involved in starting a small business which would both manufacture and sell an invention that I've patented, called Toothpaste 2 Go. I love interacting with my readers and hope to learn as much about you as you learn about me!
Melissa @ Mommy Living the Life of Riley!