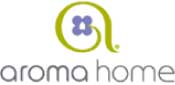 I have to admit that one of the best things about the fall and winter seasons is that feeling of coziness that comes with being in your warm home when it's chilly outside.  After a long hard day, relaxing in your warm and snuggly robe while you sip something equally warm is pure heaven!
Aroma Home has found a way to bring that warmth and comfort to two parts of your body that often need it the most at the end of the day...your feet and your neck.  I recently had the chance to review the Microwaveable Neck Warmer and Feet Warmers in Lavender.  Keep reading to learn more!
Get immediate relief from tension, pain and stiffness with Aroma Home's super hot range of soothing neck warmers.  In a textured 100% cotton cover, the natural grain filling moulds to the contours of your neck, letting the heat soak into your skin to instantly melt away stress while relaxing tense muscles and relieving soreness.
Just a minute and a half in the microwave and you'll be ready to lie back and enjoy lasting comfort.  So forget stretching and flexing and reaching over to rub your neck – let your neck and shoulders sink into a loose and limber comfort with our relaxing warmers.
Made with 100% pure cotton
Insert filled with natural grain and pure essential oils
Outer cover can be removed and cleaned per instructions
Dimensions: 20" x 6" x 1.5"
I absolutely love the microwaveable neck warmer from Aroma Home.  Believe it or not, I'm actually using it right now as I write this review, for I am utterly and completely under the weather and every muscle in my body aches terribly.  Well, everything except my neck and shoulders!  I really adore how this neck warmer contours perfectly to my neck, delivering powerful heat where I need it most.  I also find the scent of lavender luxurious and soothing.
When you don't feel well, everyone wants to be babied and pampered a bit, and the Aroma Home Microwaveable Neck Warmer definitely works like a charm to do just that.
When you want to sit back, relax and truly pamper your feet, Aroma Home's heavenly feet warmers will elevate the idea of warm and cozy toes to a whole new existence.  With one grain-filled insert on top and one underneath, they're specially designed to provide the ultimate in aromatic comfort to tired, cold, aching or arthritic feet, exuding instant warmth and soothing scents for a treat to which any feet will soon become accustomed.  But remember, these boots weren't made for walkin', they were made to send your feet to paradise.
Made with 100% pure cotton
Insert filled with natural grain and pure essential oils
Outer cover can be removed and cleaned per instructions
Dimensions: 11" x 10" x 10"
Fits most feet up to size 9.5
I'm often teased at home about how I have cold feet year round.  Unfortunately, it's true.  This summer, the temps were often over 100 degrees, but I still had to make sure to have either socks or slippers on while indoors, because though the rest of my body might have been hot, my feet were still cold as ice!
Thankfully the Aroma Home Microwaveable Feet Warmers immediately came to my rescue.  Now these are not house shoes or slippers, they are feet warmers and thus are not meant to walk around in.  When you have the opportunity to kick your feet up and relax though, these are a must.  I tried them out while my husband and I watched a movie one night and thought they were true bliss.  Just heat them in the microwave for 1 minute, taking care NOT to remove the inserts, and then sit back and enjoy your toasted tootsies!
I would highly recommend both the Microwaveable Neck Warmer and Feet Warmers in Lavender from Aroma Home for when you want to relax and pamper yourself at the end of the day.  Both of these items will make you feel cozy and snug as a bug and would also make wonderful gifts for someone you love too!  :love:
Disclosure:  I received the Microwaveable Feet Warmers and Neck Warmer in Lavender from Aroma Home in order to facilitate my review. No other compensation was received. This product review is based on my own personal experiences with this item and is completely honest and objective.
I'm a former 7th grade Science teacher turned stay-at-home mom that lives in Houston, Texas. I am married to my college sweetheart and have a beautiful daughter named Riley, who definitely keeps me on my toes! I am also involved in starting a small business which would both manufacture and sell an invention that I've patented, called Toothpaste 2 Go. I love interacting with my readers and hope to learn as much about you as you learn about me!
Melissa @ Mommy Living the Life of Riley!