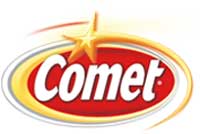 In my opinion, kitchen decor took a giant leap forward with the advent of stainless steel appliances.  Nothing against the colored lacquer finishes of yesteryear, but they just can't hold a candle in the looks department to stainless steel.
When my husband and I moved into our new home and began renovating our kitchen, we gradually swapped out our old appliances for their spankin' new stainless steel counterparts.  Unfortunately, this caused me to realize one thing...stainless steel requires a completely different cleaner than the rest of our kitchen.
Comet has been bringing us the epitome of clean for generations and has since come to release three brand new additions to their family.  These stainless steel cleaners will make your appliances sparkle like never before and are super easy to use.  Keep reading to learn more!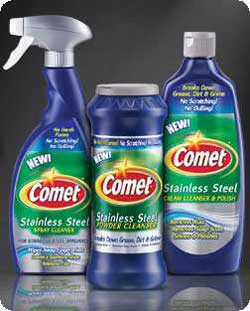 Nothing cleans your stainless steel sinks, appliances and cookware like the new Comet Stainless Steel Cleansers.  These products promise to leave a streak-free, sparkling shine while breaking down grease, dirt and grime.  They're completely gentle and scratch-free and don't contain any harsh chemical fumes or irritants.
I was sent a caddy of Comet Stainless Steel Cleansers to review.  Here's a little more information about each of the three cleansers included:
Comet Stainless Steel Spray - Gentle enough for all your favorite stainless steel appliances and surfaces, this versatile spray can be used where and when you need it for a streak-free shine every time.
Comet Stainless Steel Cream - For a scratch-free sparkling shine that's strong enough for tougher cleaning challenges in the bathroom and kitchen—it's perfect for stainless steel cookware!
Comet Stainless Steel Powder - For your toughest cleaning challenges, like stainless steel sinks. You'll get all the trusted cleaning power of Comet and be left with nothing but a clean, sparkling shine.
I put all of these cleaners to work in my kitchen and was thrilled with the results.  I loved using the spray for light-duty jobs like my refrigerator, dishwasher and outside of the microwave because these items often get nothing more than water droplets and fingerprint marks on them.  The Comet Stainless Steel Spray polished these surfaces in no time and brought out the sparkle I hadn't seen in quite a while.
The cream was the perfect thing to make my stainless steel cookware look like new again.  I've always used the Barkeeper's Friend product in the past for this task, but love being able to switch to the cream consistency cleaner versus the powder.
It just seems less abrasive so that my cookware doesn't inadvertently get scratched.  Finally, the Comet Stainless Steel Powder is the perfect cleanser for those tough to clean surfaces.  Since I don't have a stainless steel sink to clean just yet, I gave this product a go on the inside of our microwave oven.  I don't know if it has ever shined like that before!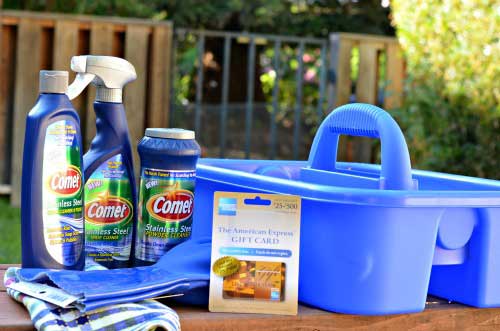 Look to the new line of stainless steel cleaners from Comet to save you time, energy and elbow grease in the kitchen, all while keeping your stainless steel appliances and surfaces looking fabulous!
Disclosure: I received the Stainless Steel Cleaner Prize Pack shown above from Comet in order to facilitate my review. No other compensation was received. This product review is based on my own personal experiences with this item and is completely honest and objective.
I'm a former 7th grade Science teacher turned stay-at-home mom that lives in Houston, Texas. I am married to my college sweetheart and have a beautiful daughter named Riley, who definitely keeps me on my toes! I am also involved in starting a small business which would both manufacture and sell an invention that I've patented, called Toothpaste 2 Go. I love interacting with my readers and hope to learn as much about you as you learn about me!
Melissa @ Mommy Living the Life of Riley!