A crucial part of Riley's bedtime routine involves her father and I doing "rock a baby" every night.  "Rock a baby" is what Riley calls it when we snuggle with her and sing lullabies to her in order to help her wind down and get ready for bed.  Of course, it is without a doubt one of my favorite times of the day.  What do you do though if your little one wants you to keep singing to them forever?  What if you won't be there to "rock a baby" on that particular night?
Cuddletunes is a company that has discovered an ingenious way to allow you to sing to your child whenever and wherever your child would like with their adorable musical teddy bear.  I recently had the chance to review this little crooning bear.  Keep reading to find out more!
I reviewed the Cuddletunes Teddy Bear with Pink Ribbon from Cuddletunes, which retails for $59.95.
The Cuddletunes Bear is a soft and cuddly stuffed animal that actually has a fully functional mp3 player tucked inside his back.  Located on both of its feet are volume and track controls, so that your child can easily play the music exactly like they want.  The left foot of the Cuddletunes bear controls the volume, while the right foot of the bear contains track controls such as fast forward, rewind, stop and play.
What's remarkable about this little guy is how clear and crisp the sound quality is.  Because the bear weighs only 1.2 pounds, it will seem no different than any other stuffed animal to your child.  I really liked how the bear emits a faint red light from the middle of its chest when the mp3 player is turned on, which mimics a heartbeat.  This way, both you and your child will know that Cuddletunes is working and if you can't hear the music, you should probably adjust the volume.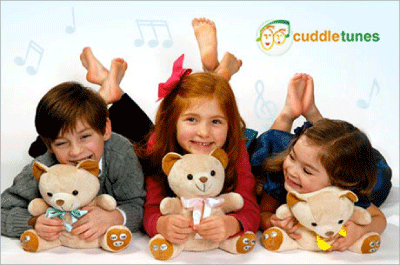 Of course, the absolute best feature about Cuddletunes is that you can customize an entire playlist on the teddy bear BEFORE he even arrives at your doorstep.  The Cuddletunes website has several wonderful lullabies in their collection which are already sung using your child's name.  I chose several of these for Riley and when she first listened to them, she immediately recognized her name in the song and smiled.
But it is also extremely easy to add your own selections to the Cuddletunes bear.  I chose to sing several of Riley's favorite songs which I often sing to her during our "rock a baby" time.  These include "Baa Baa Black Sheep", the "Alphabet Song", "Mamacita" and "Rock a Bye Baby" (of course).  I didn't know how well these would turn out since I was just singing into my computer's microphone while sitting in a quiet room, but the sound quality was great and the selections were crystal clear.  Once the Cuddletunes bear started playing the songs I had sung, I was very pleased at how well they sounded coming from the mp3 system.
Check out the video below of Riley receiving her Cuddletunes bear for the first time.  We had the bear singing the songs I previously recorded and she was amazed and delighted that the bear could sing just like me!  This video is a little lengthy, but if you want to see Riley's true reaction to Cuddletunes, simply watch the very last part of the video.
Once the bear has arrived, you can still continue to update the mp3 player with new songs and stories either recorded by you or other members of your family, or with lullabies or songs that your child has recently grown fond of.  If you unzip the bear's back, you will see that there is a battery pack as well as a USB cord stored there.  Simply plug this USB cord into your computer and log on to the Cuddletunes site to keep your bear's playlist up to date.  Now, your Cuddletunes bear can grow and change right along with your child!
I love that I am able to easily include special messages to Riley that she can listen to while she sleeps as well as read her stories and sing her songs.  I even like how I was able to upload specific songs from my own personal .mp3 music collection, such as "Isn't She Lovely?" by Stevie Wonder, which I've sung to Riley since she was born.
The only thing that I don't like about the Cuddletunes bear is how easily it is to unzip the back of the bear and remove the USB cable and battery pack.  The battery pack is connected to the bear using two very thin and delicate wires and since there is no lock on the zipper of the Cuddletunes bear, curious toddlers can easily remove the whole inner workings of the bear.  So, even though Riley really loves her Cuddletunes bear, she refuses to keep the zipper shut and keeps wanting to explore and see what the stuff is inside its back, which is why we can't let her sleep with it.
I wish that Cuddletunes could figure out a way to secure the bear's back so that only adults could access what was inside, for then they would have the perfect toy.  Unfortunately, I will have to keep the Cuddletunes bear away from Riley until she gets a little older and leaves the bear's back zipped up.
Cuddletunes has definitely invented a very unique and personal stuffed animal which is sure to become an instant hit with your little one.  Now it's possible to use the bear's included mp3 player to record special stories, songs, messages and more to be played back whenever your child wants.
Because the bear's playlist is composed on the Cuddletunes site, it's also possible to have family around the world help you create the selections the Cuddletunes bear will play.  The Cuddletunes bear makes a wonderful present for children of all ages and will grow and change as they do.
Disclosure:  I received the Cuddletunes Teddy Bear with Pink Ribbon from Cuddletunes in order to facilitate my review. No other compensation was received. This product review is based on my own personal experiences with this item and is completely honest and objective.
I'm a former 7th grade Science teacher turned stay-at-home mom that lives in Houston, Texas. I am married to my college sweetheart and have a beautiful daughter named Riley, who definitely keeps me on my toes! I am also involved in starting a small business which would both manufacture and sell an invention that I've patented, called Toothpaste 2 Go. I love interacting with my readers and hope to learn as much about you as you learn about me!
Melissa @ Mommy Living the Life of Riley!