One of the features I love best about my home are the deep red colored walls in our living room and game room.  The dark color is very soothing and makes the overall tone of the room a relaxing one.
Of course these plain, bare walls needed just the right artistic touch to make our family room even more inviting.  This quest for quality artwork led me to GalleryDirect.com, a fine art publisher who believes in the motto "Fine Art for Everyone!"  Keep reading to learn more about an online retailer who can instantly beautify your home for less!
I reviewed the following framed wall art from Gallery Direct:
Shadow Branch Burst II by Sara Abbott
(AB222A) - Size Medium (17" x 24") - Framed Canvas with a 3.5" Natural Very Dark Brown with Pewter Lip Frame (F0106), which retails for $385.00, but is currently on sale for $270.00.
Take 30% OFF everything with FREE SHIPPING!  Sale ends Thursday (3/15) at Midnight!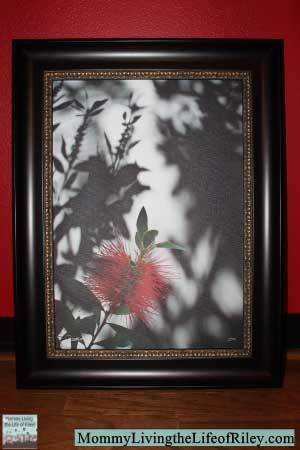 GalleryDirect.com is the largest limited edition fine art publisher, printmaker and artisan framer in the world.  This means that they do it all: they find the artists and the artwork and they market and recreate the art themselves.  There is absolutely no middleman between the artwork and your walls, which is why they can bring their customers fabulous pieces of art at prices you only dreamed of.  When I became a Gallery Direct Ambassador and discovered that I would have the fortunate opportunity to review several pieces of their art, I was thrilled for their selection was truly astounding.
I have always been a huge nature lover and so started my quest for the perfect piece of framed art for our family room with this theme in mind.  We already have a large framed black and white photograph in the center of our wall over the couch, but I really wanted to add to this nature photograph by placing smaller nature photographs on either side.    This led me to find the absolutely amazing collection from artist Sara Abbott and select the limited edition piece "Shadow Branch Burst II".
| | |
| --- | --- |
| | |
Sara Abbott's foray in the art world began with photography.  Although she loved the black and white process, she sought to expand her vision.  She began mixing paint with photographs, using found objects such as car doors for frames, and fire to light up an image. Her work now includes light boxes, abstract paintings with photographic transfers, and large scale photographs mounted on plexiglass.  Abbott's work has been collected all over the world and is now proudly and prominently displayed in my home!
Now that the hard part of actually choosing the artwork was over, it was time to customize this piece exactly how I wanted it.  That's another wonderful feature of shopping at GalleryDirect.com:
Their limited editions are exclusive, part of a series of 950 prints.  (I received #52 in this series, which is marked on the lower right-hand side of the print.)
Each signed and numbered image is recreated from the original source material.
GalleryDirect.com is a little different than a traditional fine art publisher insofar as they also give their clients full customization features normally reserved for the interior design trade.
The chances of you seeing this image customized to your specifications anywhere else in the world is unlikely.
So not only can I get a top-notch piece of artwork to hang on my walls, it will also be uniquely mine through the high-end customizations available to me!  First, I had to decide which particular medium I wanted the "Shadow Branch Burst II" painting to be reproduced on.  GalleryDirect.com currently offers the following options: Canvas, Paper, Aluminum, Acrylic, Mirror and Wood.
For my particular needs, I thought that a framed canvas would look the best.  Next, it was time to decide the size.  Since this artwork needed to coordinate with a piece I already have, I wanted the size of the artwork to be a tad smaller, so I went with the medium size (17" x 24").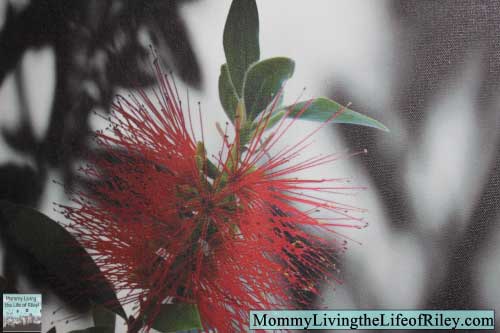 Finally, I needed to choose which frame option I wanted.  I had the choice of gallery wrapping, floater frame or framed canvas and since our entire home has sort of an old-world, traditional feel, I decided to select a traditional frame.  This is where I was once again extremely impressed.  GalleryDirect.com had several gorgeous frames to choose from, and the instant preview feature on the website allowed me to immediately see what my particular artwork would look like in each frame.
This was very helpful and made me realize that the 3.5" Natural Very Dark Brown Frame with Pewter Lip was the only frame for me!  I was also pleased to discover that all artwork from GalleryDirect.com comes with the hanging hardware already installed, so that it is ready to go straight from the shipping carton to your wall.
I was thrilled when the Sara Abbott artwork arrived for the black and white background of the photograph blended perfectly with the artwork we already owned and the stunning red color of the bottle brush really popped against our red walls.  I feel like this particular piece really makes our living room feel even cozier and more relaxing and, because we actually have a large bottle brush bush in our front yard, it's a great symbol of our home and our family.
I couldn't be happier with the entire experience I had with GalleryDirect.com.  Their online art selection was extensive and fun to shop, their art customization and framing options were wonderful and the service was above and beyond what was expected.  If you are looking for the perfect piece of artwork to grace your home's walls, then by all means, go to GalleryDirect.com and find your affordable masterpiece today!  Both your home's walls and your bank account will thank you!
Disclosure: I received the Shadow Branch Burst II by Sara Abbott Framed Canvas Wall Art from GalleryDirect.com in order to facilitate my review. No other compensation was received. This product review is based on my own personal experiences with this item and is completely honest and objective.
I'm a former 7th grade Science teacher turned stay-at-home mom that lives in Houston, Texas. I am married to my college sweetheart and have a beautiful daughter named Riley, who definitely keeps me on my toes! I am also involved in starting a small business which would both manufacture and sell an invention that I've patented, called Toothpaste 2 Go. I love interacting with my readers and hope to learn as much about you as you learn about me!
Melissa @ Mommy Living the Life of Riley!