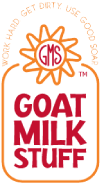 Now that our skin is at winter's mercy and becoming much drier due to the cold air, I am finding myself with moisturizing on the brain.  My hands are especially vulnerable to becoming dried out, since I'm washing them much more frequently, thanks to cold and flu season.
The frigid wind has also really been causing my lips to chap.  Thankfully, there is a family-owned and operated company out there called Goat Milk Stuff, which makes some of the most moisturizing soaps, lotions and lip balms I've ever used.  They were nice enough to allow me to review a whole host of genuine goat milk products, which are all natural, containing only natural fats, oils, essential oils and fragrances.  Keep reading to learn much more!
I reviewed the following products from Goat Milk Stuff:

Full Bar of Lavender Vanilla Soap, which retails for $6.00

Full Bar of Mango (Limited Edition) Soap, which retails for $6.00

Half Bar of Ocean Soap, which retails for $3.00

Half Bar of Fiji Island Soap, which retails for $3.00

Sample Soaps of Nautical, Kool Koala and Cranberry Spice

Lotion Stick in Honeysuckle, which retails for $8.00

Lip Balm in Vanilla, which retails for $3.00
I never thought I would get so excited about soap, but I have to tell you that the soaps I received from Goat Milk Soap are really extraordinary!  Every bar of their soap contains an ounce of raw goat's milk from the Jonas family farm.  Interestingly enough, the Jonas family started making goat's milk soap simply because they wanted a healthy, all-natural soap for their children.  They quickly found that their soap was fun to make and superior in quality to many of the other soaps on the market.  This is how Goat Milk Stuff was born.

I had the chance to try out several varieties of my choice and it was so hard to choose just a few.  There are so many wonderful scents to select from, but my favorites had to be Ocean and Lavender Vanilla.  I could smell these soaps all day!  The best part though, is how creamy the lather feels when you're using them.  I would never have dreamed that an ounce of goat milk and all natural ingredients could make such a difference!
I loved how soft my skin felt after using the Goat Milk Stuff soaps.  I also really like the unique look to these soaps, due to their rough texture and swirling colors.  If you are battling dry skin during these winter months, I highly recommend Goat Milk Stuff soaps to rid you of the dull skin blahs.
I also had the chance to sample their Vanilla Lip Balm and Honeysuckle Lotion Stick, and have to admit that I'm hooked on these products as well!  The lip balm simply GLIDED on my rough, dry lips and instantly made them feel hydrated.  The vanilla smell of the lip balm made me want to lick my lips quite often though, because it smelled delicious!
The Honeysuckle Lotion Stick was just as awesome, for it couldn't have been more convenient and easy to apply!  The honeysuckle scent was heavenly and the lotion stick went on like butter, because it was so creamy and smooth.  Lately, Riley has developed a small dry patch on the corner of her nose that just never seems moisturized enough.  With the lotion stick, it was really easy to apply lotion directly to this dry patch of skin.  Her nose already seems to be getting better!
If you would like more all-natural options when it comes to soaps, lotions and lip balms, then I highly recommend checking out the wares from Goat Milk Stuff.  All of their products are of the highest quality, extremely rich and creamy, and smell divine.  Help your skin shake those winter blues with Goat Milk Stuff!
Disclosure:  I received the variety of soaps. lotion stick and lip balm listed above from Goat Milk Stuff in order to facilitate my review. No other compensation was received. This product review is based on my own personal experiences with this item and is completely honest and objective.
I'm a former 7th grade Science teacher turned stay-at-home mom that lives in Houston, Texas. I am married to my college sweetheart and have a beautiful daughter named Riley, who definitely keeps me on my toes! I am also involved in starting a small business which would both manufacture and sell an invention that I've patented, called Toothpaste 2 Go. I love interacting with my readers and hope to learn as much about you as you learn about me!
Melissa @ Mommy Living the Life of Riley!