The air quality in your home can affect your health in so many ways.  Poor air quality can lead to getting sick more frequently and can really do a number on your allergies.  If you don't have allergies, having poor air quality can actually help you to develop them.
Since you probably spend at least 1/2 of your day in your home, you should do all you can to try and breath cleaner indoor air.  This is where the Holmes HAP9424 HEPA-Type Air Purifier comes in.  With this handy machine, you can dramatically reduce the level of dust, allergens and odors in your home and help create an inner sanctuary of health for your family.  Keep reading to learn more!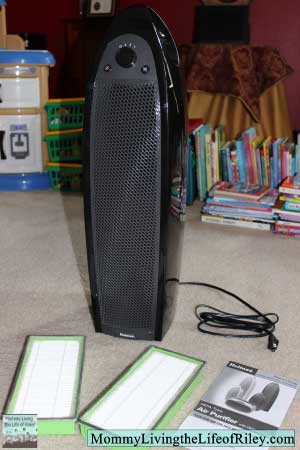 The Holmes HAP9424 Air Purifier is an economic way to provide cleaner, fresher air in your home.  This unit removes up to 99% of airborne particles at 2 microns or larger, including:
Ragweed Pollen
Tree Pollen
Dust
Dust Mites
Pet Dander
Smoke
Smoke Odor
Garbage Odor
Pet Odor
The Holmes HAP9424 Air Purifier takes 2 "A" filters (included) which utilize the cleaning effects of Arm & Hammer baking soda and carbon.  I especially liked the optional ionizer feature designed to naturally improve the air purifier's performance and help freshen the air.
Ions are tiny particles that carry a positive or negative charge.  They exist naturally all around us: in the air, water and ground.  Negative ions help air purification by attaching themselves to very small airborne particles in the room.  These particles take on a negative charge and may join with positively charged particles such as dust, pollen, smoke and pet dander to form larger particles.  That's when the Holmes Air Purifier's filter system can easily trap the larger particles, thus eliminating or cleaning them from your home's air.
The Holmes HAP9424 Air Purifier is designed for use in medium size rooms, up to 195 square feet.  Its slim design and integrated handle allow it to fit in almost any space in your home and to be moved quickly and easily.  There are three speed settings (high, medium and low) available, so that you can tailor the performance of the Holmes Air Purifier to your specific needs.
It is recommended that this air purifier continuously operate on the medium setting.  If you need a quieter setting, such as in a bedroom at night, then it is best to switch it to low.  If you happen to need to circulate and filter the air quickly due to a high level of pollutants, then the high setting is recommended.
Holmes also thought to provide this unit with a filter change indicator which will alert you to replace the two filters before further use.  The HEPA-type filters will generally operate efficiently for 3-6 months.  Replace the standard HEPA filters that come with the Holmes air purifier with two of the aer1 Allergen Remover Replacement Filters, and you have an air-cleaning powerhouse which can effectively remove 99.7% of airborne allergens!
I am very pleased with my experience thus far with the Holmes HAP9424 Medium Room HEPA-Type Air Purifier.  Riley tends to have really bad outdoor allergies that flare up when it rains.  Since setting up the Holmes Air Purifier in our living room, I've noticed that Riley doesn't have the severe runny nose and watery eyes she used to get for days after a rain.
I love running the optional ionizer on medium speed, for I feel like our home's air is much cleaner and healthier to breathe.  Best of all, the Holmes HAP9424 is quiet and blends in seamlessly with our living room decor.  If you're not searching high and low for it, most of the time you don't even notice it's there!
If you'd like to bring cleaner, healthier air into your home's living spaces and have everyone breathing much easier, than I highly recommend the Holmes HAP9424 HEPA-Type Air Purifier.  Whether it's allergens, pollen, air pollutants or stinky odors, Holmes Air Purifier has you and your family covered by safely and effectively removing 99% of what lingers about!
Disclosure:  I received the Holmes HAP9424B-TUS Medium Room Air Purifier in Black and (2) aer1 Allergen Remover Replacement Filters from Jarden Corporation in order to facilitate my review. No other compensation was received. This product review is based on my own personal experiences with this item and is completely honest and objective.
I'm a former 7th grade Science teacher turned stay-at-home mom that lives in Houston, Texas. I am married to my college sweetheart and have a beautiful daughter named Riley, who definitely keeps me on my toes! I am also involved in starting a small business which would both manufacture and sell an invention that I've patented, called Toothpaste 2 Go. I love interacting with my readers and hope to learn as much about you as you learn about me!
Melissa @ Mommy Living the Life of Riley!