The air quality in my home is something I take very seriously, for both my daughter and my husband suffer from airborne allergies.  For this reason, we use air purifiers in almost every room of our house and they work wonders for providing relief for Riley and Michael's allergy symptoms.
Unfortunately, the air in one area of my home consistently offends no matter what we do...the air inside our refrigerator!  I always thought that an open box of baking soda was pretty much the only weapon we had in our arsenal against foul refrigerator air, until now.  Oransi, a leader in green cleaning products, has created the Ionic Fridge Air Purifier in order to help combat the nasty "fridge air" that most all of us battle on a daily basis.  Keep reading to learn more!
I reviewed the
Ionic Fridge Air Purifier
from Oransi, which retails for $39.00, but is currently on sale for $29.00 with FREE SHIPPING.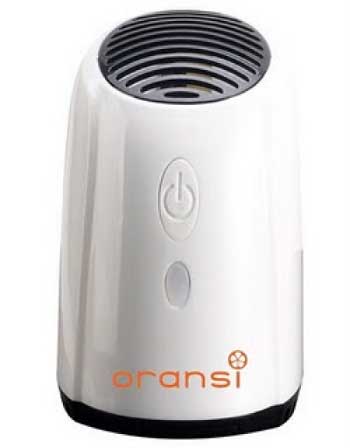 The Oransi Ionic Fridge Air Purifier is a wonderful idea for now you can experience the fresh, clean air that you breathe in the rest of your home in your refrigerator as well.  The Ionic Fridge Air Purifier measures only 4" x 2.8" x 2.5" and uses the power of 2 "AA" batteries (not included).  Its patented, exclusive piezo-electric technology and built-in micro CPU intelligently controls the operation cycle, which runs for 5 minutes every 2 hours.
When the LED light begins to blink constantly, you know that the batteries are running low and should be replaced.  The great thing is, 2 "AA" batteries will power the Ionic Fridge Air Purifier for approximately 3 months and you will never EVER need to buy a costly replacement filter.  The batteries are the only consumable the Oransi Ionic Fridge Air Purifier uses.
I was amazed at how well the Ionic Fridge Air Purifier cleaned the air inside my refrigerator.  After approximately 30 minutes, my fridge didn't have that funky odor that it typically does.  The lack of foul-smelling odors is just one of the many benefits that comes with using this air purifier.  Here are some others:
Kill bacteria
Reduce food spoilage
Prevent mildew
Sterilize fridge every 2 hours
Neutralize stale and foul odors with fresh air inside refrigerator AND CLOSETS!
That's right, if you happen to have a small, stinky area of your home OTHER than your refrigerator, such as a teen's closet, gym locker, laundry room, bathroom, etc., the Oransi Ionic Fridge Air Purifier can clean it up for you too.  So if you'd like to eliminate those nasty food odors in your refrigerator quickly and economically, then stop trying the age-old baking soda box and switch to the new Oransi Ionic Fridge Air Purifier.  Your nose, tastebuds and wallet will thank you!
 

Disclosure:  I received the Ionic Fridge Air Purifier from Oransi in order to facilitate my review. No other compensation was received. This product review is based on my own personal experiences with this item and is completely honest and objective.
I'm a former 7th grade Science teacher turned stay-at-home mom that lives in Houston, Texas. I am married to my college sweetheart and have a beautiful daughter named Riley, who definitely keeps me on my toes! I am also involved in starting a small business which would both manufacture and sell an invention that I've patented, called Toothpaste 2 Go. I love interacting with my readers and hope to learn as much about you as you learn about me!
Melissa @ Mommy Living the Life of Riley!