As any member of my family can vouch for, I'm a total grump in the morning.  I've always been a night owl and dread waking up early in the morning.  It usually takes me a full cup of coffee to finally clear the cobwebs and get moving in the right direction.  But with a lively 3-year-old to look after, that luxury of slowly waking up is over...I've got to hit the ground running these days!
That's why I was more than intrigued when I learned of the new Philips Wake-Up Light.  This bedside lamp/alarm clock simulates a natural sunrise for a more energetic wake up.  Now you can wake up naturally for a more pleasant morning.  Keep reading to learn more!
I reviewed the
Wake-Up Light HF3470
 from Philips, which retails for $99.99 but is currently on sale for $89.99 with FREE SHIPPING.

The Philips Wake-up Light uses light to simulate a natural sunrise, making the wake-up experience more enjoyable.  It gradually brightens 30 minutes before the set wake-up time and can help improve mood and increase energy in the morning.  The light level increases the amount of energy in your body, gently preparing your body to wake up.
Clinically proven to improve mood and increase energy in the morning
Official light therapy product of the Natural Sleep Foundation
A Best Life-approved product
The Philips HF3470 Wake-Up Light contains a replaceable halogen lamp and also comes complete with 2 nature sounds (birds and beep) and the ability to listen to FM radio stations.  Twenty brightness settings allow the Philips Wake-up Light to be used as a bedside or tabletop lamp as well as an alarm clock.
I was definitely unsure of whether or not waking up to a gradually brightening light would help improve my mood in the morning, but  I can honestly say that it did.  I've been using the Philips Wake-Up Light for the last five days and I love the slow, methodical way it rouses me from bed.
Setting up the Wake-Up Light is fairly simple and in a few minutes, I had everything up and running.  I chose to use the bird sounds to wake up to, though I think next week I might try the radio station feature.  The great thing about the Philips Wake-Up Light is that you can wake up to just light, just sound or a combination of both.
While the light will gradually increase over a 30-minute time span, the sound doesn't come into play until the last 90 seconds and slowly gets louder until you are fully awake.  Even though the lamp used inside the Wake-Up Light is halogen, the light emitted from this device is soft and warm and most definitely resembled natural sunlight.
If you're unsure of your alarm settings and want to test everything out before going to sleep for the night, the Philips Wake-Up Light even has an alarm demonstration.  This demo will condense your alarm's settings down to a 60-second interval so that you can confirm the light and sound settings are as you want them.
The Wake-Up Light also comes with a 9-minute snooze feature which is triggered by pushing down on the silver lever on the side of this machine.  The light intensity will remain the same, but any sounds you were hearing will shut off.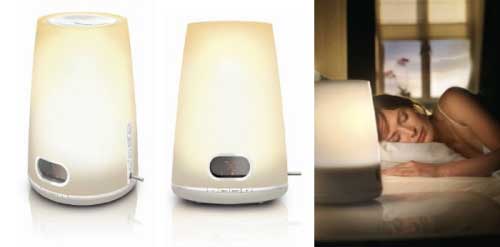 The only feature of the Philips Wake-Up Light that I wasn't thrilled about were the control settings, which are just on one side of the machine.  I sleep on the left side of the bed and so my night stand is to my left.  Unfortunately, the silver control lever and the control buttons are also on the left side of the machine.
This means that I have to constantly turn the machine in order to hit the snooze button, turn on the lamp or operate the radio.  I thought about just turning the device 180 degrees so that the front of it faced the back of my nightstand, but when I did this, the FM antenna and power cord stuck out unattractively, which I preferred even less.
Since I'm one who RARELY gets a full night's sleep, most of the time I get just 5-6 hours of rest, I wasn't expecting the Philips Wake-Up Light to make as big of a difference as it did.  But it DID!  I felt like I had much more energy and pep in my step after waking up and was definitely in a better mood.
There's nothing worse than waking up in the winter time to a blaring alarm clock in a pitch black room.  Now, with the Philips Wake-Up Light, I feel more like I woke up in a country field with warm sunlight and chirping birds about.  Who wouldn't be in a better mood with that experience?  :big grin:
Disclosure: I received the Wake-Up Light HF3470 from Philips in order to facilitate my review. No other compensation was received. This product review is based on my own personal experiences with this item and is completely honest and objective.
I'm a former 7th grade Science teacher turned stay-at-home mom that lives in Houston, Texas. I am married to my college sweetheart and have a beautiful daughter named Riley, who definitely keeps me on my toes! I am also involved in starting a small business which would both manufacture and sell an invention that I've patented, called Toothpaste 2 Go. I love interacting with my readers and hope to learn as much about you as you learn about me!
Melissa @ Mommy Living the Life of Riley!