I don't know about you, but my "morning self" isn't exactly a pretty picture.  Now that I have shorter hair, I find that it sticks up in all directions first thing in the morning and looks a tad like the classic finger-in-the-light-socket hairstyle.
Also, as I've aged, I've noticed these nagging "sleep wrinkles" that appear on my face when I first wake up.  I'm a typical side sleeper and can only guess that the mashing of my pillow against my cheek for 7 hours a night is to blame.
Well, mom Andi Neugarten, also happened to notice the mussed-up hair and sleep creases appearing each morning and decided to do something about them.  The result is a 100% Mulberry Silk Pillowcase called Sleep 'n Beauty.  Keep reading to learn more!
I reviewed the King Size 100% Mulberry Silk Pillowcase from Sleep 'n Beauty which retails for $89.99.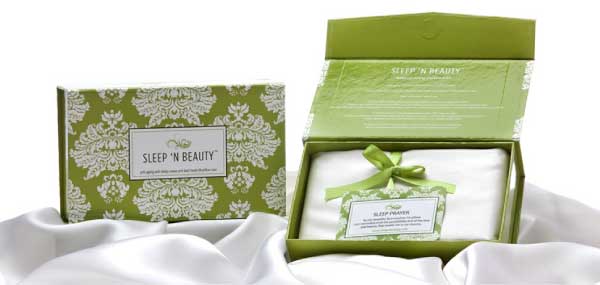 I've always been a cotton-loving girl and thought that pure luxury was sleeping each night on an extremely high thread count Egyptian cotton pillowcase.  Turns out, I was spending 1/3 of my life sleeping on a material that wasn't doing my hair or skin any favors.  Just look at some of the many reasons you might want to consider sleeping on a Sleep 'n Beauty 100% Silk Pillowcase instead:
Silk pillowcases have wonderful anti-aging benefits:  It has been proven that silk prevents aging!  Silk contains a natural protein and 18 essential amino acids.  Studies have shown that amino acids can counter the effects of agins, especially in the facial skin and can help calm the nervous system.
Silk allows your face to glide over the pillow and prevents sleep creases from becoming permanent wrinkles:  Research has shown that sleep creases which are formed from sleeping on a cotton pillowcase will eventually become permanent wrinkles.
Helps your skin retain moisture:  One of the properties of cotton is its ability to absorb many times its weight of a liquid.  Silk doesn't do that.  It is absorbent, yet its absorbency is about 11%.  That means it will absorb some sweat and face cream, yet not nearly as much as cotton.
Reduces bed head and split ends:  Are you tired of waking up with bed head?  The inherent "silkiness" of a silk pillowcase allows you to wake up without bed head and your hair will suffer less damage during the night, giving you reduced breakage and split ends.
Reduces your chemical exposure:  We are constantly in contact with chemicals, but you can reduce that chemical exposure during the night by sleeping on a Sleep 'n Beauty silk pillowcase.  Silk is produced from domesticated silk worms that are bred and raised in captivity.  They have no predators to defend against and are pampered throughout their life, helping to produce a fine silk fiber with little-to-no chemical exposure.  In contrast, many fabrics on the marketplace, such as cotton, are produced from chemically intensive crops that require pesticides, herbicides and other chemical treatments before making it to your bed linens.
Naturally hypoallergenic: Due to the small areas between the individual threads, there is little space that allows dust and other allergens to sit and irritate your skin, eyes and nasal passages.  Additionally, the smooth nature of silk allows many of the things that may hide in traditional cotton pillowcases to simply glide away, leaving you to sleep and breathe easier through the night.
Natural temperature regulator:  Silk is a natural heat regulator, maintaining the correct body temperature.  It does not conduct heat or static electricity like other fibers.  Heat is retained during cold temperatures and redundant heat is shed during warm temperatures, keeping your skin cool in the summer and warm in the winter.
They're easy to care for:  Most people are concerned about caring for silk.  It's really quite easy though.  Sleep 'n Beauty silk pillowcases are machine washable.  Simply wash them on a cold and delicate cycle in a lingerie bag and hang them to dry.  They can even be ironed with a cool iron, if required.
I have to admit that I definitely enjoy sleeping on my cold, super soft and extremely luxurious Sleep 'n Beauty 100% Mulberry Silk Pillowcase.  Every morning when I wake up, I run to the mirror to see if I can catch those annoying "sleep wrinkles" and can honestly say that it looks as though they've hit the trail for good.  At 36 years old, I'm clinging and clawing to youth with every ounce of energy I have left.  When I consider that I'm now avoiding 7 hours of potential face damage per night thanks to the Sleep 'n Beauty pillowcase, that makes for one beautiful morning.
I'm sure that my husband and daughter are also pleased to wake up to a mommy with softly tussled hair instead of a mommy who looks as though she's underwent electric shock therapy.  That makes a beautiful morning for everyone that doesn't have to witness that!  :wow:
Disclosure: I received the King Size 100% Mulberry Silk Pillowcase from Sleep 'n Beauty in order to facilitate my review. No other compensation was received. This product review is based on my own personal experiences with this item and is completely honest and objective.
I'm a former 7th grade Science teacher turned stay-at-home mom that lives in Houston, Texas. I am married to my college sweetheart and have a beautiful daughter named Riley, who definitely keeps me on my toes! I am also involved in starting a small business which would both manufacture and sell an invention that I've patented, called Toothpaste 2 Go. I love interacting with my readers and hope to learn as much about you as you learn about me!
Melissa @ Mommy Living the Life of Riley!