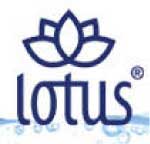 Speaking as a mom and caretaker of my home and family, I'm always concerned about how clean the items my family comes in contact with are.  Their very health and well-being are determined by the spread of harmful germs and contaminants which are crawling on both our food and household possessions.  So how can you quickly, easily and SAFELY sanitize your home's contents without compounding the problem through poisonous cleaning chemicals?
Allow me to introduce you to the Lotus Sanitizing System from Tersano.  Recently, I had the opportunity to review the LSR100 sanitizing system which allowed me to clean and sanitize absolutely everything using only tap water.  Keep reading to learn more!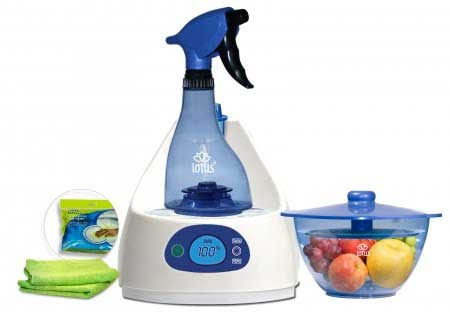 The Tersano Lotus Sanitizing System (LSR100) is used to effectively sanitize and deodorize up to 99.9% of contaminants everywhere in the home with NO chemicals, residue or fumes.  The LSR100 is able to achieve this feat by super-charging ordinary tap water using Oxyshield technology.  Water that is supercharged contains an extra molecule of oxygen and this unstable-nature of super-oxygen is what delivers the sanitizing power of lotus.
The Tersano LSR100 comes complete with everything you see below, including:
Base unit
Spray bottle attachment and separate pour spout
Multi-purpose bowl attachment
(1) Booster cartridge
(2) Microfiber cleaning cloths
Getting started with the Lotus Sanitizing System couldn't have been simpler, for all that was needed was to remove the red center reservoir cap and insert the booster cartridge into the back part of the base unit.  Next, it was time to plug the machine in and start super-oxygenating our regular tap water.
I first decided to use the spray bottle attachment so that I could safely clean and disinfect a few surfaces in my kitchen.  I filled the bottle up to the max fill line and set it on top of the base unit.  Next, I made sure to select the appropriate icon on the machine so that it was aware that the spray bottle was being used.  Finally, I hit the power button and watched the water begin to bubble vigorously as the percentage complete indicator began to climb toward 100%.
Once this occurred, an audible beep was heard and the unit then began counting down from 15 minutes.  You may wonder why there would then be a countdown, but that is because I only had 15 minutes with which to clean with this particular spray bottle full of water.  Super-oxygenated water, although extremely safe, is not very stable and breaks down easily.  In 15 minutes time, the super-oxygenated water will revert back to ordinary tap water, so once your spray-bottle of cleaning water is ready, it's time to get to work!
With the help of the accompanying microfiber cleaning cloths, I decided to tackle the inside of our microwave.  Now this appliance always seems to be caked with some unidentifiable grimy mess and I wanted to see how well the supercharged water would do in this difficult situation.  I have to admit that I was a tad disappointed because it seemed to only remove about 50% of the grease from our microwave.
The real trouble spots didn't budge from using the super-oxygenated water.  I was thrilled at knowing that I was effectively disinfecting these surfaces though and killing any harmful bacteria and contaminants that were lurking around inside.  The FDA has even concluded that ozone is 52 percent stronger than chlorine bleach and is effective over a much wider spectrum of microorganisms.
I used the spray bottle on easier messes and found that it was more than enough to clean them right up.  Unfortunately, I didn't care for the spray bottle itself, for I was unable to get the bottle to produce a fine mist.  It only seemed capable of delivering a large jet stream of water, no matter which direction I turned the nozzle.  There are so many uses for the super-oxygenated lotus water in your home though.  Just look at the benefits this sanitizing system can provide:
Save hundreds of dollars by using cold tap water instead of chemical cleaners, sanitizers and deodorizers.
Safely sanitize - even around babies, pets or people with allergies or sensitivities
Kill germs on produce, meat or seafood
Improve flavor and shelf-life of produce
Remove stains, kill mold and mildew
Reduce pesticides on fruits and vegetables
Next, it was time to see how the multi-purpose bowl attachment and vegetable retainer would work on cleaning our fruits and vegetables.  I selected four apples and four carrots from the refrigerator and gave them a quick rinse under the faucet to remove any extraneous dirt.  Then I placed these items inside the multi-purpose bowl and filled it to the max line with cold tap water.  After that, I inserted the vegetable retainer in the lid of the bowl, which would serve to keep the produce from floating.
Finally, I attached the lid, selected the correct icon on the base unit and turned it on.  In the same way as with the spray bottle, the water inside began to bubble and the percentage complete began to climb toward 100%.  When the alarm sounded, I was assured that my fruits and veggies were now sanitized, rid of harmful pesticides and ready for preparation or storage.
We seem to spend a fortune on organic fruits and vegetables, but with the Tersano Lotus Sanitizing System (LSR100), I don't think that purchasing organic will be entirely necessary anymore.  The Lotus Sanitizing System has also been proven to delay the natural browning of  fruit and vegetable tissues, thus increasing your food's shelf life for further monetary savings.  Since this sanitizing system is also designed to be used with meat, poultry and seafood, your family can eat food that's both delicious and much safer than before.
If you would like to radically improve the health of your family's food and rid your home's surfaces of harmful bacteria and other contaminants, than I highly recommend the Lotus Sanitizing System (LSR100) from Tersano!  Through Oxyshield technology, you can super-oxygenate ordinary tap water and kill germs, remove stains and improve the flavor and shelf-life of produce, all in a manner that's environmentally friendly, chemical free and completely safe!
Disclosure:  I received the Lotus Sanitizing System (LSR100) from Tersano in order to facilitate my review. No other compensation was received. This product review is based on my own personal experiences with this item and is completely honest and objective.
I'm a former 7th grade Science teacher turned stay-at-home mom that lives in Houston, Texas. I am married to my college sweetheart and have a beautiful daughter named Riley, who definitely keeps me on my toes! I am also involved in starting a small business which would both manufacture and sell an invention that I've patented, called Toothpaste 2 Go. I love interacting with my readers and hope to learn as much about you as you learn about me!
Melissa @ Mommy Living the Life of Riley!