Reading books is one of Riley's favorite pastimes and definitely one her father and I love to encourage.  At her age, she can't seem to get enough stories read to her and I know that as soon as she can read by herself, she will want to revisit those same books again.  In the meantime though, we seem to have books strewn EVERYWHERE and the problem just seems to be getting worse.  Of course, I can't give away any of her books, so what should I do?
Thankfully, a company called Tidy Books has come up with a ton of wonderful and beautiful book storage solutions!  I was fortunate enough to review an adorable wooden bookcase made especially for housing children's books.  Keep reading to find out why this particular bookcase is so unique!
I reviewed the Tidy Books Bookcase - Blue Lowercase from Tidy Books, which retails for $199.00 with FREE SHIPPING.
As soon as I saw the bookcases from Tidy Books, I knew that they were on to something great!  These bookcases are especially kid-friendly and can still house a ton of books.  The Kids Lowercase Bookcase only stands 45" high, which is perfect for children of all sizes to access.  There are four slimline shelves of varying heights which allow books to face out so that children can easily find their favorite.  Also, because two of the shelves are shorter in stature, none of the smaller books will get overlooked amongst the larger ones.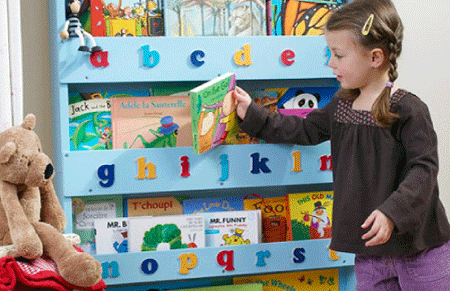 I also love how this bookcase can house as many as 85 children's books, yet takes up very little space, for this bookcase is only 30" wide and less than 3" deep!  Of course, my favorite feature of the Kids Lowercase Bookcase has to be the super cute and educational panels on the front which have the lowercase alphabet displayed in primary colors.  This is such a great design and would look fabulous in any child's room or playroom!
Tidy Books was really on the ball when they also designed it so that the bookcase can grow with your child.  For instance, when your child finally gets to the age where the lowercase alphabet on the front becomes "too baby" for them, you can simply take off these front panels and reverse them to the blank side, so that the bookcase is just a solid color.
Tidy Books claims that the Kids Lowercase Bookcase is extremely easy to assemble and I have to admit that it was.  Check out the steps and pictures below to show how I was able to tackle this job all by myself and in about 40 minutes.

First, I laid out all of the pieces included with the Kids Lowercase Bookcase and then assembled the two side pieces.  Next, I began affixing the three back pieces of wood to the bookcase's sides.
Once that was complete, I turned the bookcase over to face front again, slid the four ledges inside their slots and secured them with several screws.

All that was left to do now was fasten the four front panels to the front of the bookcase with screws.  The great thing is that once Riley outgrows the alphabet side of these panels, I can easily reverse them to just the plain side so that she will still have a very functional and beautiful bookcase!
The last step involves tilting the bookcase slightly against the wall and securing it with two long screws.  Since Riley still has her crib in her room, her furniture arrangement will change slightly once she moves to her big girl bed.  For this reason, I didn't want to permanently fasten the bookcase to her wall yet, which is also why I don't have any books in it either.  I can't wait though to mount this bookcase next to the large reading chair in her room, so that she will have a perfect little reading nook, just for her!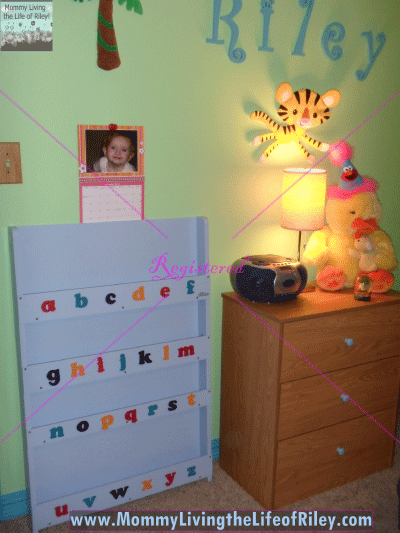 Aside from her bed, this is my favorite piece of furniture in Riley's room because it is just so cute and functional at the same time!  The Kids Lowercase Bookcase doesn't take up much room at all and it is something that I know Riley will get YEARS of use and enjoyment from.
I'm also thrilled to know that we now have a permanent and organized solution for all of her many books and have helped encourage independent reading in the process.  If you have a child or children who love to read, I highly recommend the Tidy Books Kids Lowercase Bookcase for your home too!
Disclosure:  I received the Tidy Books Bookcase - Blue Lowercase from Tidy Books in order to facilitate my review. No other compensation was received. This product review is based on my own personal experiences with this item and is completely honest and objective.
I'm a former 7th grade Science teacher turned stay-at-home mom that lives in Houston, Texas. I am married to my college sweetheart and have a beautiful daughter named Riley, who definitely keeps me on my toes! I am also involved in starting a small business which would both manufacture and sell an invention that I've patented, called Toothpaste 2 Go. I love interacting with my readers and hope to learn as much about you as you learn about me!
Melissa @ Mommy Living the Life of Riley!