As a mom, there's nothing more important than the health and safety of our children.  It's why we hold their hands when they cross the street and teach them phrases like "Stranger Danger" so that they have a way to react in public if they are approached by someone they don't know.
However, just as important as teaching them to be wary of strangers they meet on the street, is teaching them to be wary of whom they meet or what they share on the Internet.  Protecting children from the dangers of being online is a two-fold process, requiring both education and Internet security software installed on your family's PC, such as Internet Security Suite Plus from Total Defense.  Keep reading to learn more!
I reviewed the Internet Security Suite Plus Software from Total Defense, which retails for $69.99, but is currently on sale for $48.99.
For every copy of Internet Security Suite Plus that is sold, Total Defense will make a donation to the National Center for Missing & Exploited Children to help raise money to find missing kids and educate parents and children about online safety.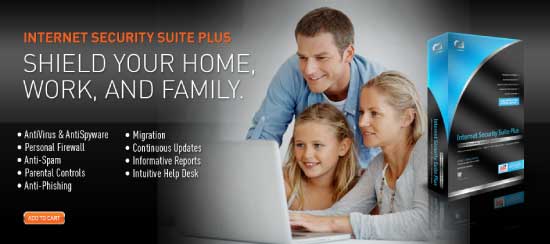 Internet Security Suite Plus from Total Defense is a great first line of defense in protecting children online.  This software provides easy-to-use, comprehensive virus protection against malware, spyware, spam, inappropriate content, lost files, and data corruption - without all the hassle.  They've also built-in parental control with filtering to protect your children while online.  Just look at the myriad of features offered by Internet Security Suite Plus software:
AntiVirus & AntiSpyware: Removes and prevents viruses, worms, rootkits, and Trojan horses from infecting your PC and protects your computer from spyware threats.
Personal Firewall: Stops intruders from gaining access to your PC, protects your personal information, and prevents damage from malicious programs.
Anti-Spam: Keeps spam out of your email inbox using industry-leading technologies such as DKIM (Domain Keys Identified Mail) and SPF (Sender Policy Framework). With reputation-based protection, the spam filter is stronger and smarter than ever before.
Parental Controls: Let you protect your kids from online predators and offensive content by monitoring, filtering and blocking access to web sites, instant messaging programs, and peer-to-peer services.
Anti-Phishing: Protects you from phishing attacks, Internet fraud, and malicious websites.
Migration: Lets you move all of your important files and settings to a new computer with a few easy-to-follow steps.
Continuous Updates: Users never have to worry about upgrading to the latest version of software as long as their subscription is active. They will always be automatically upgraded to the latest version when it is released. With no need to worry about complicated and time consuming product upgrades, it's seamless, automatic, and simple.
Informative Reports: You monitor the status of your system by providing real-time reports that show user activity and system alerts.
Intuitive Help Desk: Gives you Fast Facts, Custom Support, and a Help Key that provides you with easy-to-understand information when you need it.
Since my family is on our computer quite often and we currently have a slew of programs, files, pictures, videos and the like, I'm always trying to improve our PC's speed and performance.  I really appreciated how Total Defense Internet Security Suite Plus packs unprecedented power into an even smaller memory footprint, making your PC security leaner, meaner and smarter than ever before.  So not only will this program uninstall all security challenges and malicious .exe files, it will also keep your computer running as efficiently as possible.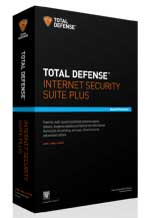 Total Defense Internet Security Suite Plus provides you with the next generation of PC and Internet Parental Controls, which protects your children from online predators and pedophiles who use chat rooms, instant messaging and e-mail to pursue children.  It also enables filtering & blocks access to internet portals that you as a parent would not approve of for your children.
Unfortunately, the same advances in computer and telecommunication technology that allow our children to reach out to new sources of knowledge and cultural experiences are also leaving them vulnerable to exploitation and harm by con-men, computer-sex offenders, sociopaths, and cyberpaths.  Kids unknowingly can even be persuaded to provide your family's information (address, phone number, availability times...etc.) to online predators.
Adults often fall victim to these ploys, and children, who are usually much more open and trusting, are even easier targets.  The threat is even greater if a child has access to email or instant messaging programs, visits chat rooms, and/or uses social networking sites.  Internet monitoring is a necessity in this day and age to adequately protect your kids.
Total Defense goes above and beyond the call of duty to successfully protect your family from viruses, spam, predators, phising, dangerous websites and programs, etc. with their Internet Security Suite Plus software.  They also offer a complete 60-day money back guarantee, free software upgrades for the life of your subscription 24/7/365 unlimited support via email, chat and web forums.  So guard yourself and your family from all of the viruses, hackers, spam, and other online threats on the web today with Internet Security Suite Plus!
Disclosure:  I received the Internet Security Suite Plus Software from Total Defense in order to facilitate my review. No other compensation was received. This product review is based on my own personal experiences with this item and is completely honest and objective.
I'm a former 7th grade Science teacher turned stay-at-home mom that lives in Houston, Texas. I am married to my college sweetheart and have a beautiful daughter named Riley, who definitely keeps me on my toes! I am also involved in starting a small business which would both manufacture and sell an invention that I've patented, called Toothpaste 2 Go. I love interacting with my readers and hope to learn as much about you as you learn about me!
Melissa @ Mommy Living the Life of Riley!