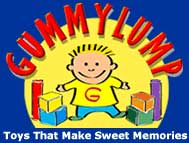 As a first time parent, I must admit that I was previously unfamiliar with the magical world of Melissa & Doug.  But now, two and a half years later, I'm a complete and utter convert!  Melissa & Doug toys are some of the most imaginative and well-designed toys on the market and I always know that when I purchase a Melissa & Doug item, Riley is guaranteed to love it!
Gummy Lump is what I look for in a great toy store too and they have never managed to disappoint.  They carry a wide variety of high-quality and award-winning toys for every age group and I love how they seem to have more Melissa & Doug toys than anywhere else.
Recently, Gummy Lump provided me the opportunity to review the neatest travel system on the market for our little tots...the Trunki from Melissa & Doug.  Keep reading to learn much more!
I reviewed the following Melissa & Doug travel items from Gummy Lump:

Trunki Iris Purple Kids Suitcase, which retails for $39.99, but is currently on sale for $31.99

Trunki Alphabet Stickers, which retail for $1.99, but are currently on sale for $1.59

Trunki Destination Stickers, which retail for $1.99, but are currently on sale for $1.59

Trunki Fun Face Stickers, which retail for $1.99, but are currently on sale for $1.59

Trunki Pink Saddlebag, which retails for $14.99, but is currently on sale for $11.99

Trunki Tote Bag - Pink and Purple, which retails for $14.99, but is currently on sale for $11.99
When you're little, traveling anywhere can seem like a lot of sitting and waiting which most tiny folks just don't seem to have the patience for.  Leave it to Melissa & Doug to make something as boring and mundane as traveling, a world of fun for youngsters!
The Trunki is a ride-on, pull along children's suitcase designed for kids ages 3 years old and up.  It is absolutely perfect for sleepovers, trips to grandma's house, summer camp and vacations.  Thanks to the Trunki's integrated wheels and comfortable saddle, children can easily ride along on top of it or be pulled along with the included dual purpose pull/carry strap.
This strap can even serve as a shoulder strap for the Trunki, making it easier for adults to carry, and the non-removable key can lock the suitcase so that nothing is accidentally lost.
If you think that the Trunki is just all fun and games though, you'd be wrong.  This children's suitcase is made in the USA from the same lightweight, durable plastic as adult suitcases and is even approved as airline carry-on luggage.  There are four hidden compartments inside the Trunki for stashing hidden treasure and secure inner straps to keep contents in place while traveling.
Although the Trunki suitcase by itself would make any child a happy traveler, what's really cool is how Melissa & Doug thought to design so many fun accessories to complement it!  The Fun Face Sticker pack can give your Trunki some personality, by turning it into any animal, insect or fun character your child wishes.  The sky's the limit with these 20 adorable facial features!
Next, the Alphabet Sticker pack includes over 100 stickers so that your child can put their name or any other words they'd like on their suitcase.  Finally, the Destination Sticker pack contains 20 beautifully illustrated scenes which allow your child to decorate their Trunki so as to commemorate the places they've visited.
What good is a comfortable saddle without a matching saddlebag?  Melissa & Doug's innovative saddlebag can help pad the Trunki for a long ride and also doubles as a shoulder pack.  Just twist the straps in one of two directions to either secure around the Trunki itself or to sling around your shoulder.
The saddlebag has 2 zip pockets, makes a padded seat cushion and even contains a small squeaker horn for alerting those around you.  I love how both the saddlebag and the Trunki have ID badges so that if your child accidentally misplaces either one of these, a good Samaritan can easily return them.
Of course, in my opinion, the neatest Trunki accessory is the 2-in-1 tote bag.  This handy bag can actually attach inside the Trunki itself so as to keep any travel activities or special items from falling out when opening the suitcase.  It can also be removed from the Trunki and used as an over-the-shoulder bag for taking a few toys or games with you once you've arrived at your destination.  Now that's one functional travel system!
Riley couldn't have been anymore pleased with her new Trunki, and her father and I were simply amazed at how well designed this entire children's travel system was.  What's more, I know that Riley will get plenty of YEARS of use out of the Trunki and its accessories and we, as her parents, will enjoy how easily entertained she will be while on the go.
If you have a child who would appreciate a little more fun in their travels, then there's absolutely no better way to go than with a Trunki from Gummy Lump!
Disclosure:  I received the Melissa & Doug Trunki Kids Suitcase with Complete Accessories from Gummy Lump in order to facilitate my review. No other compensation was received. This product review is based on my own personal experiences with this item and is completely honest and objective.
I'm a former 7th grade Science teacher turned stay-at-home mom that lives in Houston, Texas. I am married to my college sweetheart and have a beautiful daughter named Riley, who definitely keeps me on my toes! I am also involved in starting a small business which would both manufacture and sell an invention that I've patented, called Toothpaste 2 Go. I love interacting with my readers and hope to learn as much about you as you learn about me!
Melissa @ Mommy Living the Life of Riley!