I don't like to admit my vanity, but I have a feeling that I probably spend too much time in front of the mirror.  Once I'm done washing my face, applying toner and a myriad of other facial creams and sunscreen, it's time to hit the makeup.  After this is done, I still have to style my hair and then decide which accessories I'm going to wear.  All of this womanly preparation equals a lot of time spent in the bathroom and a pair of tired, aching feet from standing on our hard tile floor.
Now most people might say, "Well, why don't you try eliminating a few steps from your beauty regimen and spending less time in front of the mirror?"  MY solution...Get a WellnessMats Motif Collection Anti-Fatigue Mat instead!  Their medically-proven cushioning system significantly improves comfort and overall tiredness when compared to standing on the floor.  I recently had the chance to review the 3' x 2' Bella Motif Anti-Fatigue Mat in Black.  Keep reading to learn more!
I reviewed the Bella Motif Anti-Fatigue Mat in Black (3' x 2' size) from WellnessMats, which retails for $119.95.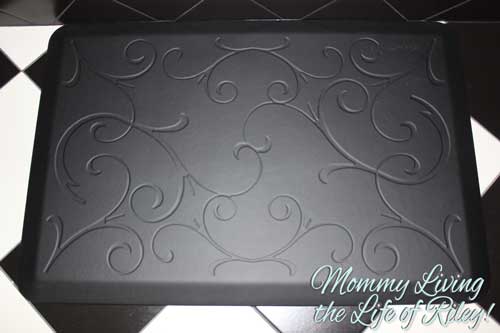 Take a stand on a WellnessMats premier anti-fatigue mat and say hello to comfort and goodbye to back, knee and foot pain. These revolutionary anti-fatigue floor mats are ergonomically engineered and medically proven to provide unsurpassed comfort, safety, relief, and support while you stand, wherever you stand.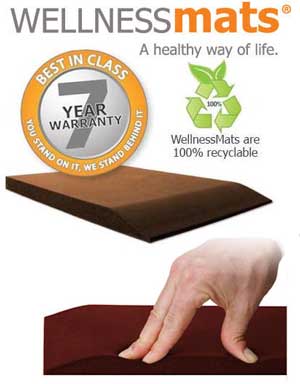 WellnessMats have a smooth, sleek design, are incredibly supportive and resilient, with a soft hand that feels like heaven on your feet. Easy-to-clean, all WellnessMats resist dirt & stains, are inherently anti-microbial and the mats' edges will never curl or delaminate.
You can even cook or get ready in the bathroom while wearing a pair of high heels, for WellnessMats are heat and puncture resistant. Cook, clean, and create in complete comfort, guaranteed. WellnessMats even offer a 7-year comprehensive warranty to prove it.
As if that weren't enough, WellnessMats are made in the USA :usa: and are even 100% recyclable, thanks to their proprietary advanced polyurethane technology (APT).  At the end of a WellnessMat's long and useful life cycle (more than 7 years), it can be recycled into a handful of other viable products.
This means that WellnessMats can be upcycled:  reprocessed and handled in a a way that requires less energy usage, fewer resources, and virtually no waste to create a new product (or products) that are as valuable or more valuable than the original product.
This reclamation process allows WellnessMats to upcycle its superior anti-fatigue products into an equally useful series of other polyurethane products, including;
Advanced soles for shoes including health and medical footwear
Carpet padding/underlayment for your home
Other useable mats
"Crash pads" for playgrounds, running tracks, select gym equipment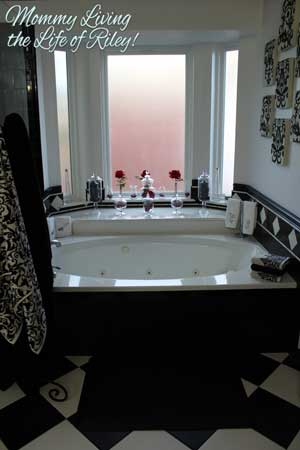 Not only will an anti-fatigue mat from WellnessMats make your feet, back and knees feel better, now they'll even accentuate your decor!  The new Motif Collection features beautiful, classic "relief-style" designs embossed into their premium anti-fatigue mats. These decorative mats allow you style and design without sacrificing the comfort or performance you expect from WellnessMats.
I absolutely loved the design of the new Bella Motif mat.  This gorgeous floor mat offered a slight swirling pattern which matched perfectly with our master bathroom's decor.  Currently, we use the Bella Motif anti-fatigue mat in front of my side of the double sink, but as you can see from this picture, it could go anywhere in the room and look as beautiful as it is functional.
There's been one major downside to having just a single Bella Motif mat in the bathroom that both my husband and I share though.  Since the new WellnessMats anti-fatigue mat has made its place into our bathroom, I've noticed my husband meandering over to my side of the double sink area more and more.  How do I know?
There's been an exponential increase in the amount of beard hair and overall grossness on my side of the sink!  :rofl:  Thanks to WellnessMats, I can now put in some marathon mirror time without any aches or pains whatsoever...and apparently, so can my husband!
Disclosure: I received the Bella Motif Anti-Fatigue Mat in Black from WellnessMats in order to facilitate my review. No other compensation was received. This product review is based on my own personal experiences with this item and is completely honest and objective.
I'm a former 7th grade Science teacher turned stay-at-home mom that lives in Houston, Texas. I am married to my college sweetheart and have a beautiful daughter named Riley, who definitely keeps me on my toes! I am also involved in starting a small business which would both manufacture and sell an invention that I've patented, called Toothpaste 2 Go. I love interacting with my readers and hope to learn as much about you as you learn about me!
Melissa @ Mommy Living the Life of Riley!