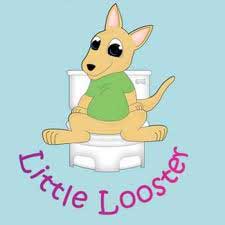 Many parents of young children quickly begin to wonder how to start potty training their little sprout.  I don't have much experience on this topic besides that of my own personal saga with Riley, but I learned quickly how much the right potty training products affect the whole process.
Since beginning the potty training journey with Riley, there's one thing I discovered, and that is that I hated using a separate, tiny potty just for her.  These potties would take up way too much room in our small bathroom and are havens for germs and bacteria.  Also, if you don't want your bathroom to smell, you must thoroughly scrub the little potty EVERY time your child uses it.
Geesh!  Of course, the simplest way to potty train would be just to have your child use the big potty from the start and skip the intermediary tiny potty all together.  But, if you want your child to be truly self-sufficient when using the big potty, you have to provide an adequate way for them to safely get up on the potty seat to use it.  This is where the Looster Booster from Little Looster comes in.  Keep reading to learn much more!
I reviewed the
Looster Booster
from Little Looster which retails for $34.99, but is currently on sale for $29.98 with FREE SHIPPING.
The Looster Booster Answers the "How to Start Potty Training" Question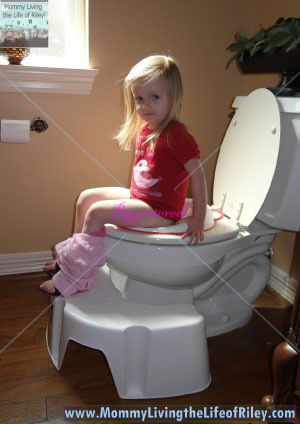 The Looster Booster from Little Looster is a lightweight, horseshoe-shaped step stool which fits around the base of your toilet.  There is absolutely no assembly required, so it's ready to use right out of the box.  There are small non-skid feet on the bottom of this step stool to ensure that it won't easily slide around on your bathroom floor.  There are also multiple raised "L"s on top which provide little feet with enough texture so that they don't slip while climbing on and off of this potty training aid.
Cleanup is a breeze too...just use a little soap and water.  It's also super convenient because the Looster Booster doesn't have to be moved every time a grownup needs to use the restroom.  This step stool doesn't stick out far enough to interfere with adults using the potty, so it's automatically there anytime your little one needs to go.
Because of the Looster Booster's horseshoe design, your child can now comfortably use the restroom without having dangling feet, which eventually causes their legs to fall asleep.  They also can now finally ditch the tiny toddler potty and use the big potty just like everyone else in the house.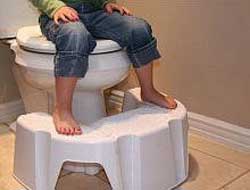 Ever since introducing Riley to the Looster Booster, she has never once wanted to use her tiny potty again.  She loves that now she can use the big potty just like her mommy and daddy, and that she can get up and down all by herself.
I know that we will continue to use the Looster Booster long after potty training has ended, for it will help Riley be more comfortable while using the potty until she grows tall enough for her feet to touch the floor.  I'm just thrilled that I no longer have to trip over or clean that tiny toddler potty ever again!
Disclosure:  I received the Looster Booster from Little Looster in order to facilitate my review. No other compensation was received. This product review is based on my own personal experiences with this item and is completely honest and objective.
I'm a former 7th grade Science teacher turned stay-at-home mom that lives in Houston, Texas. I am married to my college sweetheart and have a beautiful daughter named Riley, who definitely keeps me on my toes! I am also involved in starting a small business which would both manufacture and sell an invention that I've patented, called Toothpaste 2 Go. I love interacting with my readers and hope to learn as much about you as you learn about me!
Melissa @ Mommy Living the Life of Riley!