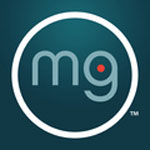 Ever since I first got a smartphone several years ago, I've been enamored with the multitude of free apps available for it.  Whether it's calendars, cookbooks or games, Android has an app for that.  Unfortunately, these amazing, free apps have a downside...now Riley wants to constantly use my phone to play games like Angry Birds.  :pull hair out:
Hello!  I know that Android phones are awesome, but adults actually NEED them from time to time for crazy things like making phone calls.  So how do you finally reclaim your phone, while keeping the kiddos entertained?  Get them an Android game system from PlayMG!
Order now and get the following, a $40 value:

$10 of preloaded premium games
$20 8Gb MicroSD card
$10 on SpendSmart Prepaid Mastercard
The MG Android Game System Offers FREE Android Games in a Pocket-Sized Player
The MG Android App Gaming System from PlayMG is unlike anything I've ever seen before, because it is a portable, handheld game system designed to utilize all of those amazing Android apps on the market today.  With over 60,000 downloadable Android games, the possibilities are endless as to what your child can play.  What's more, the games on the Android Marketplace are much more affordable, if not completely free.  That beats the pants off of those overpriced video cartridges which can cost upwards of $20 each.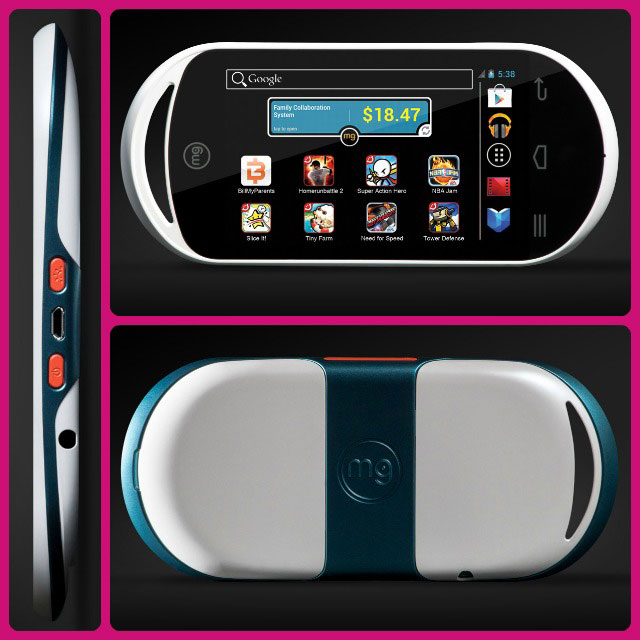 The 4-inch touchscreen makes game play a breeze so that younger children who don't have (or need) an official smartphone can still get in on the fun...and off of your smartphone!  :clap:  Not only will your smartphone now be free for YOU to actually use it, your data plan charges will take a breather too.
I love how the MG offers Wi-Fi connectivity so that your child can easily play their favorite games while on the go, and with over 60,000 "freemium" games available on Google Play, there's no limit to the fun!  The included 1880 mAh battery boasts almost 4 hours of play time with 4+ days worth of standby.  Also, because the memory of this Android game system isn't completely internal, but is determined rather by an expandable SD card, it's easy to get all the games, music, photos and videos you can handle.
Here's just a few more features of this powerful MG Android game system:
Big 4" touchscreen encased in a sleek, sophisticated and sturdy "pocketable" design: rounded corners and grip provide a perfect hold on the app-play experience
Built in Wi-Fi allows entry into the unlimited world of low-cost and free app gaming
4GB built in memory and an 8GB SD card included with every MG: $20 added value. MG's SD port means limitless expandable memory ability to download and save as many apps, music, photos and videos as desired.
MG Family Collaboration System: Includes $10 offer from SpendSmart™ prepaid MasterCard®, "Digital Wallet" and "Remote Trust" notification functions.
$10 worth of top EA Mobile games 'Need for Speed Hot Pursuit' and 'NBA JAM' preloaded
Eight Com2uS popular game titles preloaded; Slice It, Swing Shot, Homerun Battle2, Tiny Farm, Tower Defense, 9 Innings Baseball, Super Action Hero and Derby Days
Proprietary MG Origins Avatar System: as gamers use the MG, they gain points, customize and unlock the origin story of their own personal gaming companion
1.3 Megapixel Front-Facing Camera and ability to shoot and play video
Stereo Headset Jack
Operating on ICS 4.0 ; includes new Face Unlock security feature
The bells and whistles of the MG aren't just for the kiddos either.  There's a family collaboration system on this device which allows parents to "trust, but verify" their children's game choices so that nothing "too adult" is downloaded.  PlayMG even thought to include a way for parents to dole out small amounts of money for children to manage, just in case they'd like to purchase any premium games.  With the SpendSmart Prepaid MasterCard from BillMyParents, you can load up your child's allowance or other monies for them to spend as they'd like.  If you open a new BillMyParents account, you'll even start off with a free $10, thanks to PlayMG.
One thing's for sure, your kids will absolutely LOVE the new MG Android game system from PlayMG.  Riley just can't seem to get enough of this handheld gaming device and would literally play it all day, if we'd let her.  She's even gone so far as to give up her television time so that she can play a little while longer with her MG.  I didn't think ANYTHING could come between her and Jake and the Neverland Pirates!  :wow:
If you'd like to finally end the smartphone tug-of-war that might be going on at your house, then I highly recommend the new MG A930 Android App Gaming System.  With the MG, you can take back your phone, yet still give plenty of fun!
 

Disclosure:  I received the MG A930 Android App Gaming System from PlayMG in order to facilitate my review. No other compensation was received. This product review is based on my own personal experiences with this item and is completely honest and objective.
I'm a former 7th grade Science teacher turned stay-at-home mom that lives in Houston, Texas. I am married to my college sweetheart and have a beautiful daughter named Riley, who definitely keeps me on my toes! I am also involved in starting a small business which would both manufacture and sell an invention that I've patented, called Toothpaste 2 Go. I love interacting with my readers and hope to learn as much about you as you learn about me!
Melissa @ Mommy Living the Life of Riley!