During the summer, less definitely seems to be more...including less clothing and less makeup.  One thing that should never be forgotten during this season though, is a top-quality facial sunscreen, and NO, the tiny amount that is added in your makeup is not enough.
Neova has not only designed their line of sunscreens to protect your delicate skin from the sun's harmful rays, these products will even repair past damage!  Now this fair-skin, freckled girl was just a little too intrigued to let a review opportunity like this pass me by.  Keep reading to learn more!
I reviewed the following items from Neova:
DNA Damage Control
SILC SHEER 2.0
Photo Finish Tint Sunscreen, which retails for $45, but is currently on sale for $38.99 with FREE SHIPPING
DNA Damage Control
EVERYDAY
 For the Face Sunscreen, which retails for $39, but is currently on sale for $34.40 with FREE SHIPPING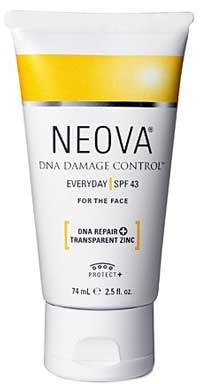 The Neova DNA Damage Control SmartSunscreens offer complete UVA/UVB photoprotection along with the revolutionary DNA-repair technology to reduce visible signs of aging from the sun's rays.  Although I wear a facial sunscreen daily, it doesn't claim to actually repair past damage that the sun has done to my skin.  This is a big benefit in my opinion and the reason why I plan on using Neova SmartSunscreens from now on.
These SmartSunscreens have actually been shown to increase UV protection by 300% in one hour, thanks to the DNA-repair enzymes included in both formulas I tried.  While there are a few differences between the EVERYDAY formula vs. the SILC SHEER 2.0 variety, these sunscreens both share the following ingredients:
Photolysomes:

 The liposome encapsulated DNA repair enzyme, photolyase derived from plankton, is hyper-efficient and unique in its ability to reduce the visible signs of UV-induced insults.

Endosome:

A liposome encapsulated extract from the marine microbe, Micrococcus lysate.  Extremely UV-resistant, the extract contains the UV-endonuclease which improves the appearance of sun-damaged skin.
L-ergothioneine:  A powerfully intense antioxidant.

Octinoxate:

Filters UVB rays.
Transparent Zinc:  Highly effective physical sunscreen, defends against broad spectrum UVA/UVB exposure.

So now for the differences...the Neova SILC SHEER 2.0 sunscreen offers broad spectrum SPF 40 protection along with the cosmetic benefit of a skin-perfecting sheer tint that evens out skin tone.  It's an oil-free sunscreen that offers complete photoprotection and cosmetic benefits in one advanced treatment. This the perfect product to wear on those super hot days when your regular makeup just melts and slides off your face.
The Neova EVERYDAY sunscreen is more in line of what you might think of as a typical facial sunscreen, though thanks to its DNA-repair abilities, it is not.  It offers broad spectrum SPF 44 protection and uses transparent Zinc Oxide and advanced DNA-repair technology to deliver optimal sun protection and significant anti-aging benefits.
It also contains vitamin E and vitamin C to help maintain skin's optimal moisture levels.  Personally, I love wearing the SILC SHEER 2.0 product as long as the weather is super hot, but once the temps drop a bit, I will probably switch over to the EVERYDAY sunscreen.
Although I haven't been wearing these two formulas long enough to notice a visible difference in my skin's photo-damage yet, I'm confident that before long, the photolysomes and endosomes present in the Neova SmartSunscreens will begin to work their magic.
The only thing I don't like about both of these sunscreens is that they need to be reapplied every two hours.  For me, this just isn't feasible and I know I will forget to do so.  I'm hoping that sometime in the near future, Neova will invent a long-wearing SmartSunscreen formula which will last more like 6-8 hours before reapplication is necessary.
With Neova's DNA repair technology and the highest standards of UVA/UVB protection, your sunscreen will be taken to the next level to deliver absolutely beautiful skin!
Additional Items from Neova:
Disclosure:  I received the two sunscreens mentioned above from Neova in order to facilitate my review. No other compensation was received. This product review is based on my own personal experiences with this item and is completely honest and objective.
I'm a former 7th grade Science teacher turned stay-at-home mom that lives in Houston, Texas. I am married to my college sweetheart and have a beautiful daughter named Riley, who definitely keeps me on my toes! I am also involved in starting a small business which would both manufacture and sell an invention that I've patented, called Toothpaste 2 Go. I love interacting with my readers and hope to learn as much about you as you learn about me!
Melissa @ Mommy Living the Life of Riley!