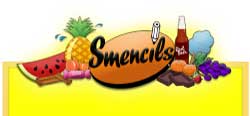 When I was young, I loved the Back to School season because of all the shopping that was required!  I've always been nutty over office supplies and still to this day love getting new pens, pencils, erasers, etc.
The Smencil Company has a wide variety of pens, pencils and even colored pencils to make your child's back to school experience much sweeter.  I recently had the chance to review several of their back to school essentials.  Keep reading to learn much more!
I reviewed the following items from The Smencil Company:
Original Smencils (10 pk.)
, which retails for $12.00, but is currently on sale for $9.99
Colored Smencils (10 pk.)
, which retails for $14.00, but is currently on sale for $12.40 with FREE SHIPPING
Smens (5 pk.), which retails for $12.00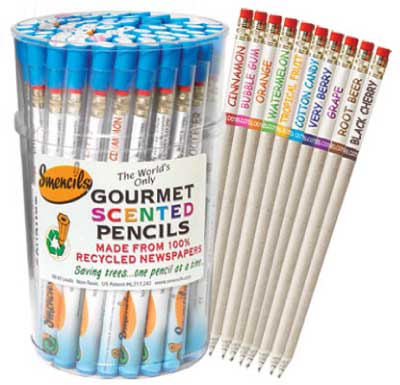 Smencils and Smens are Gourmet Scented Pencils and Pens which are actually constructed from recycled newspapers.  These writing utensils are very eco-friendly, and of course, they smell delicious too!  As a matter of fact, each year about 1o billion non-degradable plastic pens are discarded into our already overfilled landfills.
To combat that, the tubes of the Smencils and Smens are constructed from biodegradable plastic, for a truly environmentally-friendly writing utensil.
The Smencil Company allowed me to review three varieties of products, all of which are perfect for starting your child off on the right foot this school year.  The original Smencils are eco-friendly pencils that resemble your regular #2 pencil, complete with eraser, but come heavily scented and are packaged in an individual tube.
These scented pencils come in 10 delightful aromas and will actually hold their scent for 2 YEARS, so you don't have to worry about their yummy-ness fading away anytime soon.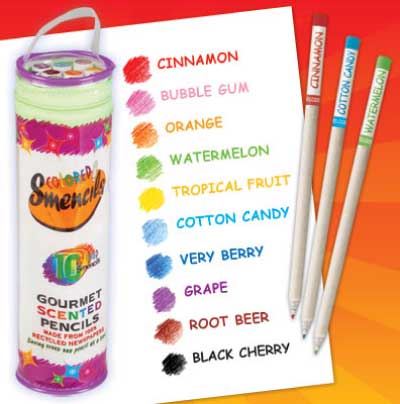 The colored Smencils are vibrant map pencils which also come in the same ten flavors as the original Smencils, but without an eraser on the end.  I loved how brightly colored each of these map pencils were and of course, how delicious they all smelled!
Finally, the Smens are the newest member of The Smencil Company family and are ball-point pens with black ink which delight the senses with ten scrumptious new scents:
Red Licorice
Black Licorice
Passion Fruit
Creamsicle
Pink Lemonade
Mocha
Caramel Corn
Banana Fo Fana
Ninja Berry
Aloha
As is customary with any of the Smencil products, the Smens also come in their own biodegradable plastic tubing so that the gourmet scent isn't wasted in the bottom of a backpack.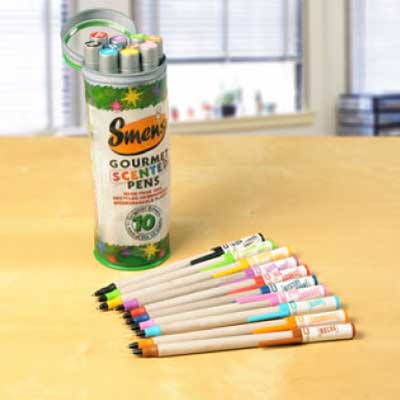 If you want to inspire your child to keep up with their homework this school year, then I highly suggest purchasing their writing utensils from The Smencil Company.  With Smencils and Smens, you can easily "draw" your child's attention to their studies and rocket them to the head of their class!  :idea:
Disclosure:  I received the Original Smencils, Colored Smencils and Smens from The Smencil Company and Family Review Network in order to facilitate my review. No other compensation was received. This product review is based on my own personal experiences with this item and is completely honest and objective.
I'm a former 7th grade Science teacher turned stay-at-home mom that lives in Houston, Texas. I am married to my college sweetheart and have a beautiful daughter named Riley, who definitely keeps me on my toes! I am also involved in starting a small business which would both manufacture and sell an invention that I've patented, called Toothpaste 2 Go. I love interacting with my readers and hope to learn as much about you as you learn about me!
Melissa @ Mommy Living the Life of Riley!