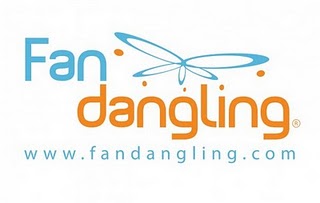 Riley was the kind of baby who was absolutely enamored with her baby mobile.  We used to have the Fisher-Price rain forest musical mobile attached to her crib and she would watch it so intently.  It would always do the trick to help calm her down and lull her to sleep.  Therefore, it saddened me when the mobile had to come down rather quickly.
The instructions had said that the mobile was considered dangerous to a baby that could crawl and so in just a few short months, Riley lost her mobile.  That's where Fandangling comes in!
With this nifty little invention, any child can have a really cool mobile (and neat room decoration) by simply attaching these small stuffed toys to the ends of their ceiling fan blades.  I just had to try out the Safari Fandangling in Riley's room!

The

Fandangling

costs $19.95 + $3 for shipping and handling.  They also offer a 10-day money back guarantee, if you're not completely satisfied.
I (Anne, a stay-at-home mom of 2) invented Fandangling quite by accident. It all started with our daughter Lia. When she was born we were seeking ways to keep her happy and interested in her room. When I put the first Fandangling on the fan in her room, her eyes lit up and the rest, as they say, is history.
I quickly realized that Fandangling was great for babies – my Mom friends all love it. As Lia grew older and more people came in contact with Fandangling, it became clear that Fandangling wasn't just for babies.
Fandangling is surely the next generation mobile, but older kids love it as well. Our friend's 7 year old daughter loves puppies. The Puparazzi kit was a favorite gift and the perfect accent to her room. Whether her fan is on or off, Fandangling livens up her room and is an eye catching part of the decor. Little boys love it too. Whether they like bugs or sports, adding a Fandangling to their room is fun and cool.
Fandangling has become a wonderful toy – it is for kids of all ages and even adults. Whether you are looking to soothe or just make an unmistakable statement in a room, Fandangling is the answer.
When I received the Fandangling, I noticed that it came with enough stuffed animals for a 5-blade fan.  It also came with two different sets of Velcro attachments and a sheet of instructions.  Installation was a breeze and I was done in literally five minutes.  All I had to do was clean the ends of the fan blades, securely attach one piece of the Velcro strip to the center of the blade, and then press the Velcro strip on the corresponding stuffed toy down firmly.  Do this each time for every blade on your fan and in no time, you're done!  I turned the fan onto the low setting and watched my instant baby mobile go to work.
I received the Safari Fandangling Kit to match the rain forest theme we have in Riley's bedroom.  The animals matched perfectly and looked great.  Fandangling has a bunch of different designs for babies and even older kids too.  What's more, if you don't like all of the pieces of just one kit, they'll even allow you to mix and match the toys to create a custom kit.
Riley immediately loved her new ceiling fan decoration.  She pointed constantly at the safari animals and made the animal noises each of them make.  I left the Fandangling attached to her ceiling fan for three days, but after the first day, I noticed that the temperature in Riley's room was getting unusually hot.  I tried turning up her ceiling fan, but noticed that the fan wasn't really getting any faster.  Also, for some reason, it didn't seem to be blowing cool air any longer either.
I don't really know why, but the Fandangling was somehow making Riley's fan blades not whip the air around like they used to.  My husband and I were almost convinced that it was her ceiling fan that was not working properly and was about to go out and purchase another one, when instead, I decided to remove the Fandangling.  Right away, the fan's speed picked up again and the fan started blowing cool air again.  I did notice in the instructions that it states that not all fans will work with the Fandangling.  They recommend consulting your fan's instruction booklet to make sure.
The problem is, that the fan in Riley's room came with our house and we have no idea where the instruction booklet for this fan is.  So, for now, the Fandangling isn't able to be used in her room, but if we ever replace her fan, we're definitely putting it back up on the new fan!
I think this is an excellent idea and one that is long overdue!  Now, a child any age can enjoy the soothing quality of a baby mobile.  It's also a very unique decorating statement that looks great while the ceiling fan is in use or not.  I wish that it would have worked better with the particular ceiling fan in Riley's room, but the Fandangling instructions do tell you to check your own fan's instruction booklet to make sure that your fan will accept the added weight.  With the 10-day money back guarantee, you've got nothing to lose to see if it will work for you and your child!

Disclosure:  I received a Safari Fandangling Kit from Fandangling in order to facilitate my review. No other compensation was received. This product review is based on my own personal experiences with this item and is completely honest and objective.
I'm a former 7th grade Science teacher turned stay-at-home mom that lives in Houston, Texas. I am married to my college sweetheart and have a beautiful daughter named Riley, who definitely keeps me on my toes! I am also involved in starting a small business which would both manufacture and sell an invention that I've patented, called Toothpaste 2 Go. I love interacting with my readers and hope to learn as much about you as you learn about me!
Melissa @ Mommy Living the Life of Riley!