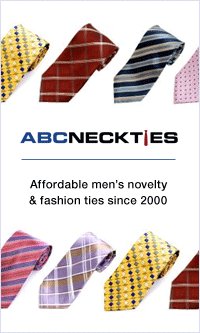 My husband and I love Halloween!  We decorate our house and yard every year with the scariest decorations.  We also love to watch scary movies and even classic Halloween cartoons as this holiday approaches.  We even have a scary, full-size "butler" in our game room, which we keep up YEAR ROUND!
So, I couldn't have been happier to find that ABC Neckties carried a man's tie with a scene on it from the Peanuts' classic, "It's the Great Pumpkin, Charlie Brown".  My husband, Michael, has a job where he must wear a tie to work everyday and every year around Halloween, he always says that he needs more Halloween-themed ties.  I gave this Peanuts tie to Michael and here's what he thought about it.
I reviewed the Peanuts Great Pumpkin Tie from ABC Neckties, which retails for $34.99, but is currently on sale for only $29.71.
The Great Pumpkin is Coming!! Our Ralph Marlin Peanuts Great Pumpkin Tie represents the best of this classic holiday cartoon.
100% Silk
4" x 54"
Officially Licensed
Hand Made
Dry Clean Only
Made in the USA
I was definitely looking forward to surprising my husband with this new Great Pumpkin Tie from ABC Neckties when it came in.  I thought the colors were very bold and crisp and the tie was definitely an attention grabber.  Since attention is something my husband has never shied away from too many times, I thought he'd love it too.  I have to admit though, that I was a little disappointed when I saw the tie in person.
The thing that jumped out at me right away was that the lettering "The Great Pumpkin is Coming!" on the tie wasn't printed in the center of the tie.  As you can see from my pictures below, the lettering is too far to the right of the tie and is definitely noticeable while looking at it from a distance as well as up close.  The lettering is also not printed as crisply as the rest of the tie either.  This might be hard to see from my pictures, but around the "N" in pumpkin, there is a faded appearance like the tie just didn't dye well in that area.
Next, it was time to give it to my husband to see what he thought.  Immediately, he loved the design and was thrilled that he now had a new tie to wear around Halloween.  He thought that the Great Pumpkin scene was wonderful and would definitely get him noticed.  There are also so many different colors in this tie, that it would be very easy for him to match it to many of the dress shirts he already owns.
Michael mentioned the lettering being off center within 1-2 minutes of looking at the tie, so I knew then that I wasn't the only one who thought the lettering wasn't right.  Michael then tried to put it on and commented that the tie "didn't tie right and tied like a cheap tie".  I told him that this tie was a 100% silk, handmade tie and he said that the tie "felt thin" and just wouldn't tie properly.
Personally, I'm not exactly sure what this means, since I've never tied a man's tie before.  But, since Michael wears a tie to work everyday and has a vast array of ties in his closet, both high quality and not so quality, I figured I'd have to take his word for it.
ABC Neckties has a vast array of neckties in every color, design and pattern, including bow ties.  They also carry ties in varying price ranges, so there's bound to be something for everyone here.  We didn't have the best experience with the Great Pumpkin Tie, but I would hardly judge an entire company based on one singular tie.
It is always possible that we could have received a defective tie and that the others they sell are not like this one at all.  Visit ABC Neckties and see how they can update your man's dress wardrobe with the latest fashionable neckwear!
Disclosure:  I received the Peanuts Great Pumpkin Tie from ABC Neckties and

Family Review Network

in order to facilitate my review. No other compensation was received. This product review is based on my own personal experiences with this item and is completely honest and objective.
I'm a former 7th grade Science teacher turned stay-at-home mom that lives in Houston, Texas. I am married to my college sweetheart and have a beautiful daughter named Riley, who definitely keeps me on my toes! I am also involved in starting a small business which would both manufacture and sell an invention that I've patented, called Toothpaste 2 Go. I love interacting with my readers and hope to learn as much about you as you learn about me!
Melissa @ Mommy Living the Life of Riley!