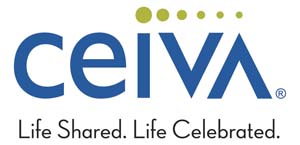 As a mom, I absolutely LOVE to show off pictures of my little girl and how she is growing and changing every day!  Never before have I been hounded by friends and family for new pictures, new pictures, new pictures of Riley!  As a matter of fact, that was my main purpose when I first started blogging a little over two years ago...I was just looking for a fast and easy way to share pictures with my loved ones.
CEIVA Logic Inc. must have heard this popular demand loud and clear, because they stepped in and did something about it.  They created digital picture frames which talk to each other and share photos automatically, and you DON'T EVEN HAVE TO HAVE A COMPUTER TO DO IT!  (Hello, Grandma!  :))  CEIVA connected digital photo frames are the new and improved mommy brag books!  I was thrilled to have a chance to review this unique technology with my mom to see if we could now share photos back and forth DAILY!
The CEIVA Pro 80 can be purchased with 1 Year of PicturePlan Service for $147.99 and the CEIVAshare can be purchased with 1 Year of PicturePlan Service for $127.99.
You could also buy the CEIVA Pro 80 and the CEIVAshare combo pack which includes the two frames and 1 Year of PicturePlan Service on each frame, for $249.99.  That's a savings of $25.99 over purchasing them separately.
CEIVA Connected Digital Photo Frames™ are a very powerful brand of digital picture frame. They're loved by families across the country, no matter where they live or how much they know about technology. They use your existing phone line or internet to deliver photos with PicturePlan® Photo Delivery Service. But how do they work?
We keep it simple: Just register and plug in your frame. You can get your photos onto your CEIVA in many ways, and you get free invitations for guests to send their photos, too. Enjoy your whole collection. Or invite your friends & family and let the photos come to you!
Connecting for the first time? Take a look at these First-Time Connection Instructions to help you get started.
How it Works
CEIVAshare Digital Photo Frames require PicturePlan membership to receive photos from friends and family and display memory card photos. CEIVAshare connects using an ordinary phone line and dials a local number each night to check for new photos from family and friends. There is no additional phone line needed, no interruption to the existing phone service and no charge for the call. Every morning 60 new photos appear — automatically.
I was very excited to receive the two CEIVA digital photo frames as well as the CEIVA Dazzle Crystal Kit.  I was planning on keeping the CEIVA Pro 80 for myself, since I wanted to be able to have a little more control over my photos and what I displayed.  The CEIVAshare, which is more of a "display only" type frame and is meant for someone a little less tech-savvy, was going to be reviewed by my mother.
If you are planning on sharing photos with friends and family, I would highly recommend purchasing the CEIVAshare digital frame for people who just want the pictures to appear magically and don't want to really be too involved in the process, like the grandparents.  Next, I went to CEIVA.com, set up my account and registered my frame.  This automatically activated my 1-Year PicturePlan Service, which comes bundled with all CEIVA digital frames.
The neat thing here is that I was allowed to go ahead and set up my mom's account as well.  This makes it extremely quick and easy to get all of your friends and family set up.  This way, if grandma doesn't have a computer, you can set up her account for her.  If she'd like, she can set up everything over the telephone with CEIVA, so no computer is required to get up and running.
I decided to access the CEIVA website via wireless internet, though I could also have used a phone line (so no computer is required) or broadband, if I wanted to pay an additional $19.99 for the CEIVA broadband adapter.  Actually, I was pretty disappointed that a broadband connection option did not come standard on either the CEIVA Pro 80 or the CEIVAshare.  My mother does have high-speed internet access at her house, but she does not have a wireless internet setup yet.
She also does not have a traditional land-line phone any longer, since she relies solely on her cell phone.  My family also doesn't have a land-line phone anymore and so if we hadn't already made the switch to wireless, we wouldn't have been able to use this digital photo frame right out of the box either.
The wireless setup was very easy and in no time, I was connected and ready to go.  The first thing I wanted to do was upload a few photos and see how they looked.  The demo photos on the CEIVA Pro 80 looked stunning.  They really showed up very nicely on the 8" high-resolution screen.  I was also excited to see how beautiful both frames looked.
The CEIVAshare looked just like a real picture frame.  It even had a black photo mat around the digital screen to give it the perfect look!  I was also happy to find that the CEIVA Pro 80 had the option of either a black frame or a wood-grain brown finish.  I decided to set up the CEIVA Pro 80 in the game room amongst the other black picture frames we display there.  It looked great!
Uploading photos to the CEIVA digital photo frames was pretty simple too.  I went on to CEIVA.com and logged in to my account.  I then chose the upload photos option from the Members menu and added my photos by dragging and dropping them on to the site.  I could then even customize my photos and add some really wacky embellishments to them.  This was pretty fun!  I got a little carried away, but it was just too easy to make some very cute pics!
Next, I decided whose frames they would be delivered to, either my frame, my mom's frame or both.  Then, I decided when they should be delivered and I was all done!  Next time that my digital frame connected to the CEIVA PicturePlan site, the new photos would be displayed.  CEIVA allows up to 60 new photos to be displayed on the CEIVA Pro 80 and up to 40 new photos to be displayed on the CEIVAshare.
There is really SO MUCH TO DO on the CEIVA site!  I could go on for hours telling you about all of the cool things you can upload to your digital frame.  For instance, CEIVA offers something called channels whereby you can have the weather, your horoscope, recipes, etc. uploaded directly to your frame every day!  I chose to display the weather channel since my husband is always wondering what the temperature will be and whether or not it's supposed to rain today.  :)
Now, I can just tell him to go check the CEIVA!  CEIVA also has a way for you to upload pics directly from your cell phone, facebook account, etc.  How cool would that be to show grandma a picture of Riley at the circus, while we were STILL AT THE CIRCUS!  I played with a ton of these features and was impressed by all of them, until I tried to set up the Media Server option on my CEIVA Pro 80.  This is where I hit a major snag.
The Media Server option is a way for you to enjoy all your favorite photos by turning your computer into a media server for your CEIVA Pro 80.  (This feature is not available on all models of CEIVA frames).  You can get your photos transferred directly from your computer to your digital frame without even going through the CEIVA site!  I couldn't wait to get this up and running!  I carefully followed the instructions provided on both the slip of paper included with my CEIVA Pro 80 as well as the instructions provided online.
For some reason though, my digital frame failed to "see" my computer, even though we were both connected to the same wireless network and I had all permissions set to share with the digital frame.  I decided to call customer service to get some help with this and that turned in to a big waste of time.  I spent over an hour on the phone speaking with the customer service rep, who didn't seem to have much of a clue as to how to help me.
She kept insisting that there was something wrong with my computer, though my computer could recognize the CEIVA frame just fine, it was the CEIVA frame that didn't "see" my computer.  After about 45 minutes, she enlisted the help of another tech who then told me that he thought there was something wrong with Windows Vista and asked me if I had a computer that used Windows XP instead.  When I told him that I did not, he told me that he would keep checking on what the problem was and then would call me back with a solution.
That was over a day ago and I still haven't received a phone call.  At this point, I don't think I'm going to.  One of the big features of the PicturePlan membership and the CEIVA Pro 80 is the Media Server.  I'm pretty surprised that they didn't have any customer service reps that were better equipped to handle a pretty simple request, which was to help me get my digital frame to connect to my computer.
Finally, I was slightly dismayed to discover that all CEIVA digital photo frames MUST have the PicturePlan Service active at all times for the digital frame to work.  I noticed that the CEIVA digital photo frames have a built-in memory card reader to display your photos directly to the frame.  This is the way that most digital photo frames work.  But, after a lot of digging around on the CEIVA forum, I found that your photo frame will not work at all if you choose to let the PicturePlan Service expire.
All that it will do is cycle through the last update of pictures that were on your frame when your PicturePlan Service was still active.  Even the built-in memory card reader will no longer work.  Personally, I really like the PicturePlan Service and as long as I had a family member who was willing to subscribe too, so that we could share pictures back and forth, I would remain a subscriber.
But, if I no longer had anyone to share my pictures with, I wouldn't want to pay the monthly fee for this service.  I just think it's a shame that my digital photo frame would then even cease to perform like a typical digital photo frame and would instead be rendered useless.  In my opinion, the built-in memory card reader should always work on the frame, regardless of your PicturePlan Service status.
The CEIVA Pro 80 and CEIVAshare Combo Pack is a really great investment for friends and families that want to keep in touch and share pictures daily.  The PicturePlan Service is geared for simplicity, which makes it great for sharing photos for those who don't even have a computer.  There are also a ton of features, like CEIVA channels, silly photo editing, and even greeting cards, which can also be delivered to your digital photo frames.
You're guaranteed to find something every day to deliver to a loved one's digital frame that will make them smile!  I only had a few issues with the CEIVA digital photo frames which is why I am leaving the decision on whether or not to purchase one up to you.  If you are planning to connect this digital frame with a broadband connection, be prepared to spend an extra $20 for the appropriate adapter, since the only connections that are standard on these frames are wireless internet and phone line.
You may or may not be able to use the Media Server features.  This feature is not available on all models, but even if you do purchase the CEIVA Pro 80, the media server might not function properly.  The customer service representatives and myself could not seem to get my media server set up.  Finally, understand that the PicturePlan service is indeed mandatory for the digital photo frame to function.
All frames are bundled with the PicturePlan service for the first year of operation, but after that, you are expected to pay a monthly fee.  If you let your PicturePlan service expire, even the built-in memory card reader will no longer operate.
Disclosure:  I received the CEIVA Pro 80 and CEIVAshare Combo Pack from CEIVA Logic Inc. in order to facilitate my review. No other compensation was received. This product review is based on my own personal experiences with this item and is completely honest and objective.
I'm a former 7th grade Science teacher turned stay-at-home mom that lives in Houston, Texas. I am married to my college sweetheart and have a beautiful daughter named Riley, who definitely keeps me on my toes! I am also involved in starting a small business which would both manufacture and sell an invention that I've patented, called Toothpaste 2 Go. I love interacting with my readers and hope to learn as much about you as you learn about me!
Melissa @ Mommy Living the Life of Riley!