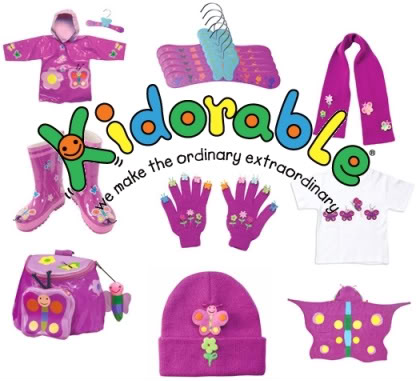 As a mother of a little girl, I am constantly on the lookout for very cute, yet very functional clothing for her.  I think that her clothes should be oh-so-fun and adorable since you're only young once.  You would think that there would be a ton of wonderful clothes out there for children, but to find something that really makes me say, "Oooo, I've GOT to have that for Riley", is actually a lot tougher than expected.
That's why I'm so glad that Kidorable had the "Oooo" factor in mind when they designed their styles of kids' clothing and accessories.  The hardest part of this review was just picking ONE design out of the fifteen they've created!
The Lotus knit hat, scarf and knit mittens can be purchased for $11.50 each on Kidorable.com.
In 1997, Kidorable sprung from the minds, hearts and efficiency apartment of Liping and Jonathan Domsky. They proclaimed, "The world needs someone to create children's apparel and accessories that are both functional and fun. We can do that."
And so Kidorable was conceived. Starting with lions and cats and bears, oh my, manifested as umbrellas and hangers, Kidorable generated enough sales during its first year to break even and plant fruitful Kidorable seeds throughout the land. The following year sales grew ten fold. Every year since, give or take, a new style and/or product line debuted. And every year, the world joyfully embraced more Kidorable delights, give or take, than the year before.
Children, it turns out, absolutely and unconditionally love Kidorable (almost as much as their parents and other children-loving grown-ups do.)
Today Kidorable is a striking presence, not just in stores, but across the vast landscape of the children's apparel and accessories industry. By encouraging personal and professional growth in the service of imagination and smiles, Kidorable's own growth projections continue to soar.
As I mentioned earlier, the hardest part of this review was simply picking out which style I wanted to review.  I chose the Lotus style because the colors were so vibrant and matched so many of Riley's current outfits.  I have to admit that I also LOVED the cute yellow ball tassel on the top of the knit hat in this collection.  As it often is with things you purchase on the internet, I thought that the picture would look much better than the actual product.  I am very happy to report that this is not the case with the items I received from Kidorable!
The knit hat, scarf and mittens all looked exactly as depicted online.  I couldn't believe how soft and thick they felt right out of the packaging.  These pieces will definitely be keeping Riley warm and toasty when the cold weather arrives again!  I was also pleasantly surprised at the amount of detail on all three pieces and just how well the flowers were appliqued on to each piece.  The pink crocheted edging really accentuated the adorably girly look of this collection.  The mittens even had a long cord tying them together...just perfect!
Now it was time to introduce these to my daughter and see what her reaction would be.  I barely took them out of their bag, when she was jumping up and down and reaching up for them.  Normally, Riley hates wearing hats and will take them off just as soon as you put them on her, but this time, she actually let me put the hat on and she KEPT it on!
If this isn't a ringing endorsement from Riley, I don't know what is!  We dressed her up in her new winter gear and I can honestly say that she was thrilled to have it on.  She just kept running around the living room, which it made it a little difficult to get a good picture.  Oh well, she was enjoying her new duds and was having FUN too...just like Kidorable planned it!
Kidorable is a terrific place to get high-quality and completely adorable accessories for your child!  They sell a ton of cute clothing for all seasons, including hats, mittens, scarves, t-shirts, sun hats, towels, raincoats, rain boots and even backpacks.  Your child will look absolutely darling in their coordinated gear, and the best part is, they'll have fun doing it too!
Disclosure:  I received the Lotus Knitwear Set from Kidorable in order to facilitate my review. No other compensation was received. This product review is based on my own personal experiences with this item and is completely honest and objective.
I'm a former 7th grade Science teacher turned stay-at-home mom that lives in Houston, Texas. I am married to my college sweetheart and have a beautiful daughter named Riley, who definitely keeps me on my toes! I am also involved in starting a small business which would both manufacture and sell an invention that I've patented, called Toothpaste 2 Go. I love interacting with my readers and hope to learn as much about you as you learn about me!
Melissa @ Mommy Living the Life of Riley!