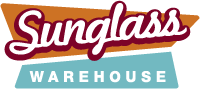 If you're looking for some great sunglasses for your family this summer without breaking the bank, you might want to check out the Sunglass Warehouse.  All of their selections are under $20 per pair!  They have a wide variety of styles, including men's, women's and kid's sunglasses.
All sunglasses are priced under $20!  (The pair I reviewed only cost $15.26) They also offer free shipping on all orders over $25.
Founded in 2002, SunglassWarehouse.com is more than just another sunglasses retailer. We are a customer service company passionate about sunglasses. Here at SunglassWarehouse.com, the customer is our top priority. Over the past seven years, we have served the needs of thousands of satisfied customers, providing quality sunglasses at affordable prices.

At SunglassWarehouse.com, we view every customer as a customer for life. As demonstrated by our customer testimonials and repeat business, we're not interested in selling you a pair of sunglasses that will leave you wanting more. Instead, we want to provide the best service and the best shopping experience possible.

How do we maintain this high level of customer service and satisfaction? First, we guarantee you'll receive the highest quality sunglasses and value for your money. Second, we ensure a customer friendly shopping experience environment, with an easy to browse selection and speedy check-out process. Finally, we promise to ship your sunglasses as quickly as possible so that delivery time will exceed your expectations.

Still not convinced you should be shopping with SunglassWarehouse.com? Beyond our customer service, selection, and value, we've also taken steps to ensure you'll have the easiest and safest online experience possible. Our customer service team is accessible by e-mail and a toll free telephone number. Our money back guarantee and 365-day no hassle return policy means any purchase is returnable for a timely exchange or refund. Not to mention, we offer free shipping on all orders over $25.
In order to facilitate my product review, I was sent a pair of the SW 9889 Padded Sunglasses in Red.  These sunglasses are geared more for rugged outdoor activities, such as biking, sports, hiking, etc.  They have a padded inner rim that hugs to your face and they also have amber tinted lenses which provide UV400 protection.  I love to ride my bike and needed a pair of sunglasses that would easily stay on my face during any bumpy bike ride.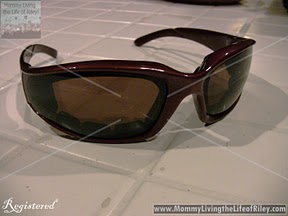 The first thing that impressed me about the Sunglass Warehouse was how quickly my sunglasses arrived.  After my order was placed, they arrived in my mailbox in only 2 days.  When I first examined the sunglasses, I was delighted at how sturdy they were and that they sat level on my table.  I don't know how many times I've purchased inexpensive sunglasses that were fairly flimsy or sat uneven or crooked on my face.
I'm happy to say that the glasses I received were of a good quality and didn't seem cheap, even though they were inexpensive.  I liked the foam padding around the inside rims too.  They felt comfortable on my face and didn't hurt behind my ears or around my nose like some sunglasses will do.  The only part of these sunglasses that I didn't care for, was how low they sat on my nose.  I felt like I needed to keep pushing them up on my face, even though they weren't sliding down, for they did fit snugly.
I came to believe that they must just be designed to sit lower on your nose, which I didn't care for.  My husband tried these on as well and agreed that they sat a little low on his face too.  Besides that, I really do love these sunglasses.  The amber lenses are really cool and make everything have a golden tint to it.  They also seemed to block out a lot of the sun and they did protect my eyes well when I went for a walk with direct sunlight in my eyes.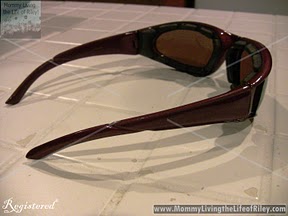 I loved how sturdy they were and how they fit snugly on my face and didn't slide up and down when I walked or rode my bike.  The glasses didn't pinch or hurt my ears or nose in any way.  They were level and didn't sit crooked on my face.  I liked the padded portion around the lenses and I loved the amber tint to the lenses as well.  I also loved the extremely quick shipping that I received and of course, I LOVED THE PRICE OF ONLY $15.26!
These glasses did sit a little low on my nose and it felt like they should sit up higher on my face.
I have no doubt that you will get a great pair of sunglasses in a very timely manner from the Sunglass Warehouse for a price that you can easily afford!  They have a wide variety of options and styles as well as some unique tools to help you find the perfect pair.  On this site, you can find the perfect sunglasses based on your skin tone or even your face shape.  I highly recommend checking out the Sunglass Warehouse and giving them a try for your family's summer styles!
Disclosure:  I received the SW9889-Red sunglasses from the Sunglass Warehouse  in order to facilitate my review.  No other compensation was received.  This product review is based on my own personal experiences with this item and is completely honest and objective.
I'm a former 7th grade Science teacher turned stay-at-home mom that lives in Houston, Texas. I am married to my college sweetheart and have a beautiful daughter named Riley, who definitely keeps me on my toes! I am also involved in starting a small business which would both manufacture and sell an invention that I've patented, called Toothpaste 2 Go. I love interacting with my readers and hope to learn as much about you as you learn about me!
Melissa @ Mommy Living the Life of Riley!