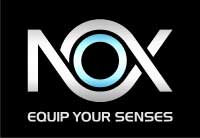 Technology never ceases to amaze me these days, for every time I turn around, there's another bigger and better gadget or electronic device released which blows away its predecessors.   In my opinion, one of the biggest improvements that all new technology seems to share is the mind-blowing audio these devices are capable of.
Of course, it's not feasible to blast your stereo, iPod or gaming system to appreciate the state-of-the-art audio unless you happen to have an equally impressive set of headphones.  That's where NOX Audio comes in.  I recently had the chance to review one of their newest headsets, the Specialist.  Keep reading to learn more!
I reviewed the Specialist Headset in Green from NOX Audio, which retails for $79.99.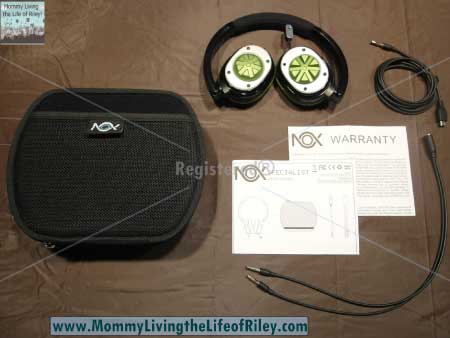 When I first received the Specialist headset from NOX Audio, I immediately loved the overall design of the headphones themselves as well as the durable zippered protective case they came in.  The Specialist is a 2-in-1 music plus gaming headset that provides a perfect blend of optimal sound performance, comfort, and ultimate on-the-go portability with a unique, stylish design for all your audio needs.
After reviewing the Specialist more closely, I am convinced that this is the ONLY headset you will ever need to purchase, for it truly does it all!  It's great for listening to music on your iPod, iPhone, iPad or computer as well as gaming, Skype or chatting on your PC.  It is lightweight and compact, making it the ideal combination of purpose and performance.
The Specialist headset from NOX Audio comes complete with a 3.5 mm detachable cable and PC splitter.  This headset is even compatible with XBOX 360 and PS3 when coupled with the NOX Negotiator Universal Optical Gaming Adapter (sold separately).  Basically, if it has a 3.5 mm headphone jack, the Specialist will work with it.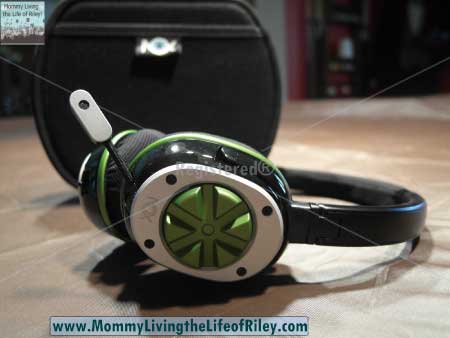 Just look at the many features of this well-designed headset from NOX Audio:
Redefines comfort with ear pads constructed of breathable, ultra-soft memory foam, resulting in reduced ear fatigue
Compatible with PCs, iPods, iPads, and all other electronic devices with a standard 3.5mm jack
Dual drivers provide clean, crisp sound
Retractable microphone boom rotates out to your desired location
Conveniently located, easy-to-reach volume knob
Unique fold-up hinged design and detachable micro USB cable allow for maximum portability
Stylish and bold design available in Black, Green, Red and Blue
I've always been a huge fan of the classic headphone style, for earbuds never deliver true quality sound, in my opinion.  Unfortunately, the typical headset usually ends up squishing your ears and head before long and are uncomfortable to wear after a short while.  But when I wore the Specialist headphones, I couldn't get over how comfortable they were!  This headset is extremely lightweight and the ear pads, being constructed of breathable, ultra-soft memory-foam, were definitely a delight.  I barely felt like I had any earphones on at all and could wear these comfortably for hours!
Having a volume knob directly on the earphone itself is also genius.  When something's too loud, what's the first thing you do?  Grab your ears!  Now, while grabbing your ears, you can easily adjust the audio level.  The great design doesn't stop there though.  This headset also contains a retractable microphone boom which will rotate to your exact desired position, perfect for extended Skype conversations.
But most importantly, the Specialist delivers sound as phenomenal as its design, thanks to its dual drivers.  I started out listening to my iPod for just a few minutes to test out the sound, but ended up over thirty minutes later, still jamming because the tunes sounded so great!  The bass was thumping and the highs were crisp and clean.  Of course, the beauty of the classic headphones style is that the ear pieces also muffle out the surrounding room noise so that you can truly escape into the audio experience.  :rock:
As I'm sure you can tell by now, I am completely enamored with the Specialist Headset from NOX Audio!  If you are looking for a terrific way to plug in and tune out all of the distractions around you, both at home or on-the-go, then I highly recommend purchasing a pair of these headphones!
Disclosure:  I received the Specialist Gaming Headset from NOX Audio in order to facilitate my review. No other compensation was received. This product review is based on my own personal experiences with this item and is completely honest and objective.
I'm a former 7th grade Science teacher turned stay-at-home mom that lives in Houston, Texas. I am married to my college sweetheart and have a beautiful daughter named Riley, who definitely keeps me on my toes! I am also involved in starting a small business which would both manufacture and sell an invention that I've patented, called Toothpaste 2 Go. I love interacting with my readers and hope to learn as much about you as you learn about me!
Melissa @ Mommy Living the Life of Riley!