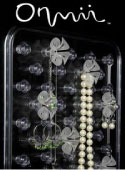 It's a problem that every woman faces at one time or another...how to organize all of the beautiful jewelry you have?  I've always been a fan of jewelry organizers that display your wares out in the open for everyone to see for two reasons.  First, I think that the jewelry I own is very ornamental whether I'm wearing it or it's doubling as a piece of home decor.
Second, the more my jewelry is displayed, the more I will remember to wear it.  How many times have you dug to the bottom of your jewelry box to find items that you completely forgot you had and haven't worn in years?  Onmii is a unique jewelry organizer whose aim is to look just as pretty as the jewelry it's organizing.  Keep reading to learn more about it!
I reviewed the Square Board Jewelry Organizer from Onmii, which includes six Onmii Flowerbuttons and retails for $69.00.
The Onmii jewelry organizer is a versatile and stylish way to organize all of your jewelry, including rings and earrings, in a fun and easy way.  I had the opportunity to review the square board model, which measures 32 cm x 32 cm and is constructed from a thick, transparent piece of acrylic.
Each board contains 41 holes in a pattern that closely resembles a Chinese Checkers board.  The Onmii Square Board Jewelry Organizer comes complete with 4 screws for wall mounting, a tapered metal stick for creating a tabletop model and six Onmii Flowerbuttons for displaying your jewelry.
In our bedroom, I didn't really have a section of wall free for displaying my jewelry, so I really appreciated how the Onmii could also be used as a tabletop model.  Simply insert the included solid metal stick into the bottom center hole and you were ready to go.  This is perfect for use on my nightstand or dresser.
Next, position the six included Flowerbuttons in any of the 41 holes of the square board for maximum versatility in organizing your jewelry.  Personally, I wish that the Onmii would have come with more of these Flowerbuttons, for six were used rather up quickly.  I think 12 Flowerbuttons would have been perfect to start with and of course, there's always the option to purchase more as needed.
Using the Onmii board couldn't have been simpler, for the special Flowerbuttons are specially designed to hold any and all jewelry you own:
Hang your necklaces and bracelets over the stem of the flower and the petals will hold them in place.
Earrings fit easily in the holes on each of the petals and may be secured with an earring back.
Dangling earrings will hang in the holes of the petals as they would hang in your ear.
Clip-on earrings are fastened to the petal itself.
Rings can be applied in one of two ways:  Insert them over each of the soft, pliable petals or insert the ring into the core of the flower.
Personally, I found that dangling earrings work best when displayed from the bottom two holes of each flower and not from the top.  The top holes are perfect for any stud earrings you own.  My necklaces were easy to hang behind the flower itself, but when using the Onmii as a tabletop model, you will find that most of your necklaces will drag the table some.
Overall though, I was very happy with the Onmii Square Board jewelry organizer for I loved how unique and beautiful the organizer itself was.  The clear acrylic board will match any decor and if you don't mind purchasing extra Flowerbuttons, you can display an endless amount of jewelry.  Rings, earrings, bracelets and necklaces can all be organized quickly and easily using the Onmii with a variety of configurations, all pleasing to the eye.
Disclosure:  I received the Square Board Jewelry Organizer and six Flowerbuttons from Onmii in order to facilitate my review. No other compensation was received. This product review is based on my own personal experiences with this item and is completely honest and objective.
I'm a former 7th grade Science teacher turned stay-at-home mom that lives in Houston, Texas. I am married to my college sweetheart and have a beautiful daughter named Riley, who definitely keeps me on my toes! I am also involved in starting a small business which would both manufacture and sell an invention that I've patented, called Toothpaste 2 Go. I love interacting with my readers and hope to learn as much about you as you learn about me!
Melissa @ Mommy Living the Life of Riley!