Colossal Christmas Countdown:

25 Days Until Christmas!

Strawberry Shortcake is a delightful little girl I can remember liking back when I was a child.  Now, I've forgotten a lot about her in the years that have passed, but I do still remember her short stature and bonnet she always wore, how she lived in a large strawberry house, had a pet cat and always smelled of yummy strawberries!  Well, when I received the newest creation from Hasbro, the Strawberry Shortcake Berry Sweet Styles Set, I realized that Strawberry Shortcake has underwent quite a makeover.

No longer does she wear a puffy white frock and bonnet, for now she looks much more like a teenager than a little girl.  She's also ditched the boy haircut and now has long luxurious locks.  Riley and I had an opportunity to review this new Strawberry Shortcake play set.  Keep reading to see what we thought about it!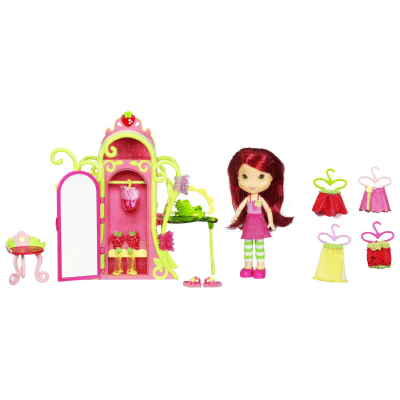 The Berry Sweet Styles Set contains a myriad of goodies and accessories for your child to help dress Strawberry Shortcake.  First, it comes with a large wardrobe or closet with a closing door, several shelves and full length mirror.  Attached to one side of this wardrobe is a fold-down vanity with a small mirror.
Next, this set also contains a small chair for the vanity, a 5" Strawberry Shortcake doll, two pairs of shoes, two butterfly barrettes, five butterfly clothing hangers, a leaf brush, two pairs of sleeves, and seven different styles of clothing.
I have to admit that I hated the way this toy was packaged for it took me FOREVER to undo all of the fasteners which held the contents of this toy to the box.  I think that Hasbro definitely went a little crazy here with the fasteners and my two-year old was quite impatient while I was trying to open this play set.
Once Riley saw all of the cute little clothes and the closet with hangers, folding vanity, etc., she was in LOVE!  She constantly combed Strawberry Shortcake's hair and used the two butterfly hair clips to try and style the doll's hair.  Her favorite feature though was the two pairs of shoes that easily slipped on and off of Strawberry Shortcake's feet.  Riley kept constantly changing this doll's shoes!  Riley also loved the hangers with the tiny clothes on them and how they hung in the closet.
She is too young yet to change the doll's clothes herself, since this toy is recommended for children ages 4 and up.  That didn't stop her though from taking the clothes off the hangers, putting the clothes back on the hangers and putting them up in her closet.  She did this ALL DAY LONG!  Of course, I closely supervised Riley with this toy since there are so many small parts that she could put in her mouth and choke on.
Riley enjoyed this toy so much that I hated taking it away from her just because she was a little too young for it and thankfully, she obliged by not putting anything in her mouth.
Strawberry Shortcake is Riley's new best friend!  Riley made sure that she took it to bed with her for her nap as well as at night too.  When we took a little car ride, she had to have Strawberry Shortcake with her.  I think this is partly because she loves this doll's sweet strawberry scented hair.
Riley has even named her doll "Tutu" because the skirt Strawberry Shortcake is wearing reminds Riley of the tutu she wore on her own second birthday. I have to admit that Strawberry Shortcake is a welcome addition to the family, for both her father and I are growing a little tired of Elmo!  :)
If my daughter is any indication as to how your little girl will react to this Strawberry Shortcake Berry Sweet Styles set, then run don't walk, to the nearest store and buy this!  I can't get over just how much Riley loves "Tutu" and how she won't let this doll leave her side.  This is definitely a charming toy set which will bring hours upon hours of delight and entertainment to that special girl on your Christmas list this year!
Disclosure:  I received the Strawberry Shortcake Berry Sweet Styles Set from Hasbro in order to facilitate my review. No other compensation was received. This product review is based on my own personal experiences with this item and is completely honest and objective.
I'm a former 7th grade Science teacher turned stay-at-home mom that lives in Houston, Texas. I am married to my college sweetheart and have a beautiful daughter named Riley, who definitely keeps me on my toes! I am also involved in starting a small business which would both manufacture and sell an invention that I've patented, called Toothpaste 2 Go. I love interacting with my readers and hope to learn as much about you as you learn about me!
Melissa @ Mommy Living the Life of Riley!