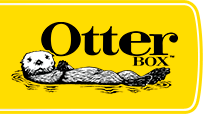 I'm an admitted technology junkie!  I just HAVE to own the latest gadgets with all of the bells and whistles.  I'm so amazed at everything that can be achieved with all of these devices and, they're all so PORTABLE, too!  Therein lies my problem.  For as much as I love technology and its recent portability, I'm also petrified at damaging these very expensive gadgets when I tote them around with me.
Recently, I bought a 64 GB iPod Touch for over $300.00 and now I won't even take it on trips with me because I'm terrified I will break it or damage it in some way.  So of course, I breathed a huge sigh of relief when OtterBox asked if I'd like to review one of their protective cases for my iPod Touch.
As I mentioned earlier, I was dying to have a way to protect my new iPod Touch from ANY harm and after looking at the many products OtterBox carries, I thought that I just might have found the answer I was looking for.  When I took the Defender Series Case out of its packaging, I liked two things immediately.  First, I really admired the look of this case and how it was solid black with a sleek neoprene rubber sleeve.
Second, I appreciated how this case actually provides three layers of protection for my iPod Touch.  Inside of the neoprene case, there was a very sturdy plastic case which snapped apart into two pieces.  These three layers of protection were sure to guard my precious iPod Touch against drops, scratches, dust and shocks!
Next, I began inserting my iPod Touch into the OtterBox case and realized that I might actually LOVE this case for several reasons!  The cool Apple logo actually shows through the back!  Finally, a company that realizes this logo is worthy of being seen!  Also, the OtterBox Defender Series Case COMPLETELY covers your iPod Touch for maximum protection!
There is a clear plastic screen which protects the iPod's touch screen, and the neoprene rubber covers ALL of your buttons and ports too!  You might think that functionality would be hindered if you can't get to any of these buttons or the screen directly, but it's NOT!  Yay!  I was so happy at how well my iPod Touch was being protected from any abuse I could dish out until...
The OtterBox Defender Series case WOULD NOT work with ANY of the iPod docks for my home entertainment systems!  This was such a bummer.  I have two home entertainment systems, a Sony, which is located in the living room, and a Samsung, which is located in our bedroom.  Both of these speaker systems also come with an iPod dock so that we can listen to our iPod Touch anywhere in the house.
The OtterBox case is too wide to fit inside either one of my entertainment system's docks so my iPod Touch cannot make a connection.  I have an iPod port extender, made by Scosche that I thought could work, but this didn't do it either.  When I tried to use the Scosche device I already had, the hard plastic part of the OtterBox case around the iPod's charging port was too narrow and wouldn't allow for a connection here either.
So alas, I can't use the OtterBox Defender Series case after all, since 80% of the time, I am listening to music at home with either my Sony or Samsung sound system.  If OtterBox didn't want to revamp the whole design of their Defender Series Case, then I would DEFINITELY recommend them creating an attachment accessory so that you could successfully use their case along with an iPod dock.  If this little invention was available, I would be in heaven!
So basically, my recommendation to my readers would be this:  if you don't use your iPod Touch with a dock of any kind, BUY THIS CASE NOW!  It is marvelous!  But if you do plan on using your iPod Touch with a dock of any kind, I would make sure that the OtterBox case is going to be compatible before you buy one.
Disclosure:  I received the iPod Touch 2nd and 3rd Generation Defender Series Case from OtterBox in order to facilitate my review. No other compensation was received. This product review is based on my own personal experiences with this item and is completely honest and objective.
I'm a former 7th grade Science teacher turned stay-at-home mom that lives in Houston, Texas. I am married to my college sweetheart and have a beautiful daughter named Riley, who definitely keeps me on my toes! I am also involved in starting a small business which would both manufacture and sell an invention that I've patented, called Toothpaste 2 Go. I love interacting with my readers and hope to learn as much about you as you learn about me!
Melissa @ Mommy Living the Life of Riley!