With Mother's Day right around the corner, it's time to reflect on what our own moms (and dads) have sacrificed and given to us from the moment they became parents.  I never truly realized just what it takes to become a parent until I had my only child, Riley.  It's a relentless job that requires all of your time, patience, love, compassion, guidance and discipline, each and every day without fail.  The benefits are innumerable and immeasurable, but so is the devotion and dedication required.
So how can you celebrate the years of devotion and dedication that all parents give to their children?  Is there a gift that encompasses the comfort and support moms everywhere have shown each day?  This Mother's Day, give the gift of a Sealy Posturepedic Hybrid Mattress Set and improve mom's life by providing her a quality night's sleep for years to come.  The new Hybrid series combines the perfect blend of cooling gel memory foam and titanium-alloy springs for the gift that keeps on giving!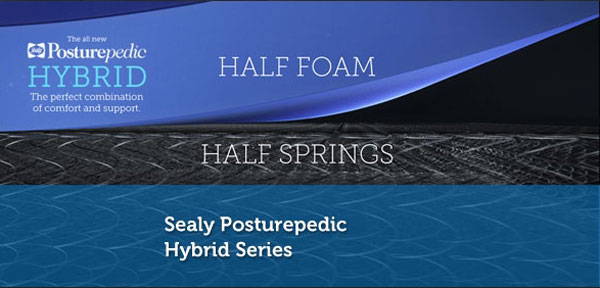 I was elated to have the chance to try the brand new Sealy Posturepedic Hybrid Mattress Set because the concept of this bed is so unique.  Combining the best of both memory foam and a high-quality coil spring mattress seemed like the answer both my husband and I had been searching for.  Finding a mattress we both love is quite difficult for us because Michael needs a very firm mattress, while I love a soft, cushy surface to sleep on.
The Sealy Hybrid series is unlike anything I've ever seen before for it offers a true half foam/half springs design that gives you all the cooling comfort of gel memory foam in the top half and the deep down support you've come to expect from Sealy Posturepedic in the bottom half.  One look at the many high-end features of this mattress set and you'll quickly realize that Sealy Posturepedic has simply outdone themselves with the Hybrid:
OptiCool™ Gel Memory Foam
| | |
| --- | --- |
| | OptiCool™ is the only memory foam on the market to be fused with Outlast™ which is more effective at removing excess heat than standard gel memory foam alone. Mattresses with OptiCool™ gel memory foam are designed to promote a temperature range that provides deep, relaxing sleep. |
SolidEdge™ HD System
| | |
| --- | --- |
| | The new SolidEdge™ HD System gives you a solid seating edge so you can use the full surface of the bed without rolling off the side of the bed. With an improved design to enhance side-to-side stability, it increases usable sleeping space. Now you can stretch to the edge for longer, uninterrupted sleep. |
CoreSupport Center™
| | |
| --- | --- |
| | Sealy Posturepedic® mattresses feature the exclusive CoreSupport Center™, which provides additional support where you need it most. The center third of the mattress (the area that holds the heaviest part of your body) is power-packed to maximize support and enhance durability for the life of the mattress. |
Apex™ HS Coil Design
| | |
| --- | --- |
| | The proprietary titanium alloy Apex™ HS Coil is designed to provide the just-right support we are famous for. The coils are individually encased to minimize motion transfer, so when you move, your partner doesn't have to. |
ForeverFlex™ Fabric
| | |
| --- | --- |
| | The all-new Hybrid delivers with an all-new, lightweight, ForeverFlex™ fabric that is stunning in contemporary styling and has best-in-class stretch properties. The result is a more enveloped, body hugging feel that is second to none. |
StayTight™ Foundation
| | |
| --- | --- |
| | A rubberized foundation cover holds sheets in place and stops the mattress from shifting. |
Designed and Built in the USA
| | |
| --- | --- |
| | This combination of support and technology comes with every Sealy Posturepedic because every Sealy Posturepedic is designed and built in the USA, so you know you're getting a quality product. |
My husband and I have been enjoying the new Sealy Posturepedic Hybrid Mattress Set for almost two weeks now and we absolutely adore this bed set!  Even though he needs a firm mattress to support his back because of numerous car accidents and back injuries, and I prefer a soft plush mattress, the Hybrid delivers for both of us.
On our previous mattress, I would wake up several times each and every night because while sleeping on my side, my hips would begin to hurt and I'd have to change positions in order to get back to sleep.  Thanks to the Sealy Hybrid though, I haven't woke up once during the night in the two weeks that I've been sleeping on it.  My husband reports the exact same thing.  His back doesn't hurt him at all when he wakes up in the morning and he also says that most of the time he wakes up in the exact same position he went to sleep in at night.
The benefits from sleeping on the Sealy Hybrid Mattress Set are honestly too numerous to count, but the major one I've noticed is just how well rested I am each day.  I have much more energy overall and feel better in general now that I'm sleeping on the Hybrid Mattress Set.  As a matter of fact, there were a few nights when I only received about 5-6 hours of sleep instead of the 7-8 hours I usually get.  Instead of being groggy and basically a "walking zombie", I felt just as good as I used to feel when sleeping 8 hours on my old mattress.  WOW!  :wow:  I knew I was sleeping much better on the Sealy Posturepedic Hybrid Mattress Set, but that proved just how much better!
This Mother's Day, give mom back a bit of the comfort and support she's shown you through the years with the Sealy Posturepedic Hybrid Mattress Set.  A great night's sleep is a terrible thing to waste!  :sleep:
 

Disclosure: I received the Hybrid Series King Mattress Set from Sealy Posturepedic in order to facilitate my review. No other compensation was received. This product review is based on my own personal experiences with this item and is completely honest and objective.
I'm a former 7th grade Science teacher turned stay-at-home mom that lives in Houston, Texas. I am married to my college sweetheart and have a beautiful daughter named Riley, who definitely keeps me on my toes! I am also involved in starting a small business which would both manufacture and sell an invention that I've patented, called Toothpaste 2 Go. I love interacting with my readers and hope to learn as much about you as you learn about me!
Melissa @ Mommy Living the Life of Riley!