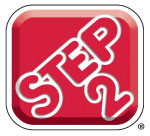 When I had a daughter, I made up my mind then and there to give her toys based on fun and not on stereotypical gender roles.  I was quite the tomboy when I was a girl and pride myself on being able to do a variety of tasks, from sewing to woodworking.  Fun is fun, no matter whether it is a toy predominantly played with by either girls or boys.
The Home Depot Master Carpenter's Workshop is just such a toy.  This tool bench for kids includes a myriad of tools, "wood" pieces and adapters of all kinds.  Want to see your little one's creativity and imagination launch through the roof?  Then keep reading to learn more about this unique children's tool bench from Step2!
This Step2 Tool Bench Features Plenty of "Hands-On" Fun for Your Little One
From the moment I saw this tool bench from Step2, I was impressed.  The Home Depot Master Carpenter's Workbench seemed to have every bell and whistle imaginable and included almost every tool I could think of.  For instance, there's a large work surface with screw holes and areas for nut and screw storage.  There are two large hanging jars, an orange parts bin, a large under-table tray, utility sink, two cabinets, two slide out bins and a large orange floor bin for easy clean-up and a massive amount of storage.
The Home Depot Master Carpenter's Workshop features:
79-piece set
Electronic chop saw and drill press
Task light over pegboard
Clear jars and bins for storage
Deep utility sink for more storage
Realistic "wood" foam project pieces and vice
Assembling this monster of a tool bench proved a little challenging at times, simply because you were required to try and screw in almost 2" long screws while still trying to press the large plastic pieces down or together at the same time.  This was quite cumbersome and I felt almost like an octopus while putting this toy together.  If you have two people to assemble it though, you should have no difficulties.  One person can hold the pieces in place while the other person screws them together.
I have mixed feelings when it comes to the power tools included in the Step2 Home Depot Master Carpenter's Workshop simply because they use a ton of batteries.  I can't say that I'm surprised they use batteries, since it's hard to have all of the realistic sounds and movements without them.  It's just that once I started putting this tool bench together, I realized quickly that I needed WAY more batteries than I had originally thought.  Here's the breakdown of each piece and what it requires:
Overhead shop light - 3 "AAA" batteries
Saw - 2 "AA" batteries
Drill press - 2 "AA" batteries
Hand drill - 2 "AA" batteries
The thing is, your children will love these power tools once the batteries are locked and loaded.  Riley just couldn't get enough of the sounds and motions generated by each and these tools really took her imaginative play to the next level.  She also absolutely adored the "wood" blocks made from indestructible Durafoam.  We made a tool box using these blocks, which easily interlock through various notches and holes.  They're compatible with the power tools, nuts and bolts for extreme realism, and there are enough blocks in this set to make six separate projects.
My one real gripe about the Step2 tool bench has to do with the peg board and corresponding hooks.  Although four tools (hand saw, wrench, pliers and hammer) are designed to be housed here, unfortunately, this is next to impossible.  The hooks are virtually worthless and seem as if they aren't meant to be used to hold these tools at all.  Any slight motion to the tool bench will send all of the hand tools crashing on top of the work space.
Other than that, I'm very happy with the quality of the Step2 Home Depot Master Carpenter's Workbench.  Your child will have hours upon hours of creative fun, all while increasing both their fine and gross motor skills.
Disclosure:  I received the Home Depot Master Carpenter's Workshop from Step2 in order to facilitate my review. No other compensation was received. This product review is based on my own personal experiences with this item and is completely honest and objective.
I'm a former 7th grade Science teacher turned stay-at-home mom that lives in Houston, Texas. I am married to my college sweetheart and have a beautiful daughter named Riley, who definitely keeps me on my toes! I am also involved in starting a small business which would both manufacture and sell an invention that I've patented, called Toothpaste 2 Go. I love interacting with my readers and hope to learn as much about you as you learn about me!
Melissa @ Mommy Living the Life of Riley!