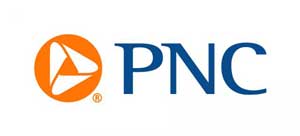 How many times have you told your children that "money doesn't grow on trees?"  Probably, many times more than you'd like to.  Unfortunately, children just don't understand the value of money, because most of the time, they haven't had much experience with it.
The mint makes it first, it is up to you to make it last. ~ Evan Esar
They might earn an allowance and they probably receive money around special occasions like their birthday or Christmas, but because we parents purchase most, if not all, of what a child needs, they just don't understand much about how it works.  Well, we spend years of their lives teaching them history, literature, math and the like, and now it's time to put that same amount of effort into teaching them how to handle their own finances.  After all, this is a lesson if learned well, will benefit them for the rest of their lives.
Thankfully, there are companies out there like PNC Bank who are also on a mission to teach children to save.  They've even developed unique teaching tools to help parents teach their children practical money management skills.  Keep reading to learn more!
Get a free "For Me, for You, for Later: First Steps to Spending, 
Sharing, Saving" kit from your local PNC Bank or from
this website
.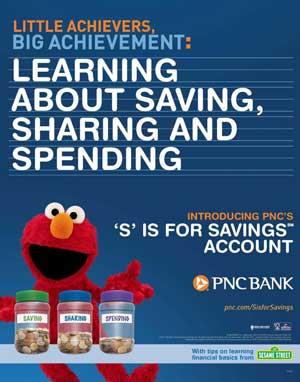 PNC recognizes the value financial education brings to families to help them budget, save and plan for future needs and now they want to help teach children to save too.  In a new initiative in financial education for preschoolers and their families, PNC has created "'S' is for Savings", a children's savings account with online instruction that helps establish a foundation for financial education for all children between the ages of 3 and 5 years old.
This is a valuable tool to utilize with your children for a fun, friendly and free online learning experience.  Research shows that parents see a need to introduce financial education, but unfortunately, lack the tools and resources in order to do so.  I know that I definitely fall into this category, because although my intentions are good, I'm just not sure what to teach Riley or even how to get started.
Teach Children to Save with PNC Bank
If you open an 'S' is for Savings account at PNC, you'll have access to an interactive web site which allows children to set goals and track their progress in an engaging, visual manner, complete with sound effects and animation.  What's more, children can easily see how much they have in their account and literally drag and drop their money into jars, which represent how they want to divide their money.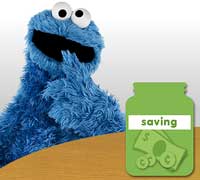 The really cool thing is that parents can use PNC's "auto save" feature to even deposit their child's weekly allowance directly into their account so that children can decide how to disburse their earnings each week.
I especially love how PNC has made their 'S' is for Savings accounts so lucrative for children.  For instance, it only takes a $25 minimum balance to open an account and there are no service charges for account holders under 18 years old.  Your child will also start earning interest on all balances over $1.00.
Now you no longer have to cringe each time you hear the phrase, "Buy this for me, Mommy!"  Turn these instances into an economic lesson instead.  Teach your children to save and start their financial education off on the right foot...open up a "'S' is for Savings" account from PNC today!
Disclosure:  I received compensation from The PNC Financial Services Group to thank me for my participation in this promotion. This review is based on my own personal experiences and is completely honest and objective.
I'm a former 7th grade Science teacher turned stay-at-home mom that lives in Houston, Texas. I am married to my college sweetheart and have a beautiful daughter named Riley, who definitely keeps me on my toes! I am also involved in starting a small business which would both manufacture and sell an invention that I've patented, called Toothpaste 2 Go. I love interacting with my readers and hope to learn as much about you as you learn about me!
Melissa @ Mommy Living the Life of Riley!