This post brought to you by Whitney Farms. All opinions are 100% mine.
I grew up in a farming community where gardening was a way of life.  My mom always had flower gardens and vegetable gardens around our home for as long as I can remember.  So when I moved to the big city of Houston, I just thought that my gardening days were done.  Once Riley was born though, I longed to have fresh grown tomatoes, cucumbers, jalapeno peppers and the like again and so my husband and I set out to build our own large raised bed in our backyard
Of course, one of the best things about raising your own food is that you know exactly what's been used on the plants you've grown and there are no surprises on the trip from the garden to your dinner table.  I have an entirely organic vegetable garden, free from all of the harmful chemicals and pesticides used by some of the larger, commercial growers.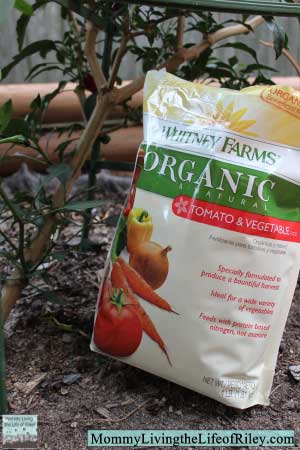 That's why I was thrilled to have the chance to use Whitney Farms Organic & Natural Tomato & Vegetable Food on my budding plants.  This all-natural organic plant food has no manure odor and contains little to no dust.  It's made with 89% renewable resources and is completely biodegradable.
Whitney Farms Organic plant food will stimulate root development which increases nutrient uptake and water efficiency for plants.  What's more, it contains Organic-Gro Beneficial Microbes that biologically enhance the plant food by assisting in the breakdown of organic matter into nutrients.
Just 1-2 cups of food is required per 25 square feet, which is basically our whole raised bed, meaning that one bag of the Whitney Farms Tomato & Vegetable Food will provide organic soil for several seasons.  It is supposed to be added both at planting time and midway through the growing season, and since my jalapeno peppers are about to be halfway through, I made sure to add the plant food to them when I received it.  Look at the large and gorgeous peppers I already have coming up this year!  What a bounty!
If you're serious about growing beautiful flowers, either in a flower bed or in containers, then you should also try the Whitney Farms Organic & Natural All Purpose Plant Food. This particular blend is designed to support vegetables, annual and perennial flowers, ornamental shrubs, trees and fruit trees too and is a great "one-size fits all" plant food.
For a limited time, you can save $3 off your purchase of Whitney Farms® with this coupon!
I'm a former 7th grade Science teacher turned stay-at-home mom that lives in Houston, Texas. I am married to my college sweetheart and have a beautiful daughter named Riley, who definitely keeps me on my toes! I am also involved in starting a small business which would both manufacture and sell an invention that I've patented, called Toothpaste 2 Go. I love interacting with my readers and hope to learn as much about you as you learn about me!
Melissa @ Mommy Living the Life of Riley!