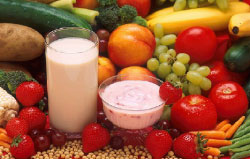 School is back in session and that means more scheduling and nutritional challenges for kids – and moms – on the go. Between soccer, ballet, homework, Scouts and the myriad of other responsibilities facing today's kids, moms can use all the help available in making sure these busy children get to their activities on time and with enough energy to succeed.
"School-age children – especially those in middle and high school – have so much on their plates in terms of activities and homework that it's a real juggling act to balance it all," says Jennifer Meetz, director of marketing for Farm Rich, the frozen appetizer and snack brand.  "It's a well-known fact that there are significant benefits for kids who are well rested, active and eating a balanced diet, but the challenge is finding the time and wholesome options to make sure they are fueling their bodies and minds properly."
First lady Michelle Obama frequently acknowledges the pressures facing families today as part of her platform to bring awareness to children's health, nutrition and fitness.  "We are living in a time where we just don't have enough time. People are rushed. They're overworked, overscheduled...But the thing that I want people to understand in this campaign is that families can make small, manageable changes in their lives that can have pretty significant impacts," said Mrs. Obama during the "Let's Move" live web chat.
So what's a busy parent to do?  Farm Rich talked to moms across the country recently to discover their real-life tips for working wholesome snacks into the chaotic schedules of school-age kids and their families.
Start the Week Off Right. For Bethanne Latkso of Worchester, Mass., organization is the key.  "I have two kids, a busy husband, and I'm designing my own jewelry line, so I don't have time for frequent trips to the grocery store. Instead, every Saturday, I map out the week's activities and plan our meals and snacks around that."  Latkso says in addition to saving time during the week, planning also helps eliminate poor food choices.  "Because I'm eliminating impulse buying, I make better food choices – everything from buying more fresh fruits and vegetables, to buying better snacks for my kids."
Mini-Meal Replacement.  For Leah Welch of Brandon, Fla., a mother of two boys ages 10 and 12, snacks that serve as a mini-meal are a lifesaver. "We are constantly going between baseball, soccer and chess," explains Welch. "Just before I drive them to an activity, I'll pop something like Farm Rich Mini Quesadillas into the microwave. They eat them on the way to the game and they're good to go until we can get home for dinner. It's a much better choice than fast food."
Sneak in Wholesome Snacks When They Least Expect It.  "When my teens are having a study group or a sleepover, instead of letting them load up on sugary soda and potato chips, I try to sneak in a snack that's more nutritionally sound and the brain food they need," says Nicole Mills, an Atlanta mom of three.  If teens balk at serving friends fresh veggies and dip, parents can try Farm Rich Cheese Sticks or Mozzarella Bites made with real mozzarella cheese.  Real mozzarella cheese is a good source of calcium and protein, but they don't have to know that!
Make Healthy Snacking Convenient.  Kim Griffin, a business owner with two teenagers, says because her children are at the age where they can prepare snacks for themselves, "I stock the freezer with things that are easy to heat and eat. They like being able to reach into the freezer to grab a snack they can heat in the microwave and be ready to eat in just minutes."  With frozen appetizers like Farm Rich Mini Bacon Cheeseburgers or Mini Philly Cheese Steaks, they can have a filling and better-for-you snack in just minutes.  Or, suggests Griffin, put some Farm Rich Meatballs in the Crock-Pot, let simmer all day and bowl the kids over with the aroma when they walk in the door from school.
In light of last year's snacking study out of the University of North Carolina at Chapel Hill, tips like these are important for helping give kids snack choices that are better for them, despite the chaos of an active lifestyle. According to the UNC study, kids are snacking more than ever before – in fact, nearly 98 percent of children 2-18 snack between meals.
"Kids still eat three meals a day, but they're also loading up on high-calorie junk food that contains little or no nutritional value," said study leader Barry Popkin, Ph.D.  He also noted that salty, fatty snacks, such as chips and crackers, accounted for the largest increase in the types of snacks children were eating during the three-decade period reviewed in the study.
I'm a former 7th grade Science teacher turned stay-at-home mom that lives in Houston, Texas. I am married to my college sweetheart and have a beautiful daughter named Riley, who definitely keeps me on my toes! I am also involved in starting a small business which would both manufacture and sell an invention that I've patented, called Toothpaste 2 Go. I love interacting with my readers and hope to learn as much about you as you learn about me!
Melissa @ Mommy Living the Life of Riley!