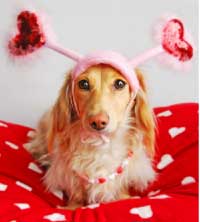 Dog and cat owners receive the rarest form of affection -- unconditional love that is more worthy of Cupid's arrow than any well-matched couple.
No wonder pet lovers go hog wild over gifts for their four-legged friends during the holidays -- and Valentine's Day is no exception. In 2011, the National Retail Federation expected consumers to spend 54% more on their pets than in 2010. Naturally, this represents yet another opportunity for retailers to make a few bucks, so consider these frugal gift ideas to please your precious pets without blowing your budget.
1. Make it Personal
According to the American Pet Product Association, spending on pets in 2010 is estimated at $47.7 billion. That's a lot of chew toys. Set your gift apart from the pack by personalizing it with your pet's name or picture. You can get this done professionally for a pretty penny, but consider how easy it is to create a photo of your beloved canine for her treat container or food bowl.
2. Tasty Treats
You can find festive treats for cats and dogs alike at most major pet stores, including Petsmart and Petco. Cut down on the cost of these premade goodies and purchase gift cards at a discount from sites like GiftCardGranny. You can save up to 10 percent, leaving room in your budget for a bit more pooch-pampering.
3. Edible Greeting Cards
It's high time someone in the greeting card industry thanked all those cute animals gracing the covers of Hallmark cards with a greeting card of their own. Enter Crunchkins, the creator or edible greeting cards for dogs and cats. For less than $5, you can mail a rawhide card to your dog or a catnip card to your kitty, complete with a heartfelt message conveying your love.
4. Cheap DIY Chew Toys
We all know some kids have more fun with the packaging of a pricey present over the actual contents. The same can be said for your pet, who grasps the connection between price and affection even less so than your toddler. Skip the premade wares and go DIY this Valentine's Day with a homemade tug-of-war rope made of old socks, or a crackly paper bag for your kitty-cat max.
5. Baked Goodies
If you bake cookies for your sweetheart, consider baking a special batch for Fido and Fluffy. You can make delicious treats for your pets out of common ingredients, and feel good knowing just what's going into their bellies. Red Velvet Pupcakes, perhaps? Find this recipe and others at Dogster.com.
Andrea Woroch is a consumer and money-saving expert for Kinoli Inc. She is available for in-studio, satellite or skype interviews and to write guest posts or articles. To view recent interviews or for more savings tips visit AndreaWoroch.com.
I'm a former 7th grade Science teacher turned stay-at-home mom that lives in Houston, Texas. I am married to my college sweetheart and have a beautiful daughter named Riley, who definitely keeps me on my toes! I am also involved in starting a small business which would both manufacture and sell an invention that I've patented, called Toothpaste 2 Go. I love interacting with my readers and hope to learn as much about you as you learn about me!
Melissa @ Mommy Living the Life of Riley!