Woo hoo!  I'm officially into Day 3 of the South Beach Diet Phase One and I have to admit that this diet is pretty challenging for me so far.  The first full day I was a total wreck!  I tried not to drink any coffee at all (which I always begin my day with) because I also pour a ton of cream and sugar in it.  Unfortunately, this made me feel worse and so I did my best to drink a cup of coffee, black, which was pretty gross too.
Honestly though, I think I felt so bad because my body was actually detoxing from the horrible foods I've been living on for so long.  Now that I'm on Day 3, I'm beginning to feel a little better and I even have moments where I feel quite good.  The hard part for me is finding unique, yet healthy ways to feel full, without all of the cooking and preparation for each and every meal.
My go-to breakfast is definitely a veggie omelet of one kind or another and I've become quite fond of turkey wraps too for lunch.  I've also discovered that I like drinking vegetable juice cocktail, like V-8.  Honestly, I'm quite surprised that the veggie dishes I've been eating are as yummy as they are.  I've always avoided vegetables like the plague and see now just how silly I've been all these years.  They're not near as bad as I've made them out to be, which is a pleasant surprise.
Here are a few other tips I've picked up along the way when it comes to surviving the South Beach Diet Phase One:
The Slap Chop is your best friend!  I don't like large hunks of veggies in my dishes and also don't like the texture of most veggies either.  With the Slap Chop, you can dice those babies up into super small pieces so that they are better hidden in your food.
Don't count calories and eat when you're hungry, no matter how often!  (Just make sure you're only eating South Beach Diet Phase One approved foods.)
Wash and dice all of your vegetables at once and keep them in separate airtight containers in the fridge.  Now, you can easily grab and go when it's time to eat a snack or make breakfast or lunch.  Preparing all of those meals will seem like much less of a chore and you won't have so many dishes to wash either.
Stick with it and don't cheat!  I've been tempted a time or two to have a sugary morsel or a carb-filled delight, but if you do, know that you will need to stick with the South Beach Diet Phase One 2-3 days longer to completely detox yourself from this type of food.  I don't know about you, but I want out of this phase as quickly as possible, which is why I won't cheat.
Don't be afraid to use a natural sweetening alternative, like Truvia, in place of regular sugar.  Now, I look forward to having my morning cup of coffee again (which I was never going to give up anyway) while still abiding by the phase one rules.
Start your morning off on the right foot with this delightful recipe from the South Beach Diet Phase One:  Couple it with a 6 oz. glass of vegetable juice cocktail and a small coffee and you will feel full and satisfied all while kicking your metabolism up a notch!
Easy Asparagus and Mushroom Omelet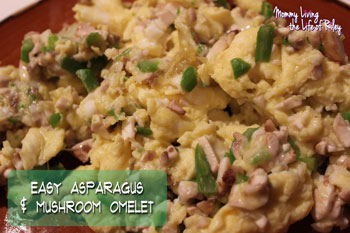 Ingredients:
2 eggs
2 tablespoons water
2 stalks fresh asparagus
2 sliced white mushrooms
1/4 cup shredded reduced-fat mozzarella cheese
Directions:
Boil 1" of water in a large skillet.  Add the asparagus and cook, uncovered, just until tender-crisp.
Meanwhile, in a medium bowl, whisk together the eggs and water until the whites and the yolks are completely blended.
Coat a 10" nonstick skillet with cooking spray.  Heat the skillet over medium-high heat until just hot enough to sizzle when a drop of water is added.  Pour in the egg mixture.  It should set immediately.
With an inverted pancake turner, lift the edges as the mixture begins to set to allow the uncooked portion to flow underneath.  When the top is set, fill one half of the omelet with the asparagus, mushrooms and cheese.
With the pancake turner, fold the omelet in half over the filling.  Slide onto a serving plate.  Serve immediately.
Nutritional Info:
238 calories, 21 g protein, 5 g carbohydrates, 15 g fat, 6 g saturated fats, 260 mg sodium, 440 mg cholesterol, 1 g fiber
I'd really love to lose a few pounds, but honestly, I'm more interested in improving my overall health and eating habits for the long haul.  So far, I think the South Beach Diet is teaching me smart snacking, smart meal preparation and how to live without my two favorite vices, empty carbs and refined sugar.  I did check the scale today though and was thrilled to see that I've already lost 2.2 pounds!  :thumbs up:
Do you have a diet or nutritional plan that you'd recommend?  Or is there a healthy go-to recipe that you absolutely love?  I'd love to hear all about it!
I'm a former 7th grade Science teacher turned stay-at-home mom that lives in Houston, Texas. I am married to my college sweetheart and have a beautiful daughter named Riley, who definitely keeps me on my toes! I am also involved in starting a small business which would both manufacture and sell an invention that I've patented, called Toothpaste 2 Go. I love interacting with my readers and hope to learn as much about you as you learn about me!
Melissa @ Mommy Living the Life of Riley!