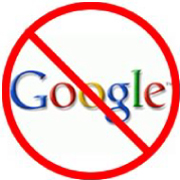 We all know that at this time, Google rules the world...the internet world that is.  Since that's where I spend a lot of my time due to this blog, the decisions Google makes definitely affects me, for better or worse.  Unfortunately, the moves Google's been making here lately are definitely extremely self-serving and actually quite unfair.
For instance, you know the targeted ads that Google sponsors through Adsense?  Well, Google is hiding behind the rouse of privacy concerns to basically weed out and eliminate the advertising competition.  Read more about it through Joost de Valk's timely post, "Google Whores Out Users with False Privacy Claims".
Of course, Google has already stepped on my toes by eliminating Google Buzz, which I used religiously, and now I've reached my breaking point with the recent announcement that Google is also eliminating Google Friend Connect FOR EVERYONE WHO IS NOT ON BLOGGER.
What kind of self-righteous crap is that?  If GFC turned out to be a bad idea or doesn't make the impact you had hoped for, you eliminate it completely...across the board.  You don't weed out a select group of people to keep it instated for and then poo-poo on those of us who have gotten out from under Google's controlling and tyrannical blogging platform.
So what's the alternative?  Well, Google is now trying to push all of us to use their new Google+ pages, because Google+ is out of Beta and open to all.  But unfortunately, I think Google+ is a joke and I don't care for it.  I tried using Google+ for my own personal page and don't think that it can hold a candle to either Twitter or Facebook.
I also will not be opening a Google+ page for this blog now on strict principal.  I do not like the heavy-handed approach of eliminating GFC and then oh-so-gently being told that my only option is Google+.  Because of this, dear readers, you don't have to worry about seeing Mommy Living the Life of Riley in a Google circle anytime soon.
Now down to brass tacks...what does this mean for all of you who enter the contests and giveaways on my site?  If you've been here a while, you'll remember that I used to make following me via GFC a mandatory entry, but now I've taken that widget completely off my site, since it's pretty much dead already.  What I have decided to do in its place is the following:
I would really appreciate my readers to follow me via Facebook, email newsletter or through RSS Feed, but because I realize that there's not a one-size-fits-all option for every one of my readers, I decided to eliminate the mandatory entry for me and just up the number of entries you can receive for following my blog by one of the three methods listed above.
I considered using Bloglovin as my new GFC, but after a thorough investigation of this service, it appears that not that many people use it and I didn't want to make any of you "jump through hoops" in order to follow me and enter my giveaways.  You see, unlike Google, the decisions I make are always with the best interests of my readers in mind and not myself!  Take a lesson, Google!  :devil:
I'm very interested to hear your thoughts on the recent controversial changes from Google as well as what you think about the giveaway entry changes I've made.  If you get a chance, please leave a comment below and let's discuss!
I'm a former 7th grade Science teacher turned stay-at-home mom that lives in Houston, Texas. I am married to my college sweetheart and have a beautiful daughter named Riley, who definitely keeps me on my toes! I am also involved in starting a small business which would both manufacture and sell an invention that I've patented, called Toothpaste 2 Go. I love interacting with my readers and hope to learn as much about you as you learn about me!
Melissa @ Mommy Living the Life of Riley!