Ever heard the saying, "I wish I could be a fly on the wall..."?  Well, I would love it if that wish could be fulfilled sometimes, such as when my family is away on vacation or when Riley is at home with a babysitter.  Thanks to the never-ending wonders of technology, that wish has finally come true!
Home surveillance cameras are an inexpensive way to be the proverbial fly on the wall in your own home so that you can keep tabs on what's going on there no matter where in the world you may be.  D-Link Corporation, a leader in home networking solutions, recently allowed me to review the DCS-930L Wireless N Network Camera.  Keep reading to learn more!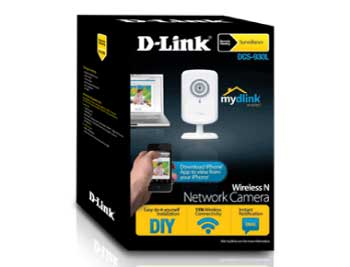 Smaller than your average wallet with Wireless N technology, the D-Link DCS-930L Wireless N Network Camera is the perfect camera for your home or small office.  A compact design with internal antennas, you can place the DCS-930L virtually anywhere, even in the smallest corners of your home.
You can easily view what is going on at home without having to be there via the Internet, or from the mydlink app.  Set up a camera near your entryway or in your kid's room to monitor what is happening around the house.  The wireless connection enables you to place it in more areas around your house.
Installing the DCS-930L home surveillance camera is truly as easy as possible.  First, connect the included Ethernet cable to the network cable connector located on the bottom panel of the camera and attach it to the network.  Next, attach the external power supply to the DC Power receptor located on the rear back panel of the camera and connect it to your wall outlet or power strip.  If successful, the green LED power indicator light will turn on.

Of course, the great thing about the D-Link DCS-930L is that you don't have to be wired directly into your network via the Ethernet cable.  This device is equipped with WPS push button setup for a super quick way to connect your camera to your network, wirelessly.  I was lucky that my router supported this type of connection, for I didn't want to use the network camera anywhere around my physical router and thus needed to be able to connect wirelessly.  You should definitely consult your own router first to make sure that it has WPS push button setup enabled if you are planning on the wireless setup option.
After you've successfully connected your D-Link network camera to your own home or office internet network, the last step is to run the installation CD-ROM in your computer to launch the Camera Installation Wizard.  Simply click start and the wizard will guide you through connecting the hardware and configuring the camera. I really was blown away at how efficient and simple it was to get the DCS-930L up and running!
Next, place the camera in any area of your house that you would like to monitor.  The D-Link network camera offers 4X digital zoom for close-up viewing and a built-in microphone so you can also hear what is going on instead of just viewing it.  One of my favorite features is the motion detector which will automatically trigger recording and send an e-mail alert immediately.  This is perfect for when you are on vacation.  Set one of these cameras up by the front or back door and let the motion detector alert feature provide you complete peace of mind while you're away.
The D-ViewCam Network Camera Surveillance Software included on the CD-Rom also allows you to manage multiple IP cameras for a home, small office or home office.  It provides local recording, playback, live view, multi-camera viewing and remote control and configuration.  Now it is possible to create a flexible, professional and affordable surveillance solution for both your home or office.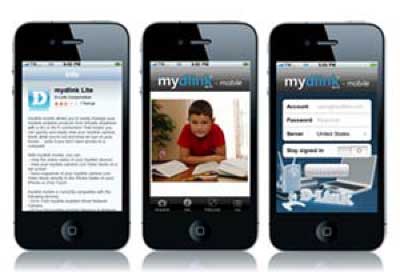 Of course, my absolute favorite feature of the D-Link DCS-930L Wireless N Network Camera is the ability to keep track of what's going on inside my home using just my smartphone!  With the mydlink app, you can view the camera remotely using a laptop, Android phone or tablet, iPhone or iPad.  This camera now allows me to keep tabs on what's going on while the babysitter's at home, what's happening while we're away and even what's occurring while Riley's napping.
Before, when Riley was taking a nap, I was chained inside the house, for fear that she would wake up and need me.  I was unable to take a quick walk around the block or visit with my next door neighbors.  Since our baby monitor doesn't have a very long range, I couldn't even go outside in our backyard and pull weeds or plant flowers.  But now, thanks to the D-Link network camera, all of that has changed.  I keep my smartphone strapped to me when I'm outside and can see and hear every little move she makes.  Now I can get so much more accomplished while Riley takes her daily nap.
If you've often contemplated using a remote viewing surveillance camera, then I would definitely give the D-Link DCS-930L Wireless N Network Camera a try.  Just remember that this particular model doesn't work well in extremely low light situations.  If you are anticipating using this camera in lower levels of light, I would suggest buying the D-Link DCS-932L with built-in IR LED instead.
Disclosure: I received the DCS-930L Wireless N Network Camera from D-Link in order to facilitate my review. No other compensation was received. This product review is based on my own personal experiences with this item and is completely honest and objective.
I'm a former 7th grade Science teacher turned stay-at-home mom that lives in Houston, Texas. I am married to my college sweetheart and have a beautiful daughter named Riley, who definitely keeps me on my toes! I am also involved in starting a small business which would both manufacture and sell an invention that I've patented, called Toothpaste 2 Go. I love interacting with my readers and hope to learn as much about you as you learn about me!
Melissa @ Mommy Living the Life of Riley!