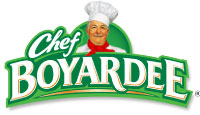 One of my mainstay favorites as a child was Chef Boyardee!  I think I've had every flavor of their yummy Italian dishes at least a hundred times.  Even to this day, my daughter and I occasionally feast on a plate of Mini Ravioli or Beefaroni for lunch, but I never dreamed that a can of Chef Boyardee could actually be an ingredient in a scrumptious dinner recipe...until now!
I had the awesome chance to prepare a delicious dish of Ravioli Lasagna for a few of Riley's friends during my first Chef Boyardeelicious In-Home Party.  Keep reading to learn more!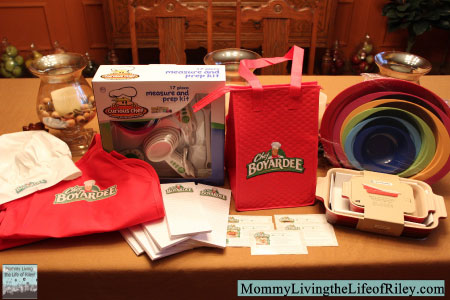 Chef Boyardee sent over an amazing variety of goodies so that I could host my first Chef Boyardeelicious In-Home Party!  When contemplating the guest list, I decided to invite a few of Riley's friends from the Little Gym over for dinner after class.  I know how picky small children can be when it comes to their food...and how HONEST they can be too.  If the Ravioli Lasagna recipe could satisfy this panel of judges, then it would definitely be a dish to put in heavy rotation around our own home.
As you can see, Chef Boyardee sent five scrumptious recipes over which take a standard favorite like Spaghetti and Meatballs, and turn it into a family classic, such as Pepperoni Spaghetti Bake.  If you'd like to steer away from Italian dishes, you can also use Chef Boyardee to make courses like Taco-roni, Chili-roni and even Cheeseburger-roni.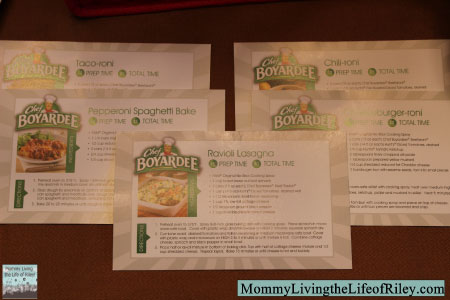 These recipes are by no means rigid.  They're made to be just a launching point to a creation all your own.  For instance, although the Ravioli Lasagna recipe called for frozen spinach, we didn't have any immediately on hand and chose to substitute black olives instead as an optional topping.  Here's the original Ravioli Lasagna recipe we followed:
Ravioli Lasagna
15 minutes prep time; 30 minutes total time
Ingredients:
PAM Original No-Stick Cooking Spray
1 cup frozen loose cut leaf spinach
2 cans Chef Boyardee Beef Ravioli
1 can Hunt's Diced Tomatoes, drained well
1-1/2 teaspoons dried Italian seasoning
1 cup 1% low-fat cottage cheese
1/2 teaspoon ground black pepper
1 cup shredded Italian blend cheese
Directions:
Preheat oven to 375 degrees Fahrenheit.  Spray 8x8-inch glass baking dish with cooking spray.  Place spinach in microwave safe bowl.  Cover with plastic wrap and microwave on HIGH for 2 minutes; squeeze spinach dry.
Combine ravioli, drained tomatoes and Italian seasoning in medium microwave-safe bowl.  Cover with plastic wrap and microwave on HIGH 3 to 4 minutes or until mixture is hot.  Combine cottage cheese, spinach and black pepper in small bowl.
Place half of ravioli mixture in bottom of baking dish.  Top with half of cottage cheese mixture and 1/2 cup shredded cheese.  Repeat layers.  Bake 15-minutes or until cheese is hot and bubbly.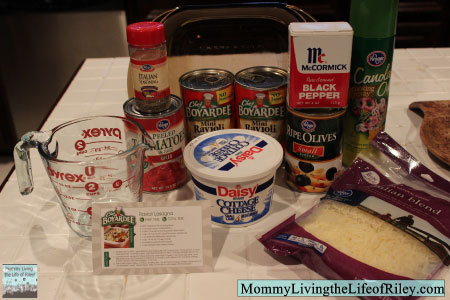 Riley and I had a great time donning our aprons and chef hats for the hungry crowd and getting to work.  She loved helping me cook every step of the way and I know she felt like such a big girl helping to prepare food for her little friends.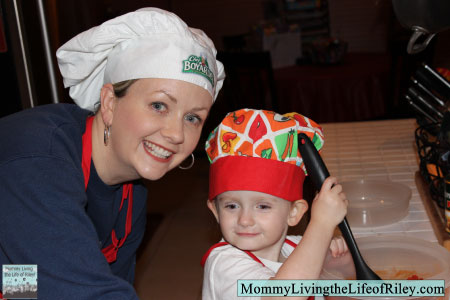 Riley was a great chef too!  She helped me measure and sprinkle the cheese, stir every single mixture we needed to make and even layer the yummy concoctions in the big glass bowl before popping it in the oven.  Giving children ways to be productive is so important to their self-esteem and Riley really took a newfound ownership to dinner.  You could tell just how proud she was to be making something all of her pals would be eating for dinner!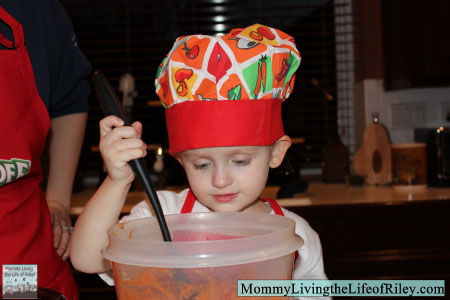 The Ravioli Lasagna was dee-licious all right and a huge hit with the whole gang!  I didn't hear one murmur of complaint the entire dinner and for once, Riley cleaned her plate without being coaxed the whole time.  This experience has definitely opened my eyes to the fact that my favorite Chef Boyardee dishes have much more potential than just being served right out of the can for lunch.  These Italian favorites can also serve as the launching pad for my own family-friendly dinner recipes!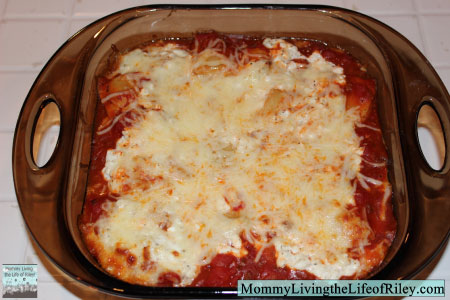 If you've been inspired to use Chef Boyardee products as an ingredient for an original recipe, you just might win FREE groceries for an entire year!  Now through March 11, 2012, you can submit an original recipe that uses Chef Boyardee as an ingredient to the Make It Boyardeelicious Recipe Contest.  Simply upload a photo of the recipe and share why your family loves it.
Each week, a winner will be chosen based on creativity, all-family appeal, ease of preparation, and palatable appeal by an expert panel of judges.  The weekly winner will receive a $500 prize as well as $75 in Chef Boyardee coupons.  If you don't win in one week, you can re-enter again the next week!
Each of the top ten finalists from all the accumulated weeks will have the chance to win the grand prize of free groceries for a year.  The winner will be chosen based on a combined score of taste points and voting.  The voting period lasts from March 26 to April 8, 2012.  All voters will be entered into a daily sweepstakes for the chance to win $100.  If you share it on Facebook, you'll get an extra sweepstakes entry.
So get those creative juices cooking on new and delicious ways to bring Chef Boyardee to your family's table and you just might win!  GOOD LUCK! :luck:
 

Disclosure: I wrote this review while participating in an In Home Party campaign by Mom Central Consulting on behalf of Chef Boyardee and received product samples to facilitate my party and review, and a promotional item to thank me for participating.

I'm a former 7th grade Science teacher turned stay-at-home mom that lives in Houston, Texas. I am married to my college sweetheart and have a beautiful daughter named Riley, who definitely keeps me on my toes! I am also involved in starting a small business which would both manufacture and sell an invention that I've patented, called Toothpaste 2 Go. I love interacting with my readers and hope to learn as much about you as you learn about me!
Melissa @ Mommy Living the Life of Riley!