Now that spring and summer are around the corner, you may be thinking ahead to swimsuits and short shorts, which can only mean one thing...the endless battle of hair removal has begun!  I really can't stand the neverending cycle of shaving my legs, and especially my bikini area, during the warmer months.
It seems I've tried it all when it comes to hair removal, but nothing successfully keeps the hair at bay longer than a few days.  Waxing works well, but is fairly expensive to have done regularly in a salon and extremely messy to do at home.
That's why I was thrilled to learn of a new Intense Pulsed Light (IPL) Hair Removal System from Remington called the i-LIGHT Pro.  Is it finally possible to receive professional hair removal results in the comfort and privacy of your own home at a fraction of the price?  Keep reading to learn more!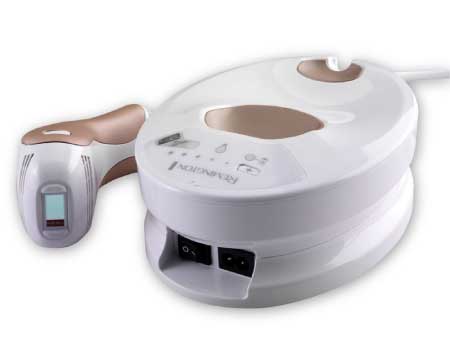 Introducing the i-LIGHT Pro Intense Pulsed Light (IPL) system from Remington, the nations' #1 personal grooming company. i-LIGHT Pro is a revolutionary light-based device that has been clinically-proven and FDA cleared for the removal of unwanted body hair at home. i-LIGHT Pro's exclusive ProPulse technology allows you to enjoy the same long lasting results as professional laser or IPL treatments…all without the high cost and inconvenience of in-office visits. Each unit comes equipped with 1 cartridge that provides 1,500 flashes for 2-3 full body treatments.
Features:
At-home professional hair removal for a fraction of the cost of in-office visits
FDA cleared and clinically proven Proprietary ProPulse technology delivers results that last 6 months
Faster treatment times with the quickest flash rate and no downtime for recharging
Built-in skin tone sensor and skin contact sensors
Five energy levels
Corded operation
For a better understanding of how the Remington i-LIGHT Pro Intense Pulsed Light Hair Removal System works, please see the informative video below:
Last summer, I was in for a treat, or so I thought.  I bought a Groupon for a series of 3 professional IPL hair removal treatments which cost around $100.  I had the chance to choose one area on my body to receive all 3 treatments and I decided to have this procedure done on my bikini line.  I hate shaving this area for it always tends to break out soon afterward leaving behind tiny, itchy red bumps.  A completely smooth bikini line would be a dream come true!
Unfortunately, after the very first treatment was completed, I NEVER WENT BACK AGAIN!  The lady that performed my treatment killed me with the pain.  I actually told my husband that this hurt me more than child birth!  She had the device on the highest setting and worked the same area over and over again until my bikini line literally felt as if it were on fire.
I screamed and squirmed and pleaded with the lady to stop, but she insisted that this was necessary to keep the hair from returning.  Later that night, I blistered in the area and had red, burned skin for days later.  To make matters worse, there was no permanent hair removal as she promised and a few weeks later, everything looked exactly as it had looked before.  All of that excruciating pain was for nothing.
With the Remington i-LIGHT Pro, my experience was completely different.  Because there are 5 different power settings, YOU are in control with just how uncomfortable you want to be.  Obviously, you will see better results by using a higher power setting, but it's something that can be worked up to gradually.  As your skin and hair follicles grow more and more accustomed to this type of IPL treatment, you'll find that they are less and less sensitive and you can increase the power level accordingly.
I tried the Remington i-LIGHT Pro on my bikini area and used a power level 2 to start.  It felt moderately uncomfortable, like being snapped repeatedly with a warm rubber band, but it was nothing that I couldn't handle or was painful in any way.  It also didn't take long to complete the treatment on my entire bikini area...just 15 minutes.
About 10 days later, I noticed that the hair in this area started to fall out a bit, so I knew that the IPL treatment was working.  The goal is to complete 3 treatments in one month's time and after that, only as necessary.
I've had the chance to complete two IPL treatments on my bikini line thus far, and am thrilled with the results I'm seeing using the Remington i-LIGHT Pro.  I can already tell a big difference as to the amount of hair I have here and am looking forward to remaining hair free for an entire 4-6 months!  Can you believe it?  I can do my IPL treatments at home, on my time-schedule and at the beginning of summer, and literally not have to do them again until the end of summer.  In my opinion, that's amazing!
It's also so cool that the Remington i-LIGHT Pro is very affordable in comparison to professional IPL treatments.  The machine itself costs about as much as one professional in-office treatment and each replacement cartridge costs less than $25.  My husband has already been eyeing this machine to use on his own back, shoulders and chest.  He was waiting to see how my experience went first, but now is convinced that this is something he'd like to try too.
As with any at-home product that yields professional results, you should be careful to follow the warnings and safety precautions.  The Remington i-LIGHT Pro should only be used in certain areas of your body and on certain skin types.  It also is best on brown or black body hair and doesn't give quite the same results if you have blond or red body hair.
Watch the video below to make sure that the Remington i-LIGHT Pro will work for you.  If so, then I highly recommend giving this device a try.  Your unwanted leg, arm and bikini line hair doesn't stand a chance and long-lasting results can be quick and easy!  Be effortlessly hair free this summer with the i-LIGHT Pro!
Additional Grooming Products from Remington:
Disclosure: I received the iLight Pro IPL6000 Intense Pulsed Light Hair Removal System from Remington in order to facilitate my review. No other compensation was received. This product review is based on my own personal experiences with this item and is completely honest and objective.
I'm a former 7th grade Science teacher turned stay-at-home mom that lives in Houston, Texas. I am married to my college sweetheart and have a beautiful daughter named Riley, who definitely keeps me on my toes! I am also involved in starting a small business which would both manufacture and sell an invention that I've patented, called Toothpaste 2 Go. I love interacting with my readers and hope to learn as much about you as you learn about me!
Melissa @ Mommy Living the Life of Riley!