Riley has always been such a lover of books, music and children's television programming.  As she's growing older, I can really start to see the positive influence that these sources have had on her.  For instance, she can now count readily to 14 and knows her alphabet like a champ.  She also has such an expansive vocabulary and she never ceases to amaze me at how readily she learns new things.
For these reasons, her father and I are very careful about what she's exposed to and I'm always on the lookout for a quality company which specializes in children's media.  Little One Books is a company that caters specifically to children ages 0 - 5 years old and has a host of books, music and video personally reviewed and selected by their team of professionals.  I had the opportunity to review the "Sharing is Fun" gift bundle with Riley.  Keep reading to find out our thoughts on the items included.

I reviewed the "Sharing is Fun" Gift Bundle from Little One Books, which retails for $46.00.
I was very surprised when I opened the large mailing envelope from Little One Books to find the beautifully decorated gift bundle inside.  The gift bundle came complete with a note card, orange colored ribbon and a silver metallic padded envelope.  This was an unexpected but welcome touch!  So, if you do buy one of the gift bundles from Little One Books this holiday season, you can send it directly to the person you love and know that it will be delivered to them perfectly gift wrapped.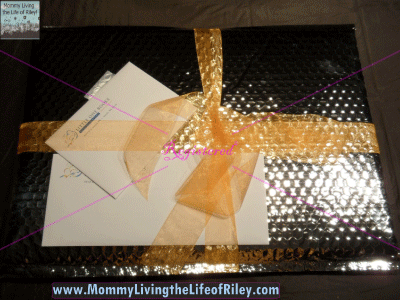 The "Sharing is Fun" gift bundle contained three different items, geared for children ages three and up.  First, the bundle includes the hardback book, "Hondo & Fabian", which won a Caldecott award for its beautiful illustrations.  Next, this gift bundle includes an audio CD entitled, "More Please!" by Caspar Babypants.
Finally, there is a DVD included from the So Smart! King Otis and the Kingdom of Goode series called "McFlicken's Tale of Sharing".  Since Riley is a toddler in need of some lessons in sharing, I couldn't wait to expose her to the three different forms of children's media to see what she thought...and hopefully she'd learn a thing or two in the process!  :)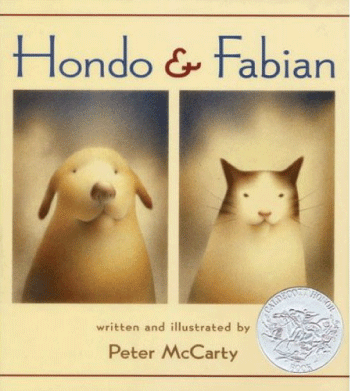 Hondo & Fabian was a lovely book with gorgeous illustrations that Riley enjoyed looking at while the story was being read to her.  I think that she also liked the stars of this story,  Hondo the dog and Fabian the cat, for Riley absolutely adores dogs and cats.  Although this story was a great tale about two friends and how their day's adventures were both different and similar, I didn't quite understand how this book related to the "Sharing is Fun" theme.
I also thought that the story was a little simple, yet Riley seemed to love it!  She immediately asked for me to read it to her three times in just a few hours.  I think Hondo & Fabian has definitely found its way into our bedtime books collection, for the beautiful watercolor illustrations seemed to soothe Riley and help her settle down.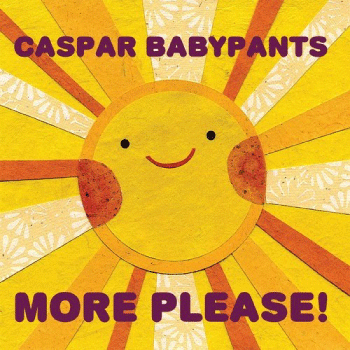 Next, we were off to explore the world of Caspar Babypants (who couldn't love THAT name?) and I just knew that Riley would probably like this CD for she is such a huge fan of music and particularly seems to like catchy country tunes.  The music of Caspar Babypants definitely has a bluegrass feel to it and sounded to me like these songs could be played around a campfire or on someone's front porch.
I thought this CD was an instant hit with Riley for the first song, "Take the Sun", had her dancing and clapping around the living room like crazy!  Unfortunately, it was downhill from there since these tunes were a little slower than I expected.  Riley loves upbeat, toe-tapping music and I think Caspar Babypants lost her due to the tempo of his songs.
She did like the "I'm a Nut" song and even some of the more traditional songs like "Itsy-Bitsy Spider", but then he would lose her attention when he started singing his own variations of the lyrics.  Again I didn't quite understand how this CD tied in to the "Sharing is Fun" theme for I never noticed any songs on this CD that mentioned sharing.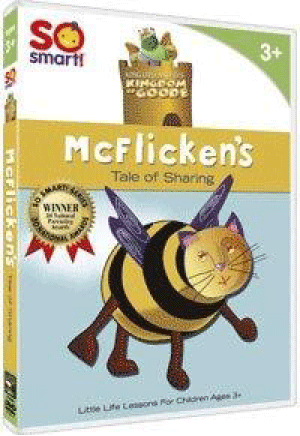 Finally, Riley watched the DVD, "So Smart! King Otis and the Kingdom of Goode: McFlicken's Tale of Sharing", which is designed to impart little life lessons to children.  I had to say that I really loved this video and it was our favorite piece of the "Sharing is Fun" gift bundle.  This beautifully illustrated fable is all about a very selfish imaginary animal, McFlicken, who becomes lonely and joyless once he kicks his neighbors out of his tree in order to live alone.
This completely fictional land is comprised of some very unique and interesting characters and I loved how this story is told at a slow and steady pace with a few songs mixed in for good measure.  Personally, I think that modern children's television, cartoons and movies have way too many graphics and scene changes which can make a child's head spin and help lead to attention problems later.
It was so refreshing to find that with this DVD, a modern story could still be told in a classic way...SLOW and STEADY!  Riley was captivated by the bright colors and interesting characters in the McFlicken tale and we will surely be watching this half-hour DVD again!
Riley definitely enjoyed the three components of the "Sharing is Fun" gift bundle from Little One Books.  Although the Caspar Babypants CD was the least of her favorites, I know that the book and DVD will be put into heavy rotation around our home!  If you are looking for a wide and varied selection of high-quality toddler books, CDs and DVDs for your child this Christmas, then I highly recommend shopping at Little One Books.
Disclosure:  I received the Sharing is Fun Gift Bundle from Little One Books in order to facilitate my review. No other compensation was received. This product review is based on my own personal experiences with this item and is completely honest and objective.
I'm a former 7th grade Science teacher turned stay-at-home mom that lives in Houston, Texas. I am married to my college sweetheart and have a beautiful daughter named Riley, who definitely keeps me on my toes! I am also involved in starting a small business which would both manufacture and sell an invention that I've patented, called Toothpaste 2 Go. I love interacting with my readers and hope to learn as much about you as you learn about me!
Melissa @ Mommy Living the Life of Riley!