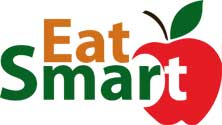 Now that swimsuit season is in full swing, I'm busy fighting the battle of the bulge with all of my might!  A curious thing was happening to me though.  I began running 4 to 5 miles on the elliptical 4 to 5 times per week, eliminated all processed foods from my diet and I still wasn't losing any weight!
Since my activity level had gone way up, I realized that the problem had to be in what I was eating.  Well, with the help of a great new FREE fitness app I discovered, called My Fitness Pal, and the easy-t0-use Precision Pro Digital Kitchen Scale from EatSmart Products, I'm happy to say that I'm back on track and healthier than ever.  Keep reading to learn more and find out why my peanut butter and jelly sandwich was to blame!
I was very excited when the EatSmart Products Precision Pro Digital Kitchen Scale arrived on my doorstep, because finally I had the proper tool at my fingertips to find out exactly why I wasn't losing any weight when I thought I should.  The Precision Pro scale is sleek and small and blended in great with my kitchen's decor.  Just look at the host of features this little guy offers:
Uses Precision Pro Sensor Technology
Tare Feature; Subtract Weight of Container
Automatic Turnoff (3 minutes)
2 AAA Batteries Included
Compact Design and Easy Clean Top
2 Year Full Warranty
The next thing I did was find a wonderful free app for my smartphone entitled My Fitness Pal.  This app allows me to track absolutely EVERYTHING that I do in a day...how many glasses of water I drink, the exercise I perform, vitamins I take and of course, the food I eat.  I can then track my measurements and weight accordingly to see what's working and what isn't.  I can't emphasize enough how important this little tracking tool is.  Couple this with the Precision Pro Digital Kitchen Scale and there's absolutely no room for error!
I began weighing every single thing I ate and drank for the next week and loved how quick and easy the Precision Pro kitchen scale made it.  I could even determine the EXACT amount of peanut butter and jelly I was using on my sandwich, thanks to the amazing tare feature.  To do this, I would place a napkin on the scale and then hit the tare button.  This temporarily calibrates the scale to zero so that I can determine the weight of the next item I place on the scale without having to do a lot of tedious subtraction.
I added my two pieces of wheat bread, input the values into the My Fitness Pal app and then tared the scale again.  Next, it was time to add the peanut butter to the bread, input the value into the My Fitness Pal app and then tare the scale.  Finally, I added the jelly and repeated the steps above.  What I discovered by weighing my food in this manner was that I was eating an 850-calorie peanut butter and jelly sandwich for lunch EVERY DAY!  Ouch!  :wow:
Couple that with the 250-calorie glass of milk I was having and I soon realized that THIS was a major hurdle in my fight to lose weight.  I was never going to lose any pounds or inches while eating an 1100-calorie lunch.  I just never realized that I was doing this to myself.  I thought that since I was eating wheat bread, using all-natural peanut butter and all-natural jelly, I was eating healthy...boy, was I wrong!
Since I began weighing my food with the EatSmart Precision Pro Kitchen Scale, I've managed to lose a whole pound and a half in about 10 days' time.  This is wonderful!  I still have about 13 more pounds to lose, but now I feel a renewed sense of encouragement and know that this time I will win the battle of the bulge.  Knowledge is power and that's exactly what you'll get with the Precision Pro Digital Kitchen Scale!
 

Disclosure: I received the Precision Pro Kitchen Scale from EatSmart Products in order to facilitate my review. No other compensation was received. This product review is based on my own personal experiences with this item and is completely honest and objective.
I'm a former 7th grade Science teacher turned stay-at-home mom that lives in Houston, Texas. I am married to my college sweetheart and have a beautiful daughter named Riley, who definitely keeps me on my toes! I am also involved in starting a small business which would both manufacture and sell an invention that I've patented, called Toothpaste 2 Go. I love interacting with my readers and hope to learn as much about you as you learn about me!
Melissa @ Mommy Living the Life of Riley!