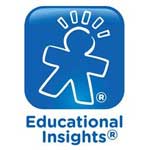 Now that preschool is basically right around the corner for my daughter, I've really stepped up my game by trying to teach her to read.  The great thing about toddlers is that they absolutely love to learn and if you can make what you're teaching them fun, their little minds will become instant sponges.
You may have read my recent review of the Bean Bag Toss game from Educational Insights.  Riley and I have been having a blast playing this game, but since coupling it with the Phonics Bean Bags, we've turned this simple outdoor game into an educational powerhouse.  Keep reading to learn more!
I reviewed the
Phonics Bean Bags
 from Educational Insights, which retails for $49.99, but is currently on sale for $33.11 with FREE SHIPPING.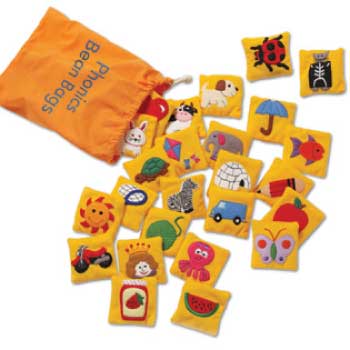 Phonics Bean Bags are a fun, active way to encourage your little learner beginning reading skills, especially the ability to distinguish letter sounds.  Before you begin using the bean bags, you may wish to make sure that your child can name the objects pictured on each bean bag.  These 2.75" embroidered bean bags kinesthetically reinforce phonics lessons  through a variety of tossing games.
Includes 26 bean bags, each with a richly embroidered picture that represents a letter sound, for active play that engages children in developing phonemic awareness
Features pictures on both sides of vowel bags to represent long and short vowel sounds, plus pictures on both sides of c and g bags to represent their hard and soft sounds
Provides storage for all components in matching drawstring bag
Washable felt bean bags are lightweight and easy for young children to handle
Riley was drawn to the well-designed images of the felt bean bags.  She loved naming the characters on each bag and is beginning to understand the different letter sounds associated with each.  In just a short period of time, she's made the connection of which letter starts each word on the bag.  Now we're working on making the connection of the letter itself with its corresponding sound.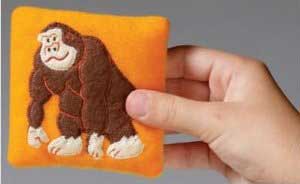 Some of our favorite games to play with the Phonics Bean Bags are Toss and Say and I Spy Letter Sounds.  In Toss and Say, you and your child stand approximately three to six feet apart and take turns tossing the bean bags to each other, exaggerating the beginning letter sound of each pictured object.  For example, "b-b-butterfly", "c-c-cow".
The I Spy Letter Sounds game is a little more advanced.  In this game, you must have your child draw a bean bag out of the drawstring bag and then locate something in the room which also begins with that letter.  For instance, if your child draws out the dog bean bag, then they will have to balance the bean bag on their head and walk over to a desk, thus matching the letter to an object.
The greatest part of the Phonics Bean Bags set from Educational Insights is how much Riley is enjoying learning the basic building blocks of reading.  This teaching tool has given us a fun activity to participate in together and I'm thrilled with every new letter sound she is mastering.  It won't be long until my little letter learner will soon be a brand new reader!
Disclosure:  I received the Phonics Bean Bags from Educational Insights in order to facilitate my review. No other compensation was received. This product review is based on my own personal experiences with this item and is completely honest and objective.
I'm a former 7th grade Science teacher turned stay-at-home mom that lives in Houston, Texas. I am married to my college sweetheart and have a beautiful daughter named Riley, who definitely keeps me on my toes! I am also involved in starting a small business which would both manufacture and sell an invention that I've patented, called Toothpaste 2 Go. I love interacting with my readers and hope to learn as much about you as you learn about me!
Melissa @ Mommy Living the Life of Riley!