I've been a huge fan of the classic "funny tee" for as long as I can remember.  As soon as I was old enough to start picking out my own clothes, I've always managed to have a few witty shirts hanging in my closet.  You'd be surprised at how many people notice and read them too!
Finding a one-stop shop for brilliant tees isn't as easy as you might think.  Most of the time, I've found funny t-shirt stores to have a super large variety with 90% of them not being funny or worth the cotton they're printed on.  That's why I was thrilled when Headline Shirts asked me to review two of their selections.  Within the first five minutes of browsing their site, I was hooked!  Headline Shirts may not have the largest funny tees selection, but 90% of what they offer makes me laugh out loud.  Keep reading to learn more!
I reviewed the following from Headline Shirts:

Mount Rapmore Tee, which retails for $24.00

Kill 'Em With Kindness Tee, which retails for $24.00
Headline Shirts definitely believes in quality over quantity.  It won't take you too long to browse through their selection, but it will take you an eternity to select just ONE.  Thankfully, they were generous enough to allow both me and my husband to choose a funny tee, since we are both such big fans of expressing ourselves in this way.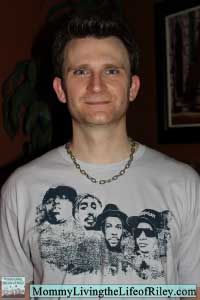 After about 30 minutes of wavering back and forth, I decided to choose the "Kill 'Em With Kindness" tee depicting the Dalai Lama and his whole new mantra to live by.  I actually do my best to live with this thought in mind and figure the best way to act, no matter the situation, is to be kind.  This shirt made me chuckle inwardly though, because its saying is such an oxymoron, yet still so true.
I love the bright, vibrant colors used in this tee and the shirt itself is ridiculously soft and comfortable to wear.  It also has a great cut and fits just as a t-shirt should.  I've washed and worn this shirt numerous times and the color is still bright and the shirt is even softer than it was originally.  As for my husband, I knew which shirt he would choose and I was right...
We are both huge "old school" rap fans and the Mount Rapmore shirt is one of the coolest concepts I've ever seen, as well as downright hilarious!  Michael owns his own karaoke company and has a show twice a week with a loyal group of followers.  He said that everyone loved his shirt and wanted to know exactly where he got it so that they could order one too!  What can I say?  Mount Rapmore was definitely a hit!
My husband, who's known to be a tad picky at times, also said that he loved the fit of his new tee and has worn it several times as well.  I've even noticed this tee moving closer and closer to the front of his closet, which means he's starting to put it into heavy rotation.  If you're looking for a classically witty or downright hilarious tee, then just check out a few more of my faves at Headline Shirts:
I'm sure at least one of these t-shirt styles made you smile, and might have even made it to your "Too Funny" Pinterest board!  :rofl:  If so, then by all means go shop the collection of hilarity at Headline Shirts.  They make a top notch tee with designs so witty and original that you and your friends will be laughing at it for years.  Once you find a style that tickles your funny bone, go the extra mile and click on the shirt so that the product description pops up.  These descriptions are a comedy act in themselves and never cease to make my day!  :big grin:
Disclosure: I received two tees of my choice from Headline Tees in order to facilitate my review. No other compensation was received. This product review is based on my own personal experiences with this item and is completely honest and objective.
I'm a former 7th grade Science teacher turned stay-at-home mom that lives in Houston, Texas. I am married to my college sweetheart and have a beautiful daughter named Riley, who definitely keeps me on my toes! I am also involved in starting a small business which would both manufacture and sell an invention that I've patented, called Toothpaste 2 Go. I love interacting with my readers and hope to learn as much about you as you learn about me!
Melissa @ Mommy Living the Life of Riley!