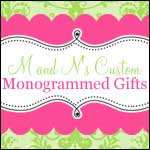 I'm a self-proclaimed nut for all things monogrammed and personalized, which is why I was beside myself when I discovered M and N's Monogrammed Gifts.  They have a large selection of great gift ideas, plus plenty of items to beautify your home.
Since we tend to travel quite often during the holidays, I'm always on the lookout for some well-made activities to keep Riley entertained while on the road.  I like finding non-electronic options to busy both her hands and her brain, so naturally I was thrilled to see the Doodlebugz Crayola line of monogrammed items at M and N's Monogrammed Gifts.  Keep reading to learn more about two of the neatest travel ideas for your child!
I reviewed the following two items from M and N's Monogrammed Gifts:

Monogrammed Doodlebugz Crayola Doodlebag, which retails for $35.00

Monogrammed Doodlebugz Crayola Crayon Keeper, which retails for $24.00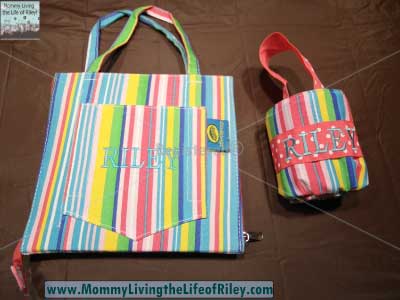 I received both the Monogrammed Doodlebugz Crayola Doodlebag and Crayon Keeper in the striped pattern from M and N's Monogrammed Gifts.  Both of these items come in numerous colors and styles to match any child's personality and both are extremely handy for fun on the run.  It was a nice surprise to see how well both gifts were packaged when they arrived.  Each product was wrapped in cellophane and tied neatly with beautiful green and pink ribbon, making them perfect for under the tree!
The Monogrammed Doodlebugz Crayola Crayon Keeper was actually featured in Parents magazine as the perfect way to store and travel with crayons.  No more crayons floating around loose in the bottom of your purse or baby bag!  Since my family frequently goes out to eat at our local restaurants, it seems we collect a ton of crayons in a rather short time.  The Doodlebugz Crayola Crayon Keeper is great to have with us then, so that Riley's new coloring acquisitions can be stored neatly and efficiently when she's finished using them.
The crayon keeper rolls closed when not in use and is secured with a monogrammed Velcro ribbon.  This item actually comes complete with 24 Crayola crayons, but can hold up to 64 (two crayons per pocket) if you so desire.  I love the Doodlebugz Crayola Crayon Keeper for it reminds me of a small purse and the striped pattern is so bright and whimsical.
The Monogrammed Doodlebugz Crayola Doodlebag comes complete with two ways for a child to be creative...by drawing on a pad of paper and by drawing on a small chalkboard.  There's also an insert in the middle which allows your child to store their crayons on one side and their colored pieces of chalk and eraser on the other.  What really shocked me was that all of the art supplies you'd need to get started (24 Crayola crayons, pad of paper, 12 pieces of Crayola chalk, mini chalkboard and eraser) were included!
The Doodlebugz Crayola Doodlebag even has a matching pocket, monogrammed with your child's name, on the front so as to keep everything neat and in place.  Of course, this doodlebag also zips completely shut and has two handles, making it extremely easy to transport anywhere.
If you're looking for a well-designed, personalized gift for your little traveler this year, then I highly recommend the Monogrammed Doodlebugz Crayola Doodlebag and Crayon Keeper from M and N's Monogrammed Gifts.  These two items will give you a fun and easy way to keep your child entertained while eating at the local restaurant, traveling to visit friends and family, or even while shopping for groceries or at your favorite department store.  M and N's Monogrammed Gifts has plenty of other wonderful gift ideas for everyone special on your shopping list too!
Disclosure:  I received the Monogrammed Doodlebugz Crayola Doodlebag and Crayon Keeper from M and N's Monogrammed Gifts in order to facilitate my review. No other compensation was received. This product review is based on my own personal experiences with this item and is completely honest and objective.
I'm a former 7th grade Science teacher turned stay-at-home mom that lives in Houston, Texas. I am married to my college sweetheart and have a beautiful daughter named Riley, who definitely keeps me on my toes! I am also involved in starting a small business which would both manufacture and sell an invention that I've patented, called Toothpaste 2 Go. I love interacting with my readers and hope to learn as much about you as you learn about me!
Melissa @ Mommy Living the Life of Riley!