I love for my daughter to play with toys of all kinds, including those typically deemed just for boys.  Chuggington is a very popular children's television show which features lovable train characters that work together to get the job done.
Riley has a Chuggington Wooden Railway set that she (and her daddy) frequently play with.  She's become quite the fan of Koko and Wilson, which is why I knew that she'd be too excited to help me review five of the newest members to the Chuggington Railway engine family.  Keep reading for the full introduction to this lovable cast!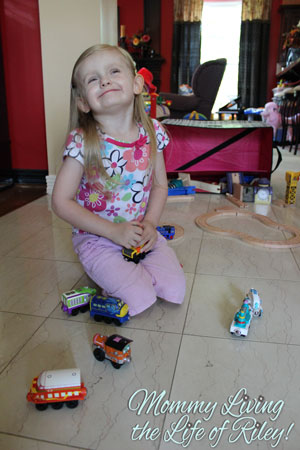 It's so cute to watch my daughter and my husband have a great time playing with their Chuggington Wooden Railway set.  What with all of the tea parties, dress up fashion shows and ballerina recitals my husband participates in, I'm happy to watch them share a hobby that he gets excited about too.
While my daughter has never watched an episode of the Chuggington cartoon show, that doesn't stop her from thoroughly enjoying the imaginative fun associated with these characters.
There are five brand new Chuggington Wooden Railway Engines pulling into the station.  Each of these toy engines is constructed of real wood and has a magnetic piece in the front and in the back so that they can "hook" onto other cars, forming a long train.
What's more, these engines offer all the charm of traditional train sets and are compatible with other wooden train systems, such as Thomas and Friends.  Here's a bit more about each and some of the cool things they can do:
Decka is a double decker tram built for heavy loads and is one of the newest additions to Chuggington.  She is like a young mom to the trainees, and has a vibrant personality.
Trainee engine Piper is a small 4-2-0 steam locomotive that runs on vegetable oil.  She is a precocious 2-year-old that loves to talk.  As the newewst trainee to join the group, she is the first biofuel engine in Chuggington.
Skylar is a large crane locomotive and a new teacher in Chuggington who's putting his recent training to good use by working with his two-fingered grab crane.  He is an expert construction worker with an energetic personality.  This engine features a 360-degree magnetic telescoping crane for high rise jobs.  My daughter couldn't seem to get enough of skylar and loved testing the strength of his magnetic crane by trying to pick up anything and everything in sight.
Brewster's Booster is a unique two-car pack which features Brewster in water along with a neat Booster car.  This Booster has a wind-up mechanism that allows it to scoot across the floor or give any other Chuggington engines a helping hand.  Brewster's Booster Train Cars are inspired by the episode "Brewster's Booster", and features Brewster testing out a new Chug Booster Car that suddenly turbos him throughout the Chuggington countryside.  After he gets wet, he soon realizes that the only way to slow the out-of-control Booster is to turn on his windshield wipers.
Koko's New Look Train Cars are also a 2-pack set inspired by the episode "Koko's New Look".   This fun addition to the Chuggington family features a flower-sprayed Koko and the paint car.  KoKo's paint wagon features lots of cheerful colors to brighten up Chuggington, and she even comes with special flower decorations.  See Koko like you've never seen her before!
If you have a toddler or preschooler who loves trains, Chuggington or both, then I would highly recommend purchasing one of TOMY's top-quality train sets for them.  Since the addition of the brand new Chuggington Wooden Railway engines, I can't seem to get my two little "conductors" to leave this toy alone.  The Chuggington train set has definitely captured my daughter's attention and imagination and introduced her to a whole slew of new friends.
Disclosure: I received the five new Chuggington Wooden Railway Engines shown above from TOMY in order to facilitate my review. No other compensation was received. This product review is based on my own personal experiences with this item and is completely honest and objective.
I'm a former 7th grade Science teacher turned stay-at-home mom that lives in Houston, Texas. I am married to my college sweetheart and have a beautiful daughter named Riley, who definitely keeps me on my toes! I am also involved in starting a small business which would both manufacture and sell an invention that I've patented, called Toothpaste 2 Go. I love interacting with my readers and hope to learn as much about you as you learn about me!
Melissa @ Mommy Living the Life of Riley!