Colossal Christmas Countdown:

15 Days Until Christmas!

I don't know why, but I absolutely LOVE wearing pajamas!  I have two drawers in my chest-of-drawers stacked to the top with pajama sets and I'm always on the lookout for more.  My husband can't understand this, and I'm not quite sure why either, but I just always feel more relaxed and ready for bed when I'm wearing a good set of pajamas.  Now that winter is here and the nights are getting longer, I'm wearing my comfy jammies even more.

Performance Sleepwear happened upon my pajama radar for they make a unique type of pajama set...one that claims to keep you cool by wicking away moisture from your skin as you sleep.  This I had to see and they were kind enough to allow me to review their classic pajama set.  Keep reading to find out more!
I reviewed the
Pajama Set
from Performance Sleepwear, which retails for $99.99.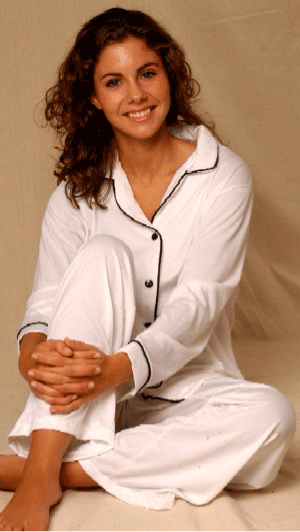 You may be wondering what's so special about the Performance Sleepwear Pajama Set.  It is styled in the classic pajama set style complete with corded piping accents and larger buttons.  But unlike the classic pajama set, Performance Sleepwear pajamas are constructed of a unique micropolyester which is designed to wick-away moisture from your skin while you sleep.  This wicking away of moisture ensures that you will remain comfortable all night long and receive the best night's sleep possible.
This special fabric also allows for easier cleaning, and even provides extra protection against odors and bacteria due to the embedded silver ions in ceramic cubes within the sleepwear's material.  The open knit, gauzy construction also allows for air to pass freely through the fabric, which helps to simulate a sort-of air conditioning system.  What's more, this fabric shrinks very little and can be machine washed and dried.  It's important to not use dryer sheets of any kind though, for they will ruin the garment's wicking properties.
If you thought this fabric was amazing, so is the story of how it came to be invented.  Anne Best, founded Performance Sleepwear in response to her own successful battle against breast cancer.  The night sweats she was experiencing were driving her crazy and she wanted desperately to design a line of sleepwear which would help others who were also going through extremely disrupted sleep because of their bodies' sudden temperature changes.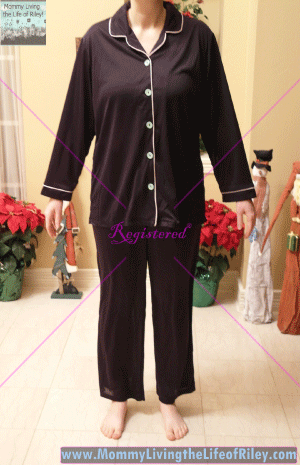 Probably my favorite feature of the Performance Sleepwear Pajama Set is how you are suddenly placed in the role of customizing exactly how your sleepwear will look!  I have never designed my own set of pajamas before and was thrilled to have the chance to do so.
It couldn't have been easier either due to the large changing photo on the design page which shows the options you've selected and exactly how your set will look.  I chose charcoal black pajamas with soft pink piping and green buttons.  Once they arrived, I just loved how these pajamas looked and it's so cool to be able to say that I designed these myself!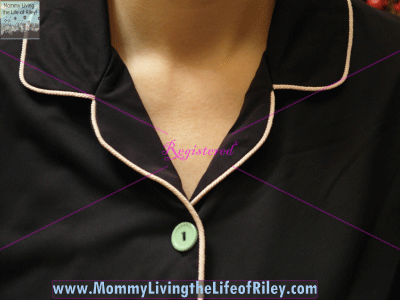 The only things about the Performance Sleepwear Pajama Set that slightly disappointed me was that the pajama bottoms are too short.  I was afraid this could be the case when I noticed that they only offered a "one size, fits all" length to their pajama pants.  I am 5'8" tall and have fairly long legs.  I really wish that Performance Sleepwear would branch out and offer differing lengths in their pajama pants so that everyone from petites to talls could experience the perfect fit.
I also wasn't thrilled with how the 100% micropolyester felt against my skin, though I do have to admit that I didn't wake in the middle of the night hot and sweaty, so the material does definitely do its job.  This material  has a very polyester feel and reminded me a little of pantyhose at times.  I guess I expected it to have more of a silky feel, though the trade-off is a small one in order to be able to regulate your body temperature throughout the night.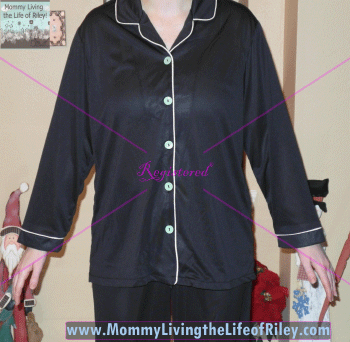 Performance Sleepwear has definitely made a quality set of pajamas which will help you to sleep soundly throughout the night.  These would make a perfect gift for any lady, but especially someone who may be undergoing rapid body temperature changes due to menopause or cancer treatments.  The added bonus of being able to design these jammies from head to toe is just the icing on the cake.  This classically-styled sleepwear is definitely my new pajama set favorite!
Disclosure:  I received the Custom Pajama Set from Performance Sleepwear in order to facilitate my review. No other compensation was received. This product review is based on my own personal experiences with this item and is completely honest and objective.
I'm a former 7th grade Science teacher turned stay-at-home mom that lives in Houston, Texas. I am married to my college sweetheart and have a beautiful daughter named Riley, who definitely keeps me on my toes! I am also involved in starting a small business which would both manufacture and sell an invention that I've patented, called Toothpaste 2 Go. I love interacting with my readers and hope to learn as much about you as you learn about me!
Melissa @ Mommy Living the Life of Riley!