My poor husband has suffered with neck and back pain, due to several car accidents, for as long as I've known him...and I met him when he was just 23 years old.  Well over a decade later, his search for a peaceful night's sleep continues, for he has yet to find a quality mattress or pillow that will soothe his aches and pains long enough for him to fall asleep and stay asleep.
We've been through three mattresses already and he's tried over a dozen pillows to help him get through the night, but has always been disappointed in the end.  Several weeks ago, I heard of the Technogel line of pillows for the first time and was beyond excited when they allowed me to review an Anatomic King Size Pillow for my husband.  This pillow is the result of the collaboration of two comfort brands: Technogel and Dr. Scholl's.  Did this merger finally yield a pillow that would end my husband's sleepless nights?  Keep reading to find out!
I reviewed the Anatomic Pillow in King Size from Technogel and Dr. Scholl's, which retails for $239.00, but is currently on sale for $199.00.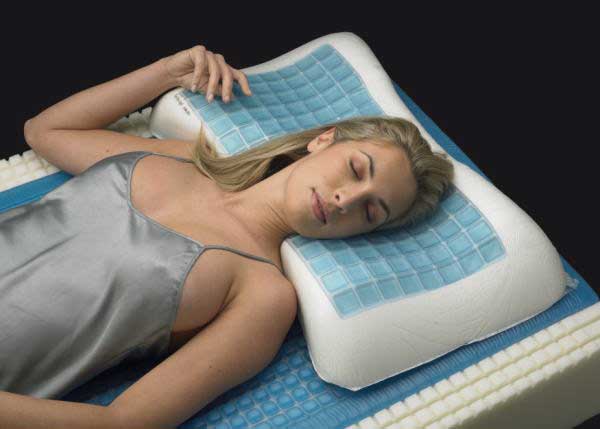 Your recipe for a refreshing night of sleep starts with the Technogel Anatomic Pillow by Dr. Scholl's. The curved design provides full support for your neck and shoulders and helps relax the muscles in your upper back. If you suffer from neck or shoulder pain, the semi-solid Technogel can relieve pressure on your joints by conforming closely to the curves in your spine.
Similar to a memory foam but with more stability, Technogel also helps you stay in a comfortable temperature zone by dissipating heat. The Technogel Anatomic Pillow by Dr. Scholl's is ideal for side or back sleepers. Because it's hypo-allergenic and hygienic, you can count on excellent performance from your Anatomic Pillow.
Technogel is a unique "soft solid" material that joins together the 3D deformation of a fluid and the memory shape of a solid.  The compact material is non-toxic, odorless and does not contain any volatile components which means it doesn't harden, age or change its mechanical properties over time. It's special composition makes it the only tridimensional material for sleeping and provides the highest level of conformability to the head, neck and shoulders.
Thanks to its slow memory return to the original shape, it is an extraordinary therapeutic pressure relieving material, that helps to reduces pain and discomfort. The Technogel Anatomic Pillow provides a cooling sensation which can alleviate headaches and keep you cool while you sleep. Its high thermal conductivity helps lowering skin temperature with benefits to blood circulation and tissues oxygenation.
Technogel Anatomic Pillow's Key Features:
3D deformation: Technogel is the only tridimensional material for sleeping. The Technogel layer, joined with the memory foam,adjusts in a gradual way adapting to each individual's shape.
Enjoyable Cool Feeling: Technogel's high thermal conductivity favors heat dispersion, helping to lower skin temperature and offering a pleasant cool feeling.
Pressure Relief: Thanks to its slow memory return, Technogel is an extraordinary pressure relieving material, that helps to reduce pain and discomfort, improving blood circulation and oxygenation of skin tissue.
Ergonomic Support: The Technogel pillow range has been designed to grant an excellent ergonomic support, for a perfect support of the head and neck, keeping an optimum spine alignment.
Hygienically Safe: The Technogel pillow grants a superior level of hygiene, as nothing can penetrate through it's surface.
Hypo-Allergenic: Technogel, its protection film (both bio-compatible under ISO 10993-5-1-10 regulations) and all the textile used (certified under rigorous Oeko Tex standards) are hypo-allergenic and assure an hygienic surface where to rest your head.
Durability: Laboratory tests have demonstarted that Technogel easily over takes and outlasts the other materials used in the market
Textile Covers: Original protective jersey covers have been selected for their high quality and hygienic characteristics, assured by a special treatment named Sanitized. The second zipped cover, included in the Technogel box, assures a perfect feeling for your new pillow and can be easily washed (following the care instructions included).
My husband was very intrigued by the technology of the Technogel Anatomic Pillow but was understandably quite skeptical.  He's tried so many pillows before that he had just about written off that anything would ever work to alleviate his neck and back pain while he slept.  Imagine his surprise then, when he woke up the next morning and said that his neck already felt better!
He equated the Technogel Anatomic Pillow to one that cradled his head and neck, offering plenty of support that felt custom made to his body.  Over the course of the next two weeks, he admitted to sleeping better than he has in years and even sleeping all the way through the night without waking up, tossing and turning, and trying to get comfortable again.
For my husband, this is a HUGE improvement and one that signifies just how amazing the Technogel Anatomic Pillow from Dr. Scholl's really is.  I know the price of this pillow might seem too high, but for someone truly suffering night after night, year after year from a horrible night's sleep, to be able to sleep comfortably again is priceless.
Disclosure: I received the Anatomic King Size Pillow from Technogel and Dr. Scholl's in order to facilitate my review. No other compensation was received. This product review is based on my own personal experiences with this item and is completely honest and objective.
I'm a former 7th grade Science teacher turned stay-at-home mom that lives in Houston, Texas. I am married to my college sweetheart and have a beautiful daughter named Riley, who definitely keeps me on my toes! I am also involved in starting a small business which would both manufacture and sell an invention that I've patented, called Toothpaste 2 Go. I love interacting with my readers and hope to learn as much about you as you learn about me!
Melissa @ Mommy Living the Life of Riley!