Summer is a season for fun in the sun, but because I live on the Gulf Coast, it's also a season for caution and keeping a wary eye on the seas.  I've lived my entire life in and around the Houston area, but here lately, hurricane season has been especially destructive and deadly.
Since virtually every area in the country is prone to one type of natural disaster or another (earthquakes, tornadoes, flooding), it's essential to be prepared in the case of an emergency.  This summer, I'm glad to know that my family will always have a ready power source with which to charge our portable electronics and cell phones, thanks to the Juicebar Multi-Device Pocket Solar Charger from CableOrganizer.com.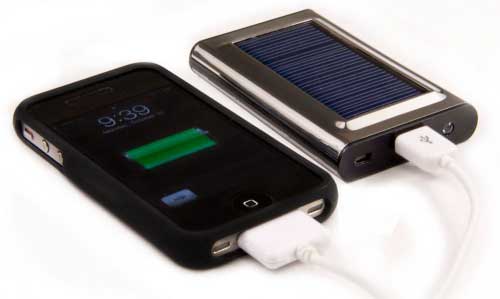 The Juicebar Multi-Device Pocket Solar Charger is a nifty little gadget that delivers a lot of power in a small lightweight device.  It's the perfect travel accessory while on the go and can be charged in one of two ways: via a PC's USB connection or via solar energy.
It's important to note that when using the Juicebar Solar Charger for the first time, you should charge the unit fully using a USB connection.  This will make sure that you are getting maximum capacity from the device's non-replaceable, rechargeable battery.  It's also recommended to fully charge and discharge this unit every 3 months for greater performance.
If you are using direct sunlight to charge the Juicebar Solar Charger, it typically takes 10-12 hours of full sunlight to do the job.  You'll know that your unit is charging by the light up LED indicator bar.  The stronger the sunlight, the quicker the Juicebar will charge.  One full charge though is enough to completely recharge a cell phone with maybe a little left over.
I left my Juicebar sitting out in the sun for approximately 8.5 hours and found it to be almost fully charged.  So just expect it to take an entire day to charge the Juicebar if using solar power.  The good news is that the Juicebar will hold its charge for up to 30 days.  I left mine sitting in a drawer for over a week after it was charged and noticed that it still had a full charge when I pushed the status indicator button.
Features:
Pocket size universal battery charger
High capacity 2000mAh Li-ion battery
Charges via USB connection or solar panel
Solar panel: 5.5 volt / 100mAh
Status indicator light
Built in LED flashlight
Standard USB out for maximum compatibility with existing cables
Included connectors: Micro USB, Mini USB, Nintendo 3DS, Sony PSP
Also includes: accessory bag, USB cable, charging cable
No iPhone/iPod adapter is included because it works with the one you already have
I think the Juicebar Multi-Device Pocket Solar Charger works really well and delivers plenty of charging power.  I allowed it to fully charge my Nokia Lumia 710, which was completely dead, and the Juicebar was able to rise to the challenge.  This task took almost all of the power the Juicebar had to give, but in an emergency, this gadget's natural recharging power would be essential.  Whether preparing for an emergency or for a family vacation, the Juicebar Multi-Device Pocket Solar Charger is a must!
What's one modern-day device that you would like to have on hand in order to better prepare for a natural disaster?
Disclosure:  I received the Juicebar Multi-Device Pocket Solar Charger from CableOrganizer.com in order to facilitate my review. No other compensation was received. This product review is based on my own personal experiences with this item and is completely honest and objective.
I'm a former 7th grade Science teacher turned stay-at-home mom that lives in Houston, Texas. I am married to my college sweetheart and have a beautiful daughter named Riley, who definitely keeps me on my toes! I am also involved in starting a small business which would both manufacture and sell an invention that I've patented, called Toothpaste 2 Go. I love interacting with my readers and hope to learn as much about you as you learn about me!
Melissa @ Mommy Living the Life of Riley!